I grew up with my mom making Shake n Bake chicken at least once a week. Well, that's how I remember it, but it could have been different. Now days when I make Shake n Bake chicken I always add a packet of dry ranch dressing mix to the "shake" mixture to give it extra flavor. I was wanting a different side dish one night and came up with this recipe. You can't really go wrong with potatoes!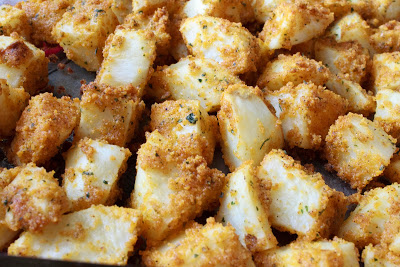 Shakin' Ranch Potatoes
Printable Version
Pin It
6 medium Russet baking potatoes
2 TBSP canola oil
1 packet Shake n Bake Chicken Flavor
1 packet Hidden Valley Dry Ranch Mix
Preheat oven to 400°. *Peel and wash potatoes. Cut into bite size cubes. In a large bowl toss together potatoes and oil. Pour in Shake n Bake and ranch mix into the bowl and toss to combine and coat. Lightly spray a cookie sheet with non-stick spray. Spread potatoes out evenly over cookie sheet. Bake for 25-35 minutes or until potatoes are crispy on the outside and tender on the inside.