This is one of those recipes that draws a very fine line between an actual dessert or something you wouldn't feel too guilty eating at breakfast. Either way, these instantly became a favorite around here!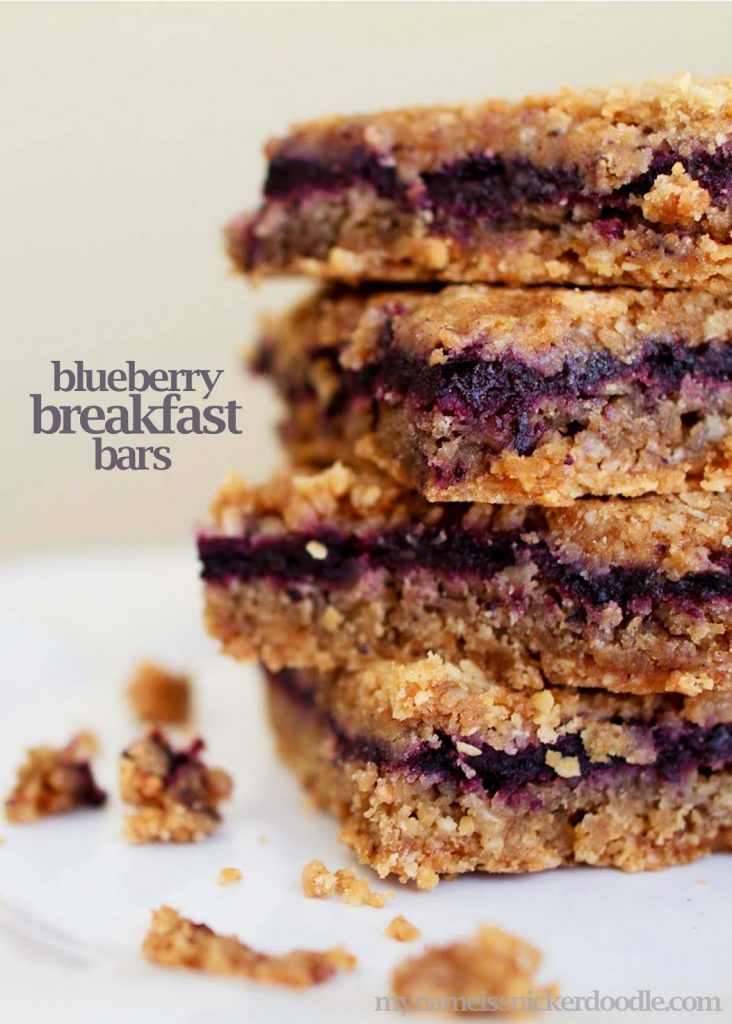 Blueberry Bars
Makes 20 Bars
Printable Version
Pin It
Crust and Crumb Topping
1 1/2 cups all-purpose flour
1 cup brown sugar
1 1/4 cups rolled oats
3/4 tsp salt
3/4 tsp baking powder
1/2 tsp baking soda
1/2 tsp cinnamon
3/4 cup (1 1/2 sticks) butter, cut into 1-inch pieces
Blueberry Filling
1/4 cup brown sugar
1 TBSP grated lemon zest (about 1 large lemon)
1/4 tsp cinnamon
2 TBSP all-purpose flour
1 pound blueberries, fresh or frozen
1/4 cup fresh lemon juice
2 tablespoons butter, melted and cooled
For the crust:
Preheat the oven to 350°. Butter the bottom and sides of a 9×13 pan. Put the flour, brown sugar, oats, salt, baking powder, baking soda, and cinnamon in a food processor. Pulse in short bursts until combined. Add the butter and pulse until loose crumbs form.
Reserve 1 1/2 cup of the mixture and set aside. Pour the rest of the mixture into the prepared pan push the crust into an even layer at the bottom of the pan. Bake until golden brown, 15 to 17 minutes. Transfer to a wire rack and let the crust cool. Keep the oven on while you make the blueberry filling.
For the filling:
In the same food processor pulse together sugar, lemon zest, cinnamon and flour together. Add the blueberries, lemon juice and butter and pulse 3-4 times mixture is gently combined.
Finish bars by spreading the blueberry filling evenly on top of the cooled crust. Sprinkle the reserved crust mixture evenly on top of the filling.
Bake for 35 to 45 minutes, rotating the pan half way through cooking time, until the top is golden brown and the filling starts to bubble around the edges. Transfer to a wire rack to cool completely, then cut into squares and serve. The bars can be stored in the refrigerator in an airtight container for up to two days.
Original recipe found at Smitten Kitchen.