We are in full swing in peach season here in Texas!  Last year I couldn't get enough and went crazy flash freezing them.  This year I have been crazy busy that I haven't taken a moment to freeze any!  I did however take the time to make a few of these Mini Peach Crisps.  I only had a few peaches at the time I was craving this and didn't let it hold me back.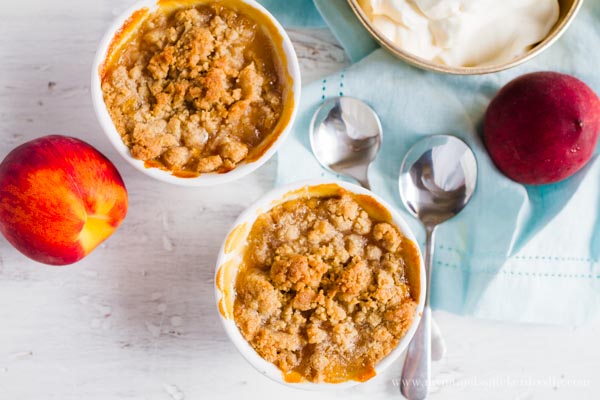 I thought since I was already on a mini dessert kick with these Mini Key Lime Cheesecakes and Mini Blueberry Brownie Bites I might as well do a mini crisp, right?!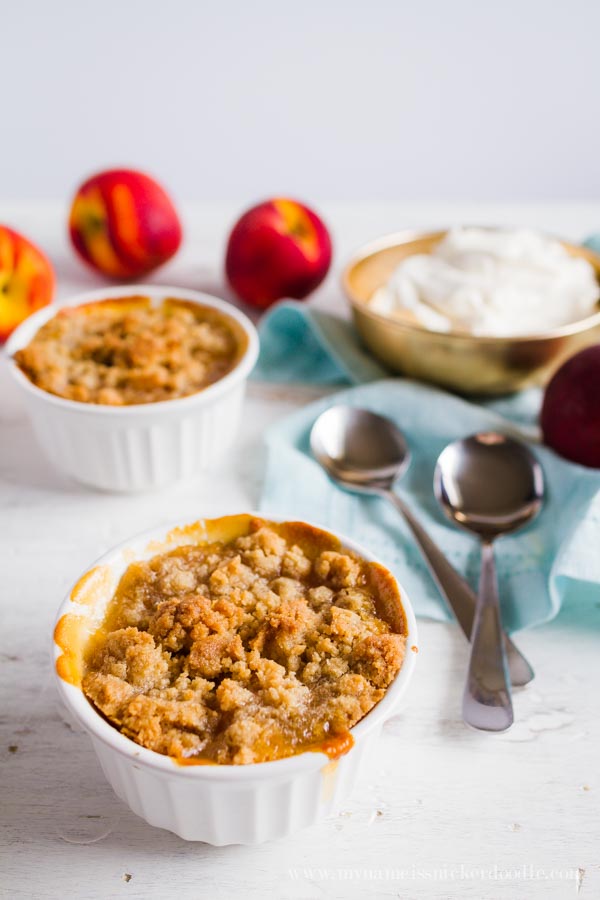 They turned out perfectly!  The topping was super crisp and butter all the while the fruit was tender, sweet and gooey!
If you don't have ramekins on hand, pint size mason jars (the short kind) will work just as well!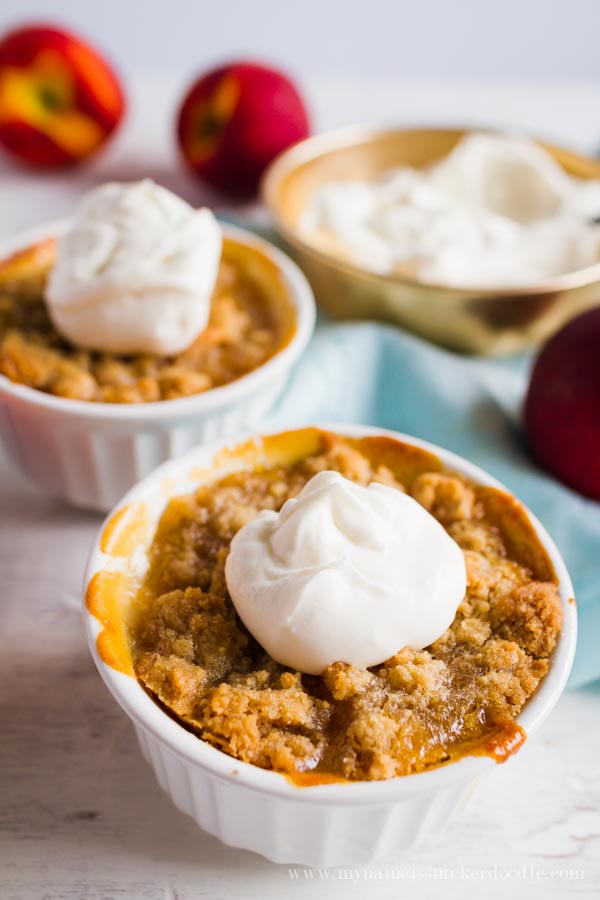 Mini Peach Crisps
Printable Version
Makes 4
Ingredients
For Fruit:
2 cups fresh peaches, peeled and sliced
1/2 cup granulated sugar
2 TBSP cornstarch
For Topping:
4 TBSP butter, melted
3/4 cup all purpose flour
1/4 cup brown sugar
3 TBSP granulated sugar
1/4 tsp cinnamon
Directions
1.  Preheat your oven to 350 degrees.
2.  In a medium bowl mix together peaches, sugar and cornstarch.
3.  Spoon fruit into four standard ramekins that have been lightly sprayed with cooking spray.
4.  In the same bowl mix together flour, brown sugar, granulated sugar and cinnamon.
5.  Add in melted butter and mix with a fork.  Mixture will not be completely wet, but more sandy in texture.
6.  Take a handful of topping and press together with your hand.  It should clump up.
7.  Sprinkle mixture over the fruit.  Leave some larger clumps so it stays crispier while baking.
8.  Place ramekins onto a baking sheet and bake for 30-35 minutes or until topping is lightly golden brown and fruit is bubbling.
9.  Cool for about 15 minutes before serving.  Serve with fresh whipped cream.
If you enjoyed this dessert, here is my recipe for Peach and Blueberry Crisp!