Sometimes I get myself into trouble with new recipes.  There are some that are complete and utter failures and some, like these cupcakes, that I can't get enough of!  I really have to be careful not to make the super great ones over and over again.  One, because they're usually not the healthiest and two, I tend to wear them out and never want to make them again!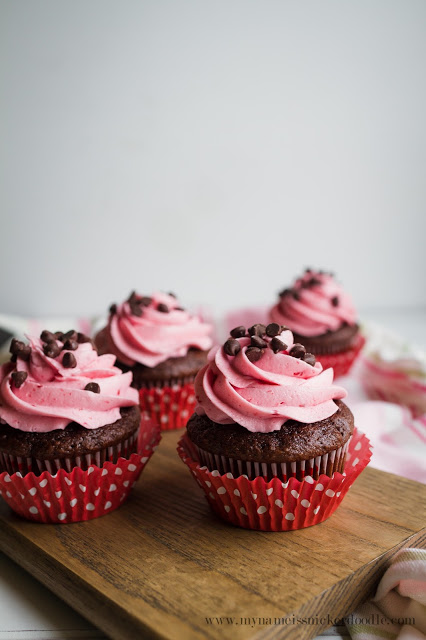 Trust me when I say that these cupcakes are extraordinary!  They will bring that WOW factor that we all long to have when we bring edible items to a party, work place or just share them with friends.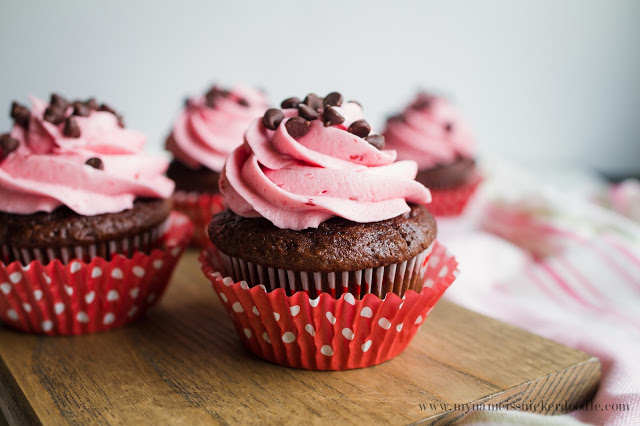 Truly the could be made anytime of the year, but how fabulous would these be on Valentine's Day!  I wanted to make sure I posted them in time for you to gather the ingredients and make them this weekend.  The combination of raspberry and chocolate is perfect!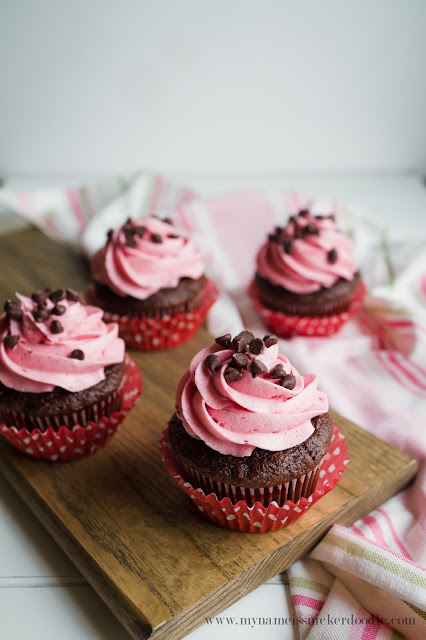 Chocolate Cupcakes with Raspberry Buttercream Frosting
Printable Version
Ingredients
For the Cake
1 box chocolate cake mix
3 eggs
1/2 cup vegetable oil
1 cup milk
1/4 cup water
1 tsp pure vanilla extract
1/2 tsp almond extract
1 small box instant chocolate pudding
For the Frosting
3/4 cup butter, softened
1/4 cup shortening
1/4 cup raspberry preserves
1 tsp pure vanilla extract
5-6 cups powdered sugar
2-3 TBSP milk
Mini Chocolate Chips
Directions
1.  Preheat oven to 350 degrees.
2.  Line 24 muffin tins with paper liners
3.  In a large bowl, beat together all cake ingredients on medium speed for 2 minutes.  Scrap down the bowl as needed.
4.  Fill paper cups 2/3 full with cake batter.
5.  Bake for 10 minutes then reduce heat to 325 and continue baking for 18-25 minutes or until center is cooked through.
6.  Cool completely before frosting.
7.  In a large bowl cream together butter, shortening raspberry preserves and vanilla extract.
8.  Slowly add in powdered sugar until all combined.
9.  If needed, use a little milk to thin it to desired consistency.
10.  Using a large star tip, frost the cupcakes and immediately sprinkle with mini chocolate chips.