Do you remember how I shared my love of homemade bread here?  The only thing that trumps it is homemade bread WITH Orange Honey Butter!  Warm bread slathered in this butter is life changing.  Dramatic?  Of course, but it's true.
Years ago I had tasted a sample at a new gourmet grocery store that had just opened.  I was hooked instantly, but I couldn't justify paying $7 lb for it!  That's when I went home and made some of my very own!
It's something that's great on homemade bread, pancakes waffles and French toast!  It keeps in the fridge for up to a month.
A few years ago I made a couple of batches and put it into smaller mason jars.  I tied a cute little ribbon around it and gave it as Christmas gifts to neighbors.  If you're really feeling nice, bake some fresh bread to go along with it!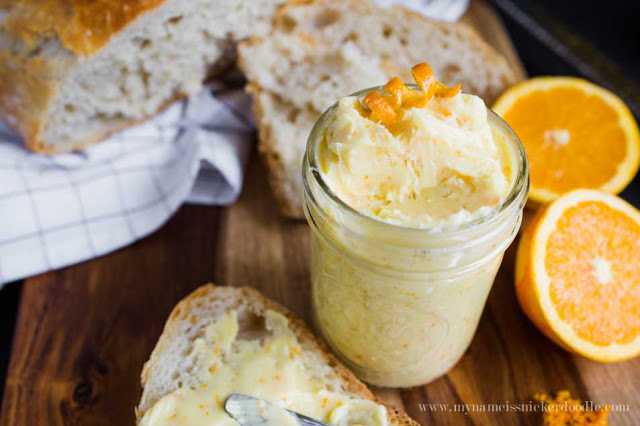 Orange Honey Butter


Ingredients
1/2 lb salted butter (2 sticks), softened at room temp
2/3 cup honey
zest from 2 large oranges
Directions
1.  In a small bowl mix together all ingredients until well incorporated.
2.  Store chilled in an air tight container like a mason jar for up to 4 weeks.
Some other great recipes you should check out!
This recipe is linked up at – Friday Finds,