This shop has been compensated by Collective Bias, Inc. and its advertiser. All opinions are mine alone. 
#NaturallyCheesy #CollectiveBias
One of my favorite things to do is collect recipes.  I have a binder full of recipes from everywhere.  I'm sure you can guess my reaction when I discovered Pinterest and started to collect recipes there!
This next recipe I got from a new friend from church years ago.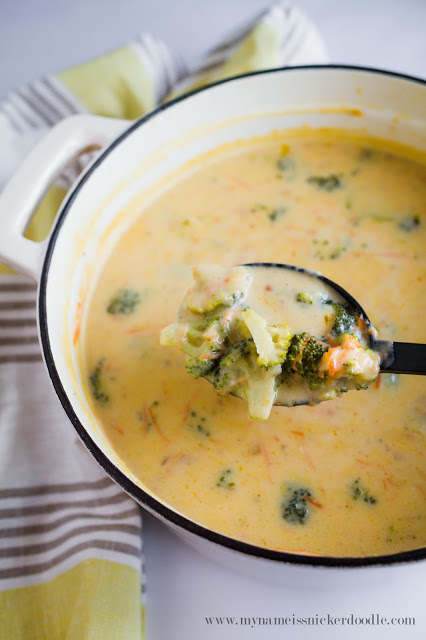 She made it for a women's group luncheon and it was the most delicious soup I had ever had in my life!  We didn't know each other very well, but I knew I
had to have the recipe.  I stalked her for weeks at church until trying
my hardest not to seem pathetic in asking for it every time I saw her.
Finally, she handed me a handwritten copy of it and I made it the very
next day.  I've altered it over the years with more cheese and bacon.  How wrong can you go with that!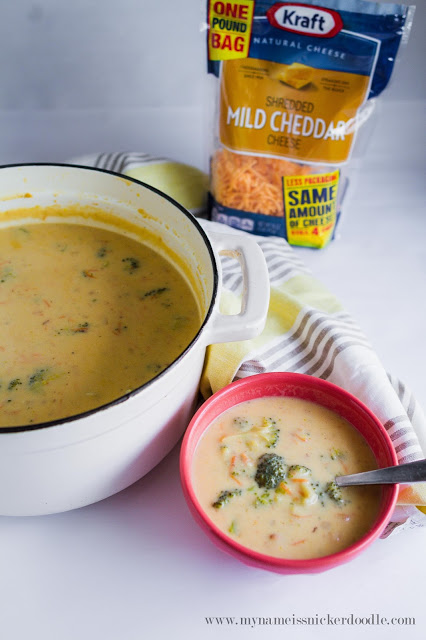 Of course there are yummy vegetables in it to balance it all out.  This soup is warm and comforting!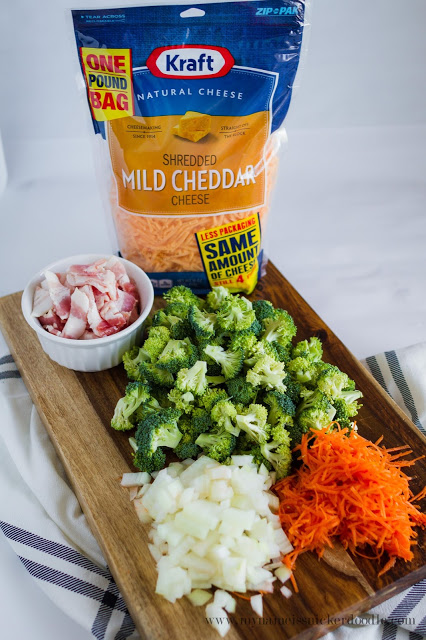 They key is to use Kraft Natural Cheese and I found the shredded bag at my local Walmart in their dairy isle.  There are plenty of flavors to choose from.  This soup would be really great even with Kraft's Pepper Jack Cheese.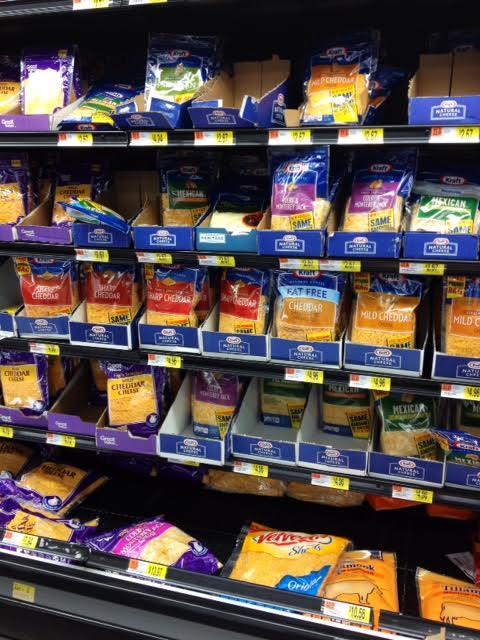 I usually wait until the weather turns really crisp and stays that way all day long.  This soup is perfect for taking to a potluck, bringing it to a new mom or doubling the batch and freeze half for another cold night!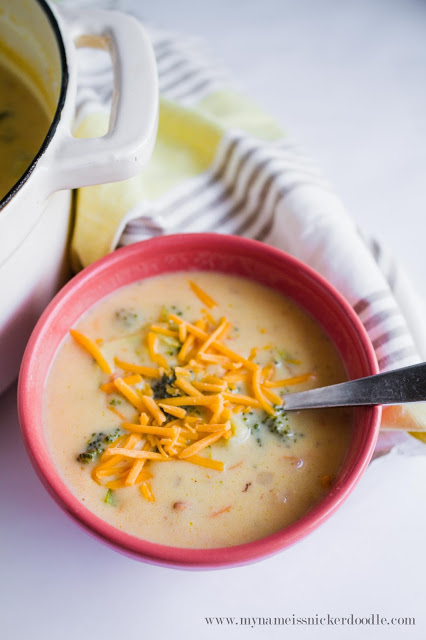 Cheesy Bacon and Broccoli Soup
Printable Version
Serves 8
Ingredients
6 slices of bacon, chopped
1 small onion, diced
1 large carrot, grated
3 cups broccoli florets
3 cans chicken broth
3/4 cup butter
3/4 cup all purpose flour
1 1/2 tsp salt
1 tsp pepper
6 cups milk
3 cups Kraft Natural Cheddar Cheese, shredded
Directions
1.  In a large pot over medium heat saute bacon and onion together until bacon is crispy and onions are tender.
2.  Drain off most of the grease and pour in chicken stock, scraping up the brown bits off the bottom of the pan.
3.  Add in broccoli and carrots and bring to a boil.
4.  Boil for 10 minutes or until broccoli is just tender.
6.  In another large pot over medium high heat melt butter.
7.  Pour in flour all at once and stir for about 1 minute.
8.  Slowly stir in milk and whisk to combine.  Whisk all the lumps out if any.
9.  Add in salt and pepper.
10.  Turn heat down to medium and cook for about 8 minutes, stirring constantly to prevent scalding.  11.  Once the mixture thickens add in cheese and stir until completely melted.
12.  Add the cheese mixture to the vegetables and stir to combine.
13.  Season with more salt and pepper if needed.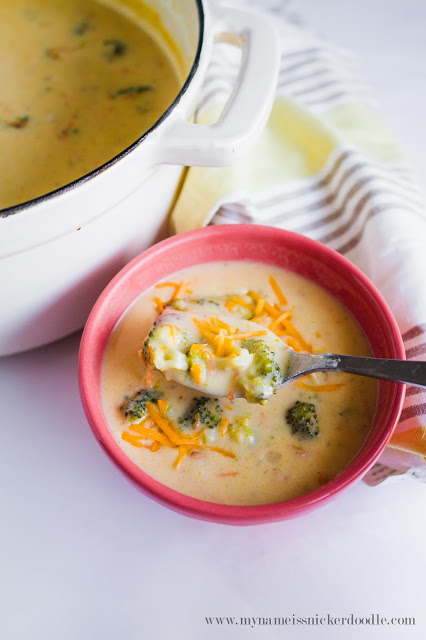 Now that I've shared the recipe with you, you won't have to stalk me for it like I shamefully did years ago.  HA!  What cheesy recipe to you make during the cold winter months?  I'd love it if you share it with me in comments below!
This recipe is linked up at – Friday Finds,