Halloween Feet Loaf is quite possibly the most perfect recipe to make for dinner any night in October! Made with a mixture of ground beef, herbs and bread crumbs. It's then shaped into two feet and ten toes. Complete with onion toenails and bloody ketchup!
After your spooky dinner you'll need an equally festive dessert. My youngest loves to help me make my Graveyard Pudding Cookie Cups. If you are in need for something sweet for a large family or crowd you've got to give my Monster Peanut Butter Cookie Bars or Caramel Apple Nachos a try!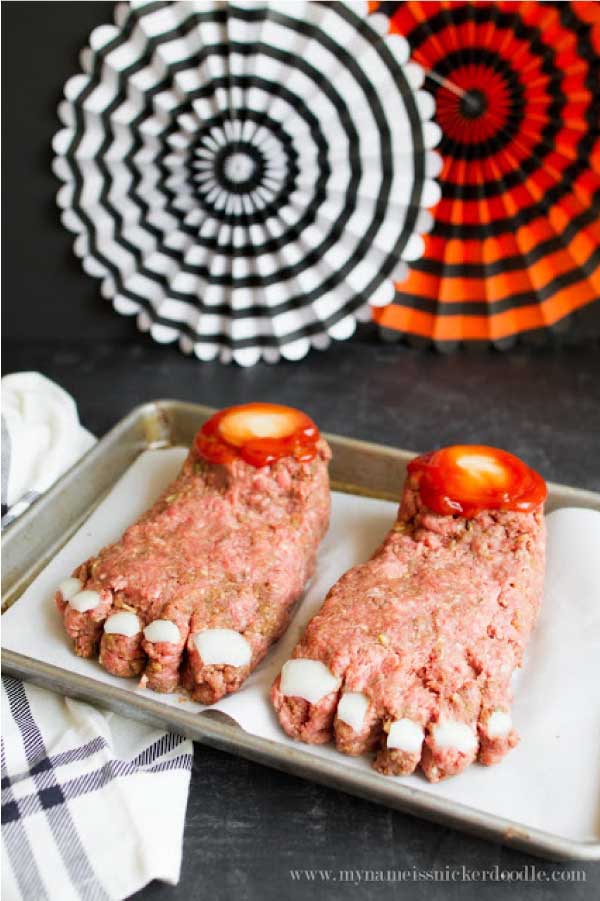 Halloween Dinner Idea
I think I created the most perfect Halloween dinner recipe. I don't really like scary or grotesque things so I surprised myself when I came up with a gross twist on a classic recipe.
Meat Loaf isn't everyones favorite meal, but my family loves it. So I took my recipe and formed it into two "feet" for a funny holiday dinner.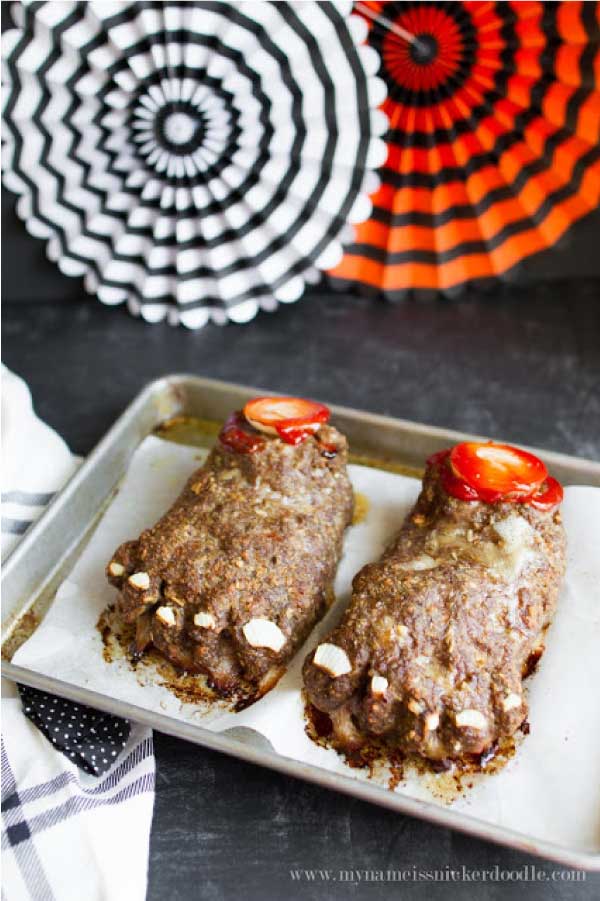 I'll be honest.
My boys were totally disgusted out by this when I revealed to them what I had made. I don't think I've ever laughed so hard when I first saw their faces as I presented it to the dinner table. That was the whole point and in the end, they loved it.
I served it along side creamy mashed potatoes and peas. It would be fun to pipe the mashed potatoes into little ghosts and tell your family they are eating troll boogers.
Gross, I know! Halloween time, it's totally appropriate!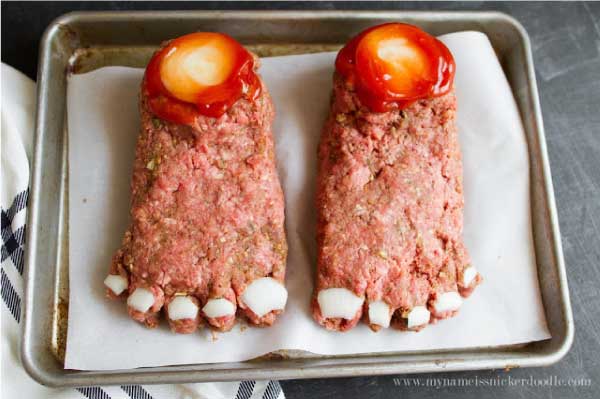 These "feet" can truly be anything you want them to be. Troll feet, goblin toes, etc. If you don't like ketchup you could use BBQ sauce, but I like the bright red of the ketchup.
You can make it the morning of, wrap it tightly in plastic wrap and refrigerator it until an hour before you need to bake it.
Be sure to check out these other great Halloween recipes!
Let me know below in the comments if you are brave enough to try this recipe!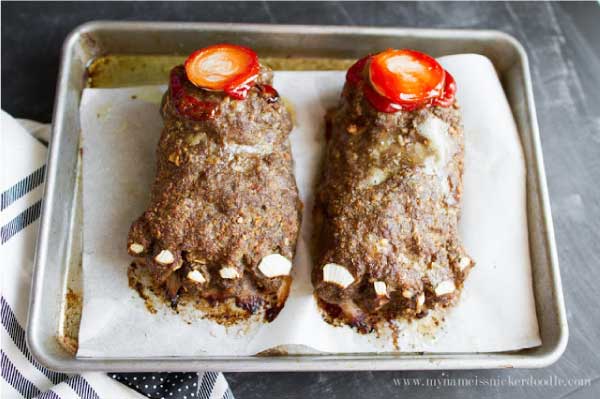 Halloween Meat Loaf or Feet Loaf Recipe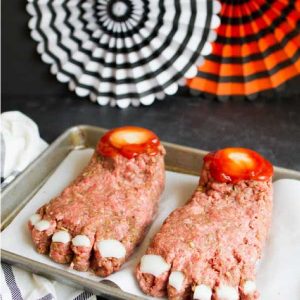 Halloween Feet Loaf Recipe
Halloween Feet Loaf is quite possibly the most perfect recipe to make for dinner any night in October! This holiday meat loaf recipe is a great Halloween dinner idea and super easy to make.
Print
Pin
Ingredients
2

lbs

Ground Beef

2

Large

Eggs

2

Cups

Panko Crumbs

1

pkt

Au Jus

1/2

tsp

Pepper

Freshly Cracked

1/2

tsp

Dry Mustard

1

tsp

Onion Powder

1

Medium Yellow Onion

1

Cup

Ketchup
Instructions
Preheat oven to 375 degrees.

In large bowl whisk together eggs, au jus, pepper, dry mustard, and onion powder.

Mix in beef and panko crumbs.

Don't over mix, just until combined.

Divide mixture in half and place onto a parchment lined baking sheet.

Form each half into a foot shape like in the pictures above.

Cut a thick slice of the onion and using one ring, cut toenail shapes for each toe.

Slice two small onion rings and place onto the top of the ankle part (creating a stump).

Spoon on a little ketchup over each onion ring and spread a little so some of it will drip down the sides.

Bake for 40-50 minutes or until center is cooked through.

Cool for 5 minutes before serving.

My family likes to eat it with ketchup or stewed tomatoes. I prefer mine with brown gravy.
*Originally posted October 2015 and updated October 2020.