Halloween Feet Loaf is completely grotesque and totally awesome to make for dinner in October!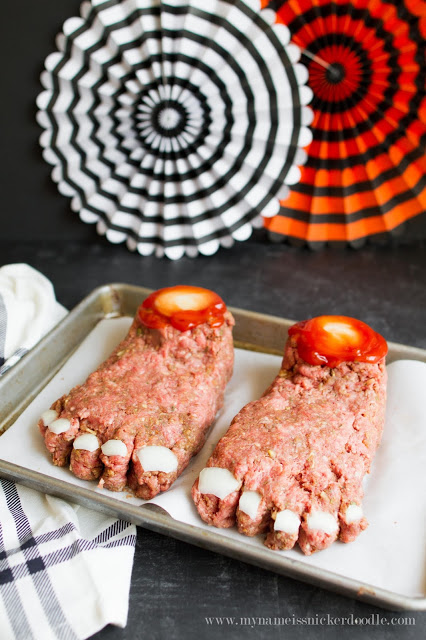 Last night in the kitchen I was laughing so hard that I was crying.  I was going against everything that I am and created the most grotesque dinner I had ever served!  Why is that so funny?  Because I was making "Feet Loaf" for my family and it was completely absurd and ridiculously hilarious.  Weird, I know!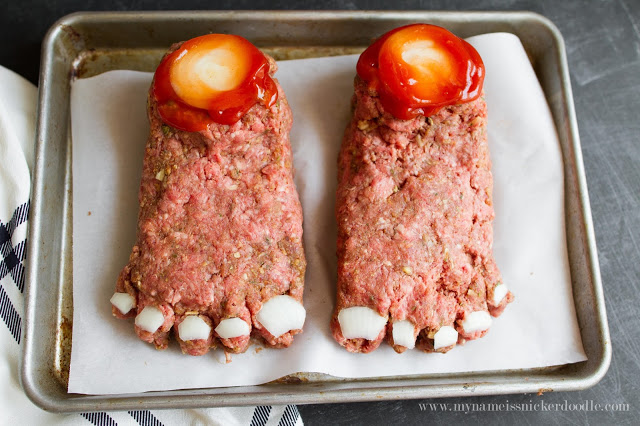 When it comes to Halloween, I am anti gross.  I like the fun side of it all, but I still can't bare to walk down the spooky isle at the grocery store.  I don't like watching scary movies and sometimes can even be a little afraid of the dark.  I'm still not sure what possessed me to do, but I couldn't help myself!
And I don't know if it's scarier that my family actually likes meatloaf!  When you've got a tasty recipe like I do, you can make anyone a fan.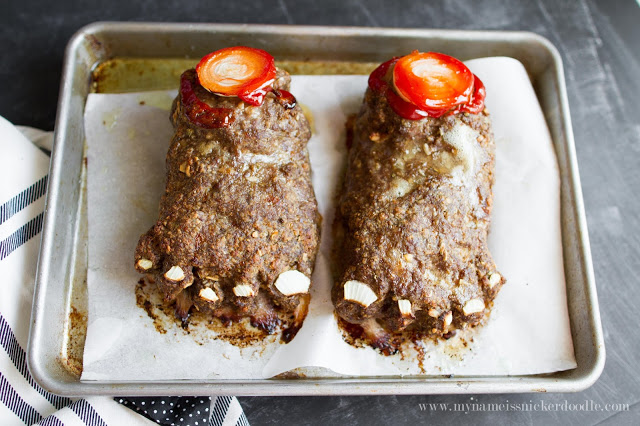 My boys were legitimately grossed out by this so I didn't make a huge production of it.  They are still pretty young.  We told them it was troll feet at first and you would have thought the world had ended!  They protested until I had fully convinced them it was the same meat loaf I always make.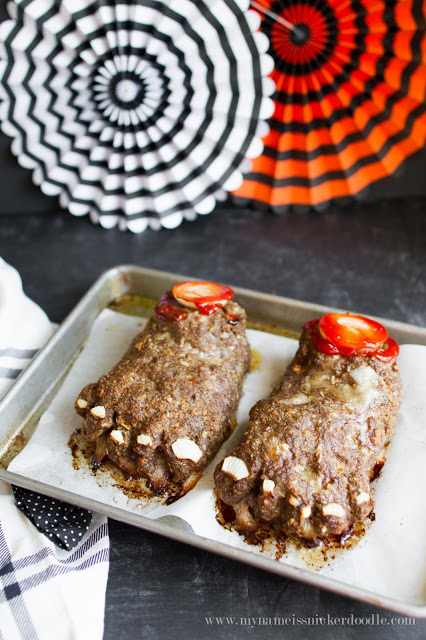 I served it along side "Ghost Poop" (creamy mashed potatoes) and "Goblin Boogers" (sweet peas) and it made the whole thing super silly.  They weren't as scared to eat the Feet Loaf as much.
Be sure to make these other fun Halloween recipes!
"Feet Loaf" aka Meatloaf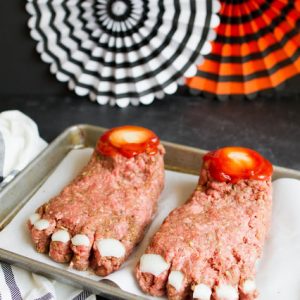 Halloween Feet Loag
Print
Pin
Total Time:
1
hour
5
minutes
Ingredients
2

lbs

Ground Beef

2

lg

Eggs

2

Cups

Panko Crumbs

1

pkt

Au Jus Mix

1/2

tsp

Freshly Cracked Pepper

1/2

tsp

Dry Mustard

1

tsp

Onion Powder

1

Medium Yellow Onion

Ketchup
Instructions
Preheat oven to 375 degrees.

In large bowl whisk together eggs, au jus, pepper, dry mustard, and onion powder.

Mix in beef and panko crumbs. Don't over mix, just until combined.

Divide mixture in half and place onto a parchment lined baking sheet.

Form each half into a foot shape like in the pictures above.

Cut a thick slice of the onion and using one ring, cut toenail shapes for each toe.

Slice two small onion rings and place onto the top of the ankle part (creating a stump).

Spoon on a little ketchup over each onion ring and spread a little so some of it will drip down the sides.

Bake for 40-50 minutes or until center is cooked through.

Cool for 5 minutes before serving.

My family likes to eat it with ketchup or stewed tomatoes. I prefer mine with brown gravy.