Halloween Sugar Cookie Bars can be made in 30 minutes from start to finish.  The entire recipe makes 30 cookies and is perfect for a party, potluck or get together!  The dough is tender and soft and the buttercream frosting is super creamy and smooth.  Use any festive sprinkles you have and don't be afraid to mix to varieties together.
Over the years I've been making some spooky and fun recipes for Halloween.  Have you checked out my Mummy Brownies?  They are just as easy to make as these cookie bars.  My Graveyard Pudding Cups are always a huge hit with the kids.  And if you want to make something that will really spook the kids, you must make my Feet Loaf for a Halloween feast!  Truly grotesque and amazing!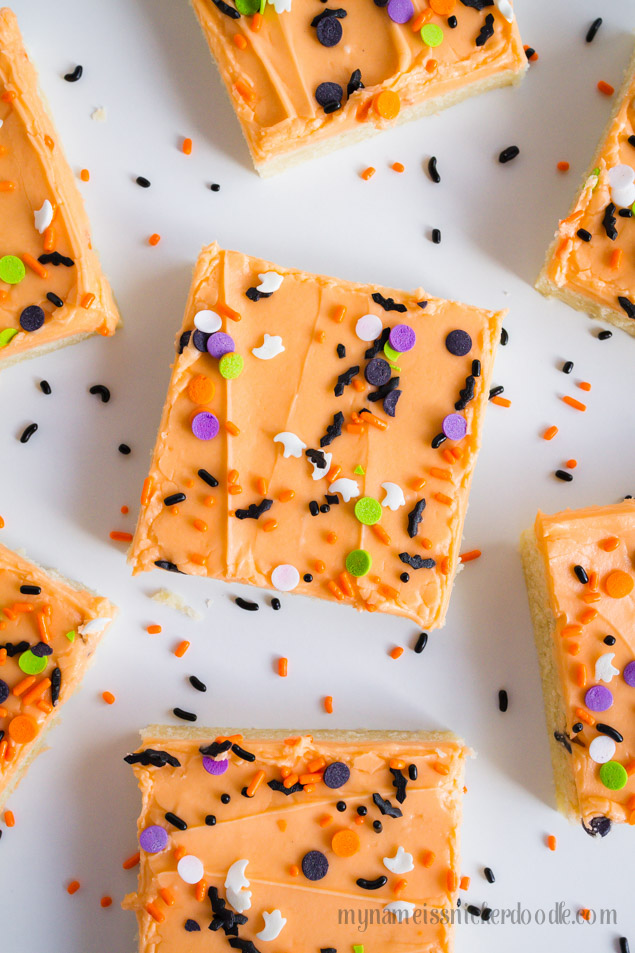 Halloween Treats
I don't mind making dozens of cookies in the kitchen.  Some cookies take longer than others.  There are some days where I just want to make 3 dozen cookies in no time at all and these Halloween Sugar Cookies Bars are perfect for that!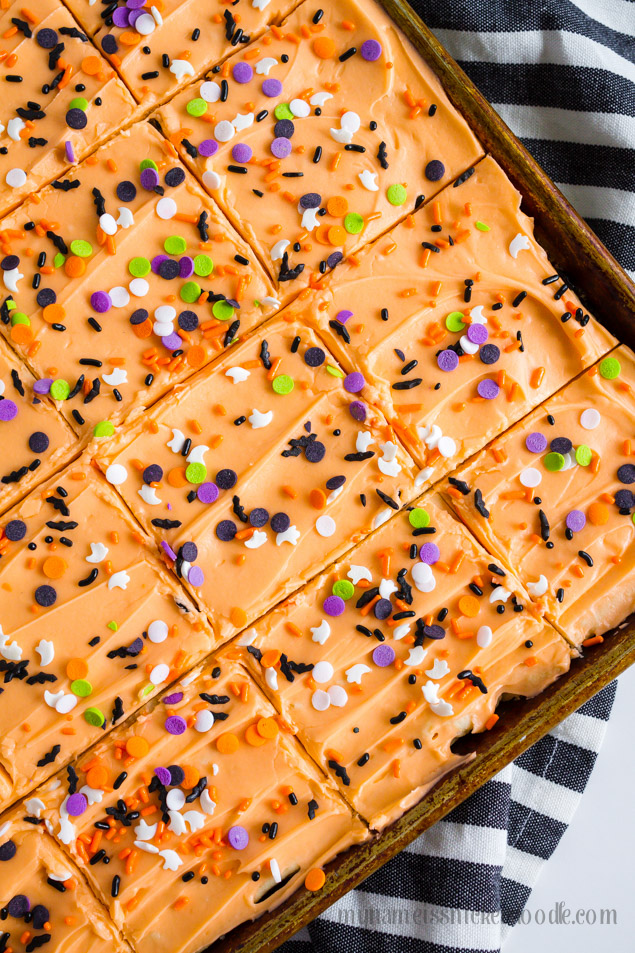 It seems like there are more parties around Halloween time than any other holiday.  That means all the treats and fun foods to entertain your guests with.
How To Make Sugar Cookies
Making 30 sugar cookies the classic way would take a long time.  Like I mentioned above, I don't mind doing that once in a while.  However, making them all at once is a baking sheet is super quick and everyone LOVES them.
You simply make your sugar cookie dough and press it into a standard baking sheet.  There's no need to spray the pan because there is enough butter in the dough.  I like to use my hands, but you could also use a flat bottomed measure cup or glass to press it in with.
Once you've baked it and let it cool completely, this is when the fun starts.  The frosting and the sprinkles!
How To Make Buttercream Frosting
There are two things you need to remember when making buttercream frosting.  You're butter needs to be room temperature.  It helps with the consistency by making it super smooth.
The second is sifting your powdered sugar.  No matter how new your powdered sugar is, it tend to clump.  If you add clumped powdered sugar to your butter and extracts, no amount of whipping will get rid of them.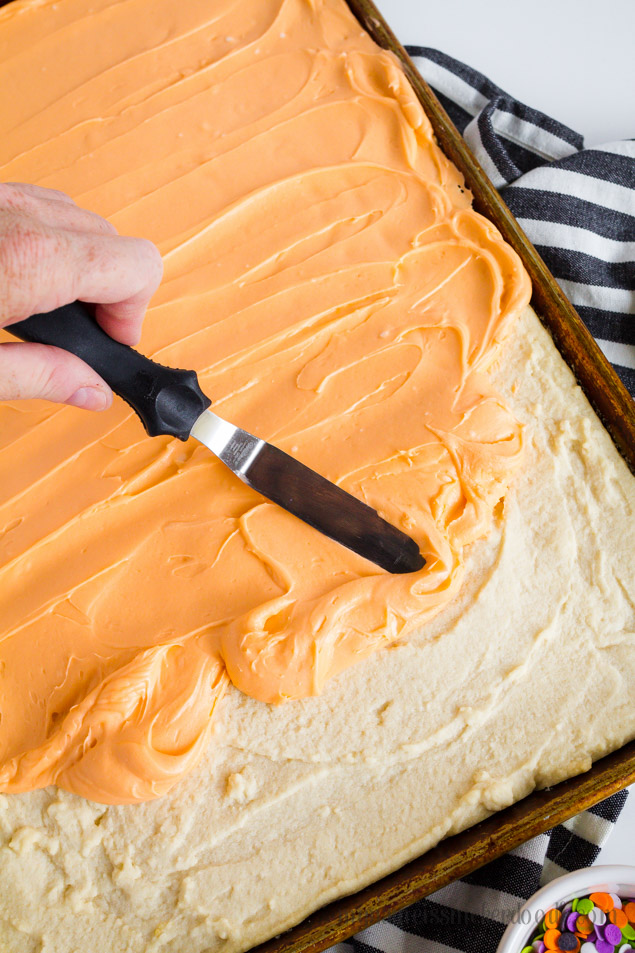 Saying that, give yourself some grace on this recipe.  When I know I'm covering something with sprinkle, I don't stress over the small lumps of powered sugar in my frosting.
When you're baking your cookies, this is a perfect time to make your frosting.  Just set it aside while you are waiting for your sugar cookies to cool.
I use an offset spatula to spread it out.  You can use a butter knife, but it's a little difficult to get the edges really well.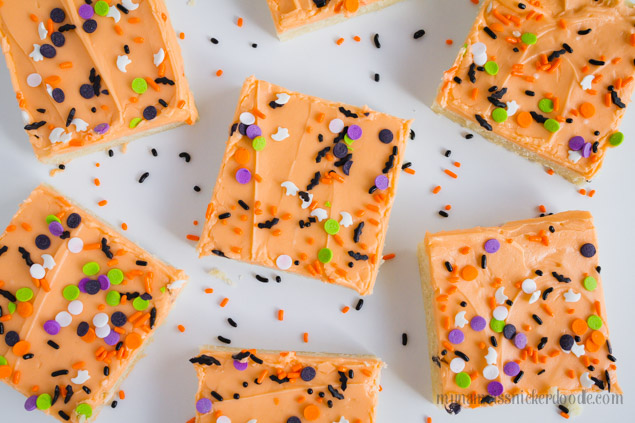 How To Find Good Sprinkles
Let's talk about sprinkles.  It's all the rage to mix all different types of sprinkles.  These premade sprinkle mixes can be a little expensive so I like to combine a few simple varieties myself.
One of the best places I have found for really cute sprinkles is Home Goods  If you look in their food section, they carry fun jars and containers of holiday sprinkles.  I like to buy a bottle or two when I shop there around the holidays so I can alway  have them on hand.  And sprinkles seem to last forever!
How To Cut Dessert Bars
When you've gone to the extra mile by making sure your frosting is even and you put sprinkles in all the right places, you don't want to mess it all up by using the wrong knife to cut them.
A plastic knife surprisingly works WONDERFULLY with cutting your bars and not clawing them to death.  This trick also works really well with cutting brownies.
Make these other fun Halloween Treats!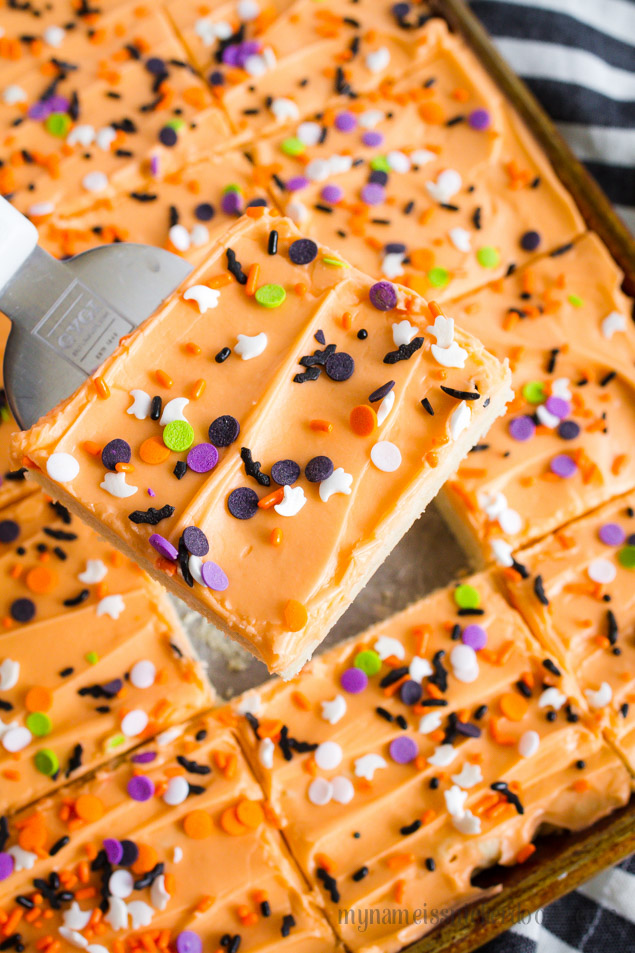 Halloween Sugar Cookie Bars Recipe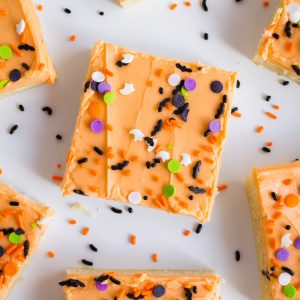 Halloween Sugar Cookie Bars
A recipe that is super simple and makes 30 bars in under 30 minutes! Great for a crowd
Print
Pin
Ingredients
FOR COOKIES
1

Cup

Butter, Softened

3/4

Cup

Vegetable Oil

1

Cup

Granulated Sugar

1

Cup

Powdered Sugar

2

TBSP

Milk

2

Large

Eggs

1/2

tsp

Baking Powder

1/2

tsp

Cream Of Tartar

1/2

tsp

Kosher Salt

4

Cups

All Purpose Flour
FOR FROSTING
5

TBSP

Butter, Softened

1/2

Cup

Sour Cream

1

tsp

Pure Vanilla Extract

4

Cups

Powdered Sugar

4-5

TBSP

Milk

3-4

Drops

Orange Food Coloring

Halloween Sprinkles
Instructions
FOR COOKIES
Preheat oven to 350 degrees.

In a standing mixer or large bowl, cream together butter, oil, granulated sugar and powdered sugar for 2 minutes on medium speed.

Add in milk and eggs and mix until well combined.

In a separate medium bowl whisk together baking powder, cream of tartar salt and flour.

Slowly add in a little flour mixture while beating and mix until just combined. Do not over beat.

Lightly spray a standard baking sheet with oil.

Pour batter into the baking sheet and evenly spread out.

Bake for 12-15 minutes and an inserted toothpick comes out clean.

Cool 20 minutes before frosting.
FOR FROSTING
In a standing mixer or large bowl cream together butter and sour cream until smooth.

Slowly add in the powdered sugar until completely incorporated.

Pour in 1 TBSP at a time of milk until consistency is about the same as cake batter. Not too runny, but pourable.

Add in food coloring and mix.

Evenly spread frosting over dough and immediately sprinkle with sprinkles.

Best served chilled until ready to serve.
*Originally posted October 2018 and updated October 2021.