Raspberry Butter has become my new obsession. The combination of creamy butter, tart raspberry jam and sweet honey makes the perfect spread for practically everything!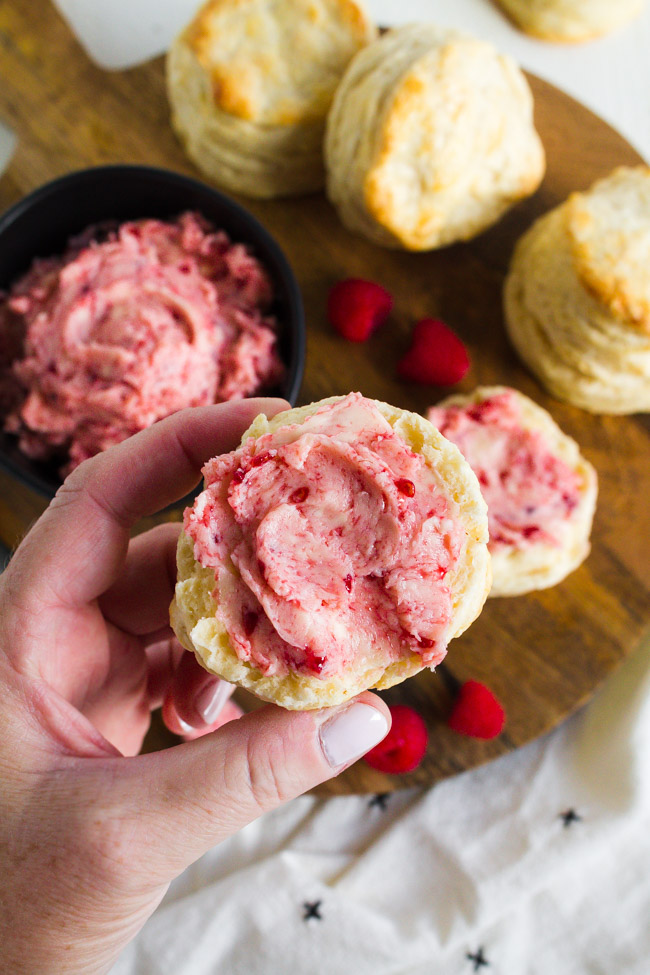 It's said that breakfast is the most important meal of the day.
Breakfast is my most favorite meal of the day.
I don't necessarily eat breakfast food at in the morning time, though. I actually prefer to eat it during brunch hours or better yet, dinner time.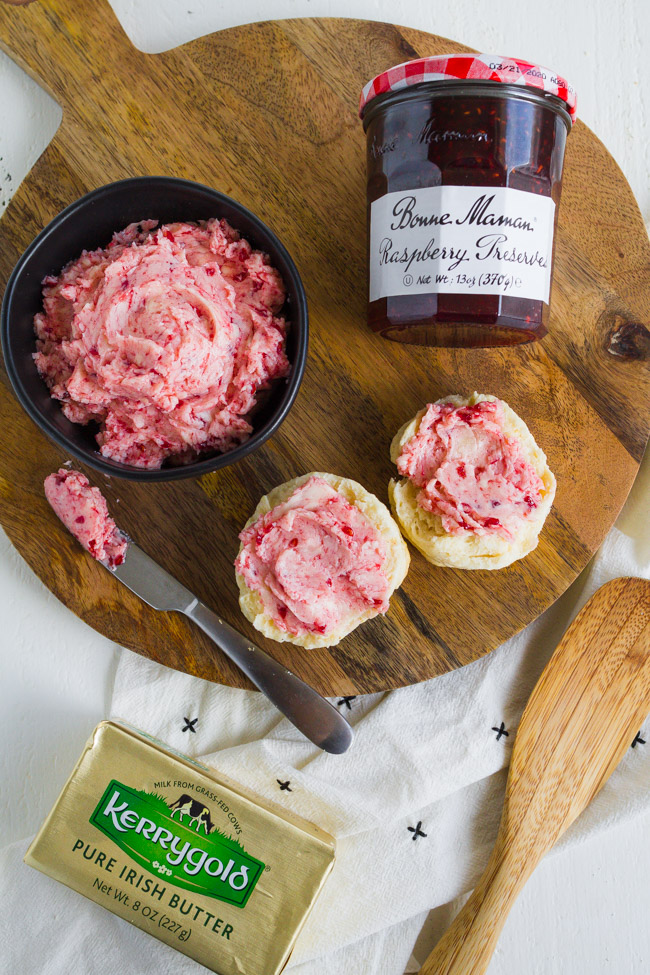 The very first time we went to brunch at Magnolia Table, I ordered the French Toast with the Strawberry Butter. It was truly heavenly. Once I slathered the butter over the hot French Toast it started to melt and mix with a little bit of the syrup I poured over the top.
Oh so good! It got me thinking that I could recreate it at home.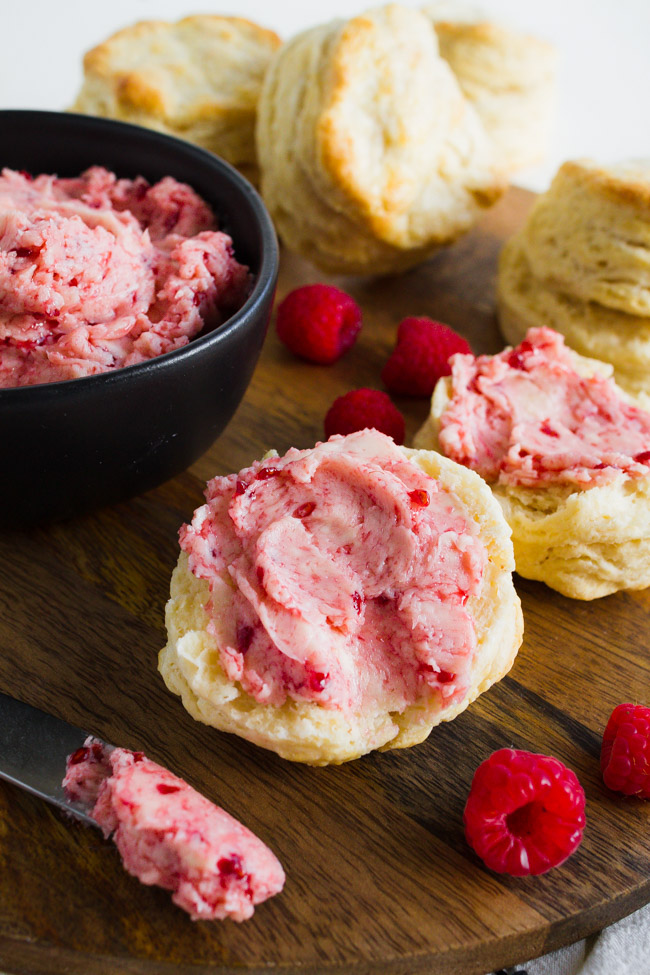 When I recreate recipes I get a little excited and want to get in the kitchen right away. However, sometimes life happens and I can't get to it right away. Weekend plans and activities prevented me from getting to the market to pick up strawberries I needed.
I couldn't get it off my mind though that following weekend and started looking in my pantry to see if I had strawberry preserves or jam.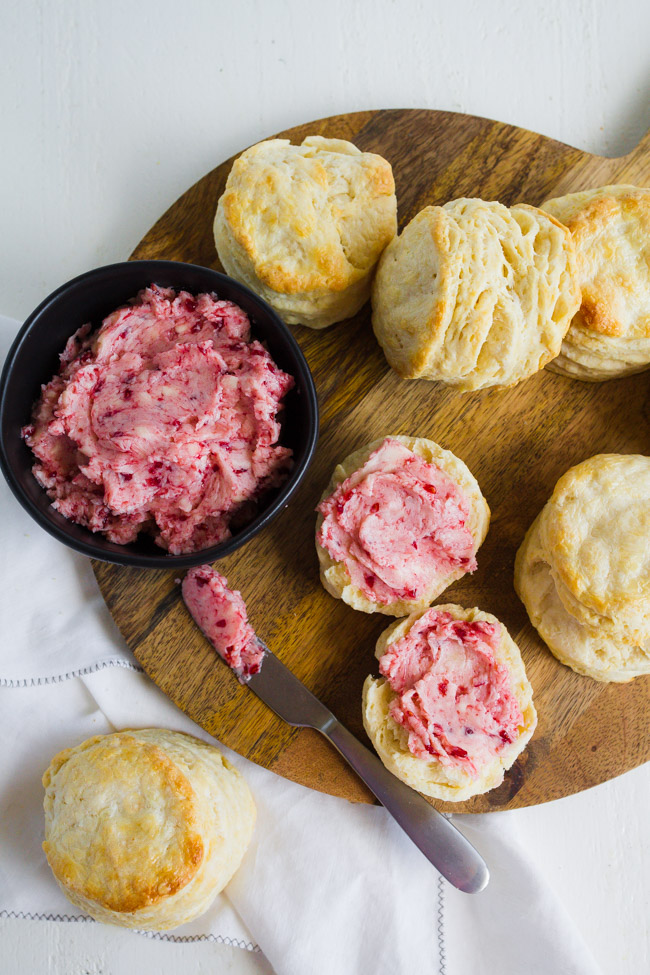 Turns out I had raspberry preserves and a lightbulb went off in my head. The tartness of the raspberries would pair really well with the creaminess of the butter and the sweetness of the honey I planned on adding to the recipe.
How To Make Flavored Butters
Flavored butters are one of the most simple things to make. You can either create sweet versions with fruits and sugars or savory varieties with garlic, herbs and cheese.
When making a fruit version you will always want to add a little extra sweetness to it. You can use powdered sugar, but I like to use honey.
How To Soften Butter
The most important thing when making any of these is your butter has to be at room temperature. If you melt it the milk solids with separate and it won't be the same with it solidifies.
If your butter is too cold then it makes it really difficult to incorporate any of the extra ingredients you want to add in.
Room temperature butter is best achieved when you place the butter sticks on the kitchen counter for 4 hours or longer. If you don't have that much time you can always soften your butter quickly in the microwave for just a few seconds. The only downfall is not all microwaves heat the same so you just need to be careful it doesn't melt in the middle.
The best way to quickly softened is to place the stick of butter standing upright on a small plate. Fill a large class cup with hot water and let it sit for 2 minutes. Pour the hot water out in the sink and cover the stick of butter with the hot cup. Let it stand for 2-3 minutes and it will spread perfectly!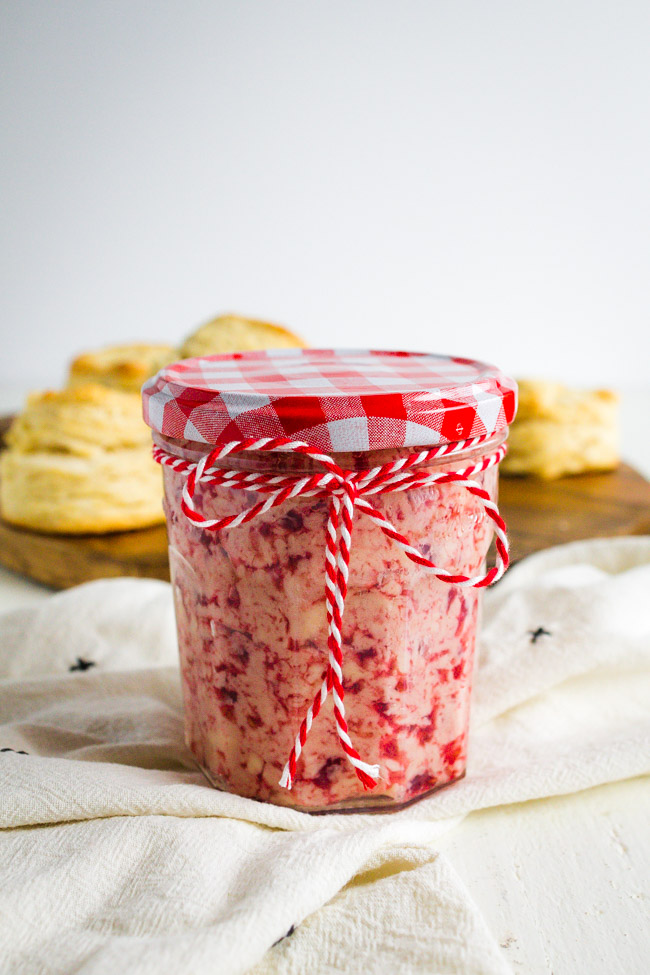 I really like to keep my Bonne Maman Jam jars and resuse them for my flavored butters like this Raspberry Butter and for my Orange Honey Butter. Just wash the glass and the jar really well with hot water and soap. It's also super important that you completely dry them before reusing them.
If you don't have any of the Bonne Maman jars you certainly could use mason jars, but how fabulous are these Weck Tulip Jars from Amazon?
This recipe works really well as a gift, too! You can fill small jars with the Raspberry Butter and tie some simple baker's twine around in a bow. Add it to a little basket of fresh bread or homemade biscuits and bring some joy to someone you know!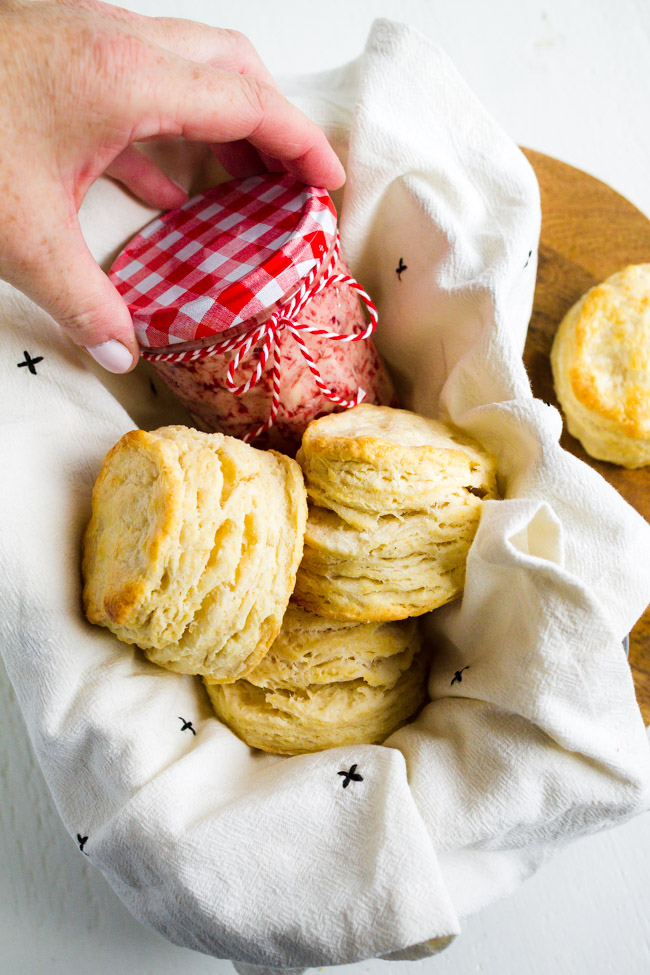 If you loved this recipe be sure to try these others!
And if you are in need for the perfect Flaky Buttermilk Biscuit recipe, I've got one for you over on my other site Everything Eats.
Raspberry Butter Recipe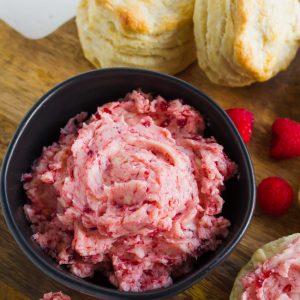 Raspberry Butter
This combination of creamy butter, tart raspberry jam and sweet honey makes the perfect spread for practically everything!
Print
Pin
Ingredients
1

Cup

Butter, Softened

1/2

Cup

Raspberry Preserves or Jam

1/4

Cup

Honey
Instructions
In a medium mixing bowl whip together butter, raspberry jam and honey together for 1 minute on medium spread.

Can be stored at room temperature in an airtight container for up to 7 days or in the fridge for 1 month.