Magnolia Table Restaurant is a complete experience when enjoying a delicious creation by Joanna and Chip Gaines.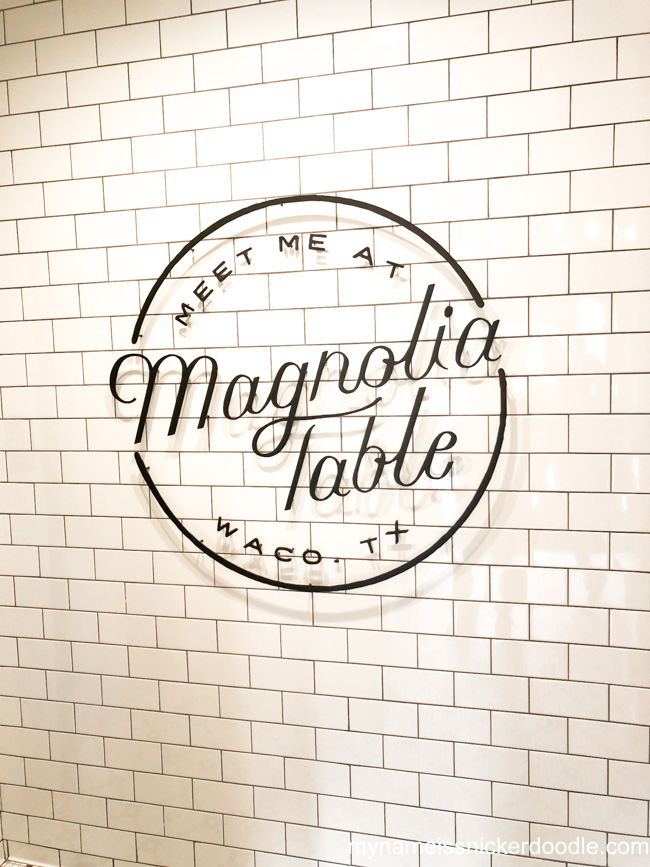 I'm taking a little break from posting delicious recipes to share a great day date I had with my husband in the spring.  When I found out that Chip and Joanna Gaines were opening up a restaurant, it landed on my "places to eat" list!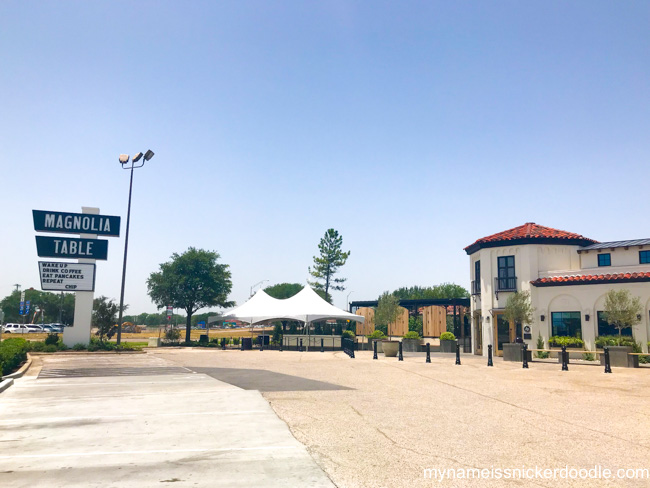 Living only 90 minutes from Waco, Texas, we try to take advantage and visit when we can.  When the Magnolia Table Restaurant opened earlier this year, I couldn't wait to eat there!  Knowing the crowds were going to be crazy, I wanted to experience without having to worry about entertaining our kids while we stood in line.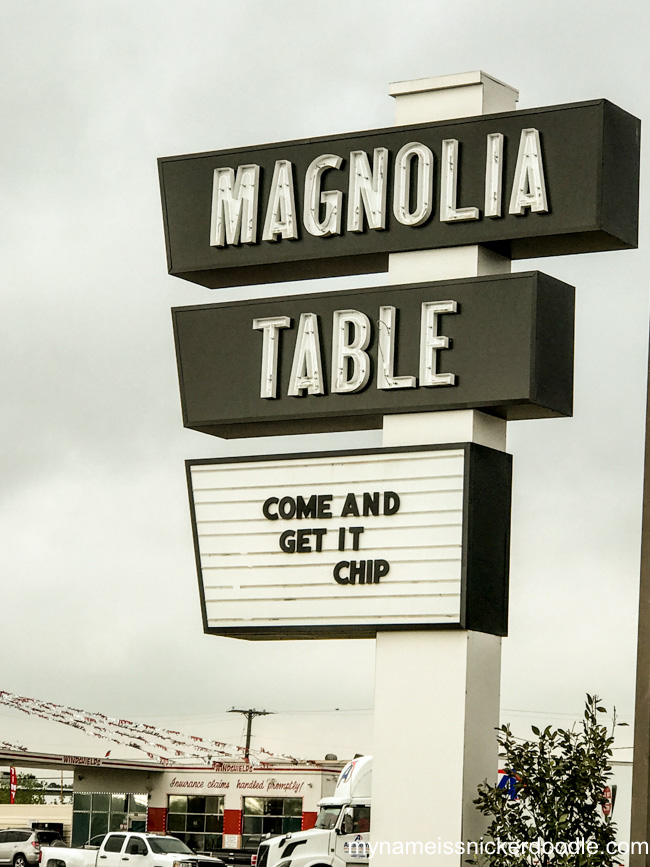 I asked my husband if we could go as late birthday lunch date and he happily said yes.  He was curious about the whole experience as well and can't turn down a good meal.  We dropped the kids off at school and hopped onto freeway and headed up to Waco.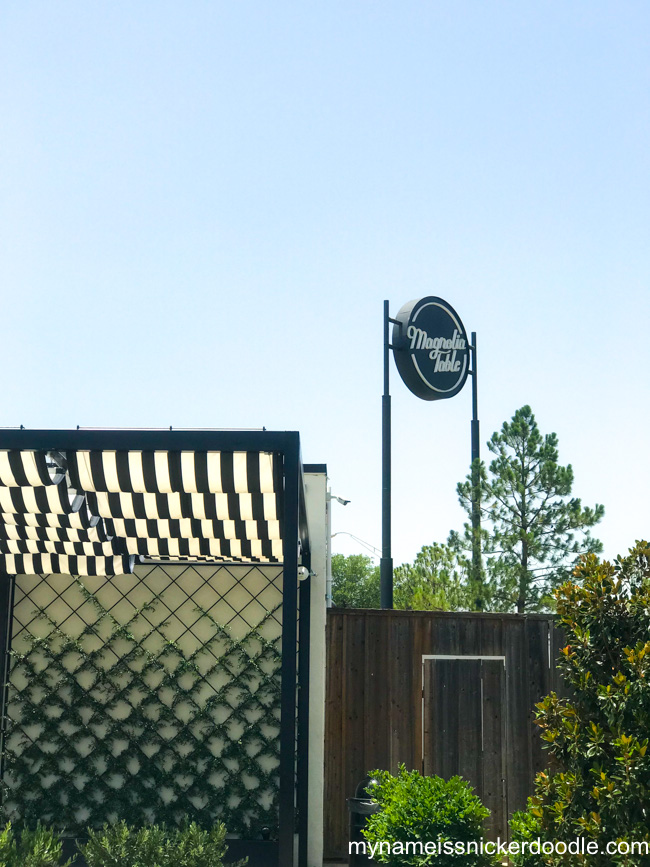 Visiting Magnolia Table in Waco, Texas
Here is everything we learned while there on our visit!
Magnolia Table opens really early.  Their doors open at 6:00, but a line starts to form well before that.  They are a breakfast restaurant after all!
The first line you'll stand in is only to get reservations.  When Ian and I came we were surprised by this.  There were only about 15 people in line as we walked up from the parking lot so we thought we got there at a perfect time.  A super helpful staff member was making her way through the line informing everyone what their process was.
The reservation line is just outside of the front doors.  They recently put up a temporary awning because during the summer months, it will be extremely hot.
When we made our way up to the hostess, she took our phone number and told us our wait would be 60 minutes.  They would send us updates on our phone letting us know what our reservation status was.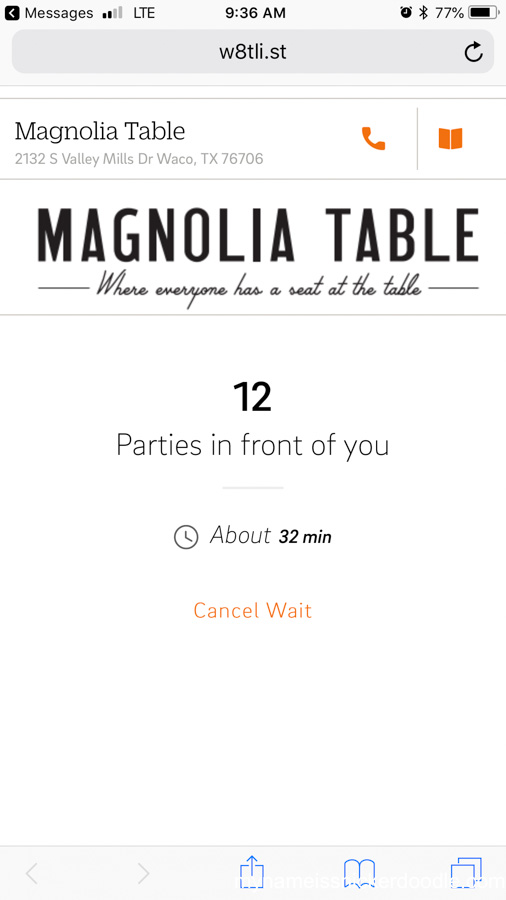 The hostess invited to wait in the courtyard (where there are plenty of tables and benches to sit and wait) or we could visit the Cafe and Market.  Since we had about a 45 minute wait, we took advantage of the time.
Magnolia Table Cafe And Market
Ian and I slowly made our way over.  It wasn't a far walk seeing that it's completely attached to the restaurant.
I did the blogger Instagram thing and took pictures at every turn.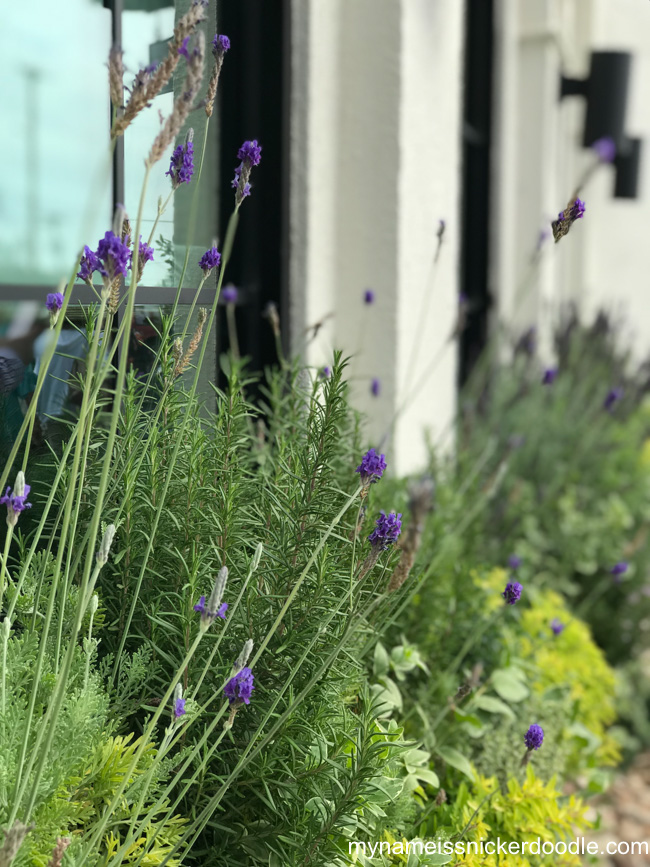 And my husband did the husband of a blogger thing and took pictures of me taking pictures!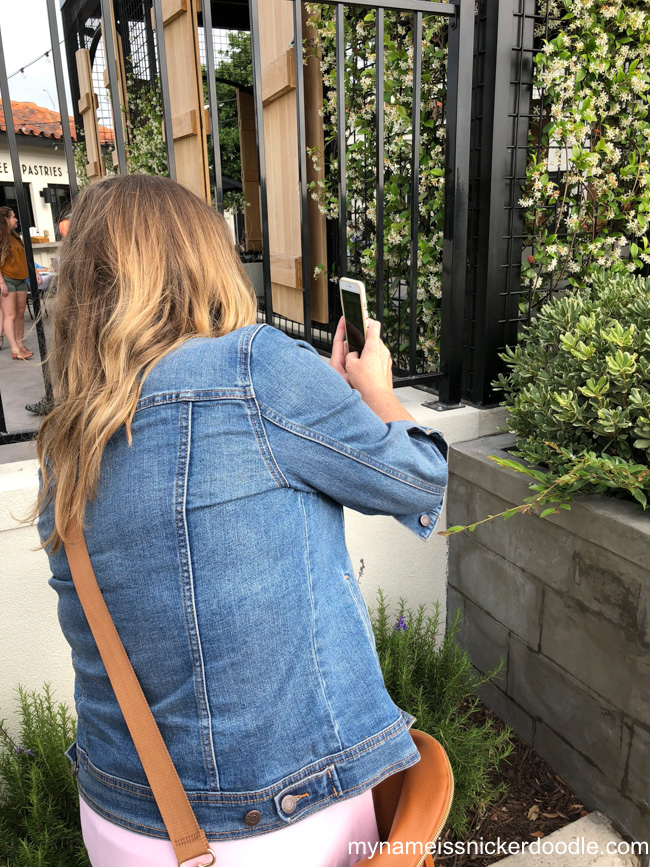 The actual grounds and landscape are truly gorgeous!  Flower boxes on all the windows, classic wood shutters, potted plants and olive trees in stunning planter boxes.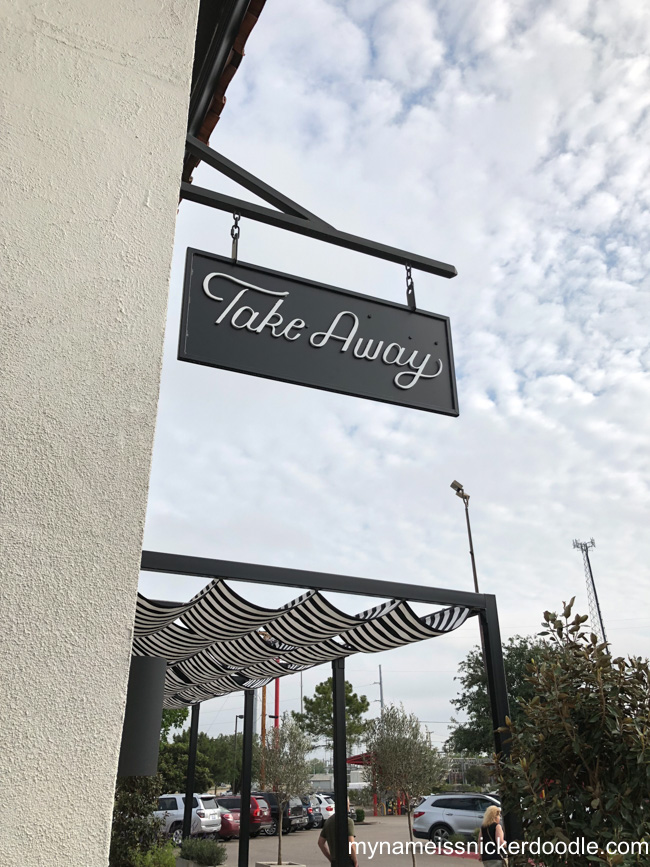 Once we turned the corner of the building and saw the Take Away Cafe we had to stop and take a photo in front of it.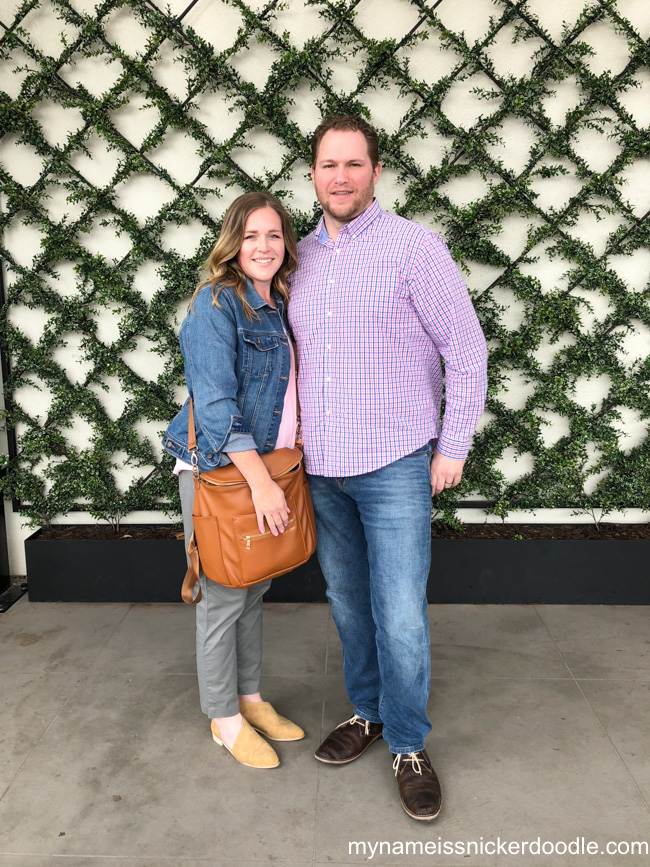 The inside the intimate Take Away Cafe and Market is classic Joanna Gaines!  Black and white, smooth white tile and displays of paraphernalia.  I had already bought the Magnolia Table Cook Book, but I couldn't help take a picture of all of them!  Do you own it?  So many wonderful recipes.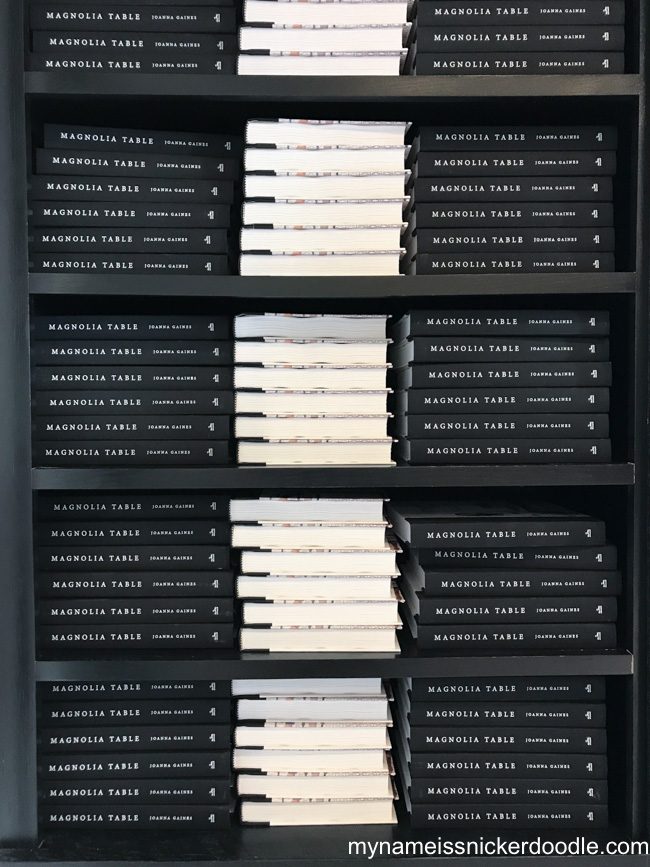 Magnolia Table Take Away
If you don't have the time to wait in line to eat at the restaurant, they offer food at the Take Away and a little coffee/pastry bar in their courtyard.  In the cafe you can buy things as simple as chicken salad, Cookies, homemade pimento cheese and drinks.
Magnolia Table Courtyard Cafe
It was starting to get full of visitors so we made our way over to the courtyard to sit and wait for our remaining time.
By this time we only had about 20 more minutes to wait and were getting excited for breakfast.  There were a few menus floating around so Ian nabbed one that we could look over.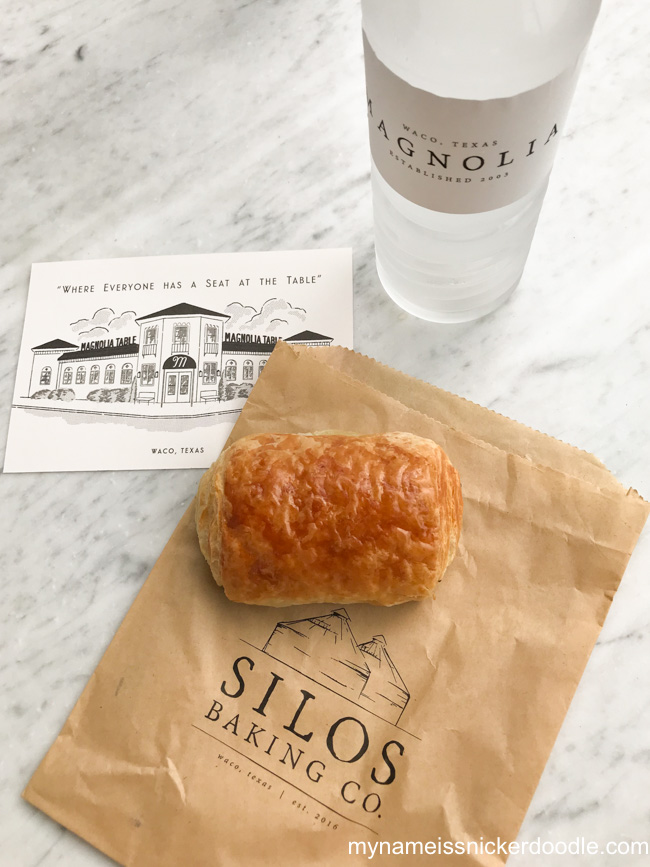 He also grabbed a few bottled waters and a chocolate croissant to tide us over.  Ian knew it's a favorite of mine so we had a little dessert first.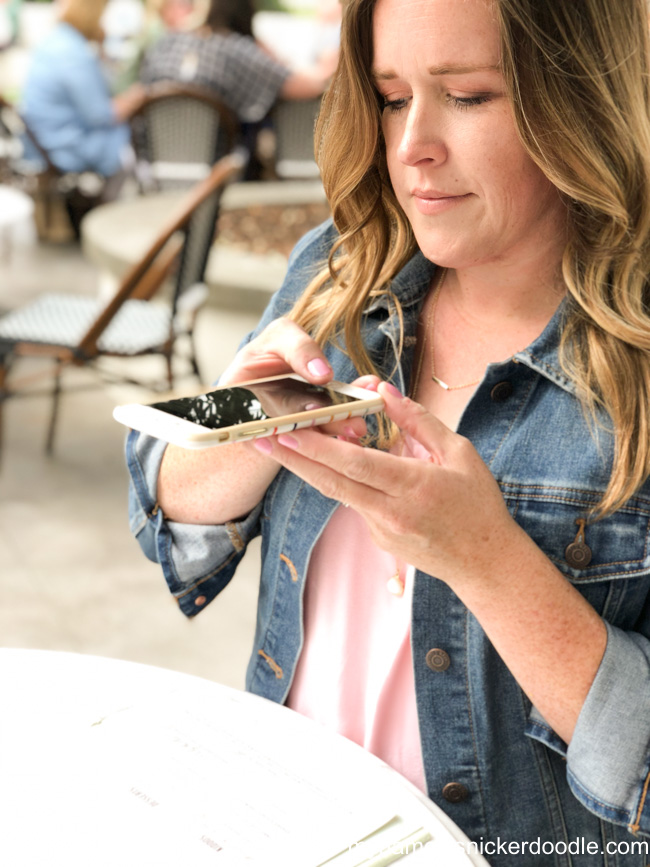 Here are a few other items they offer in the Coffee Bar.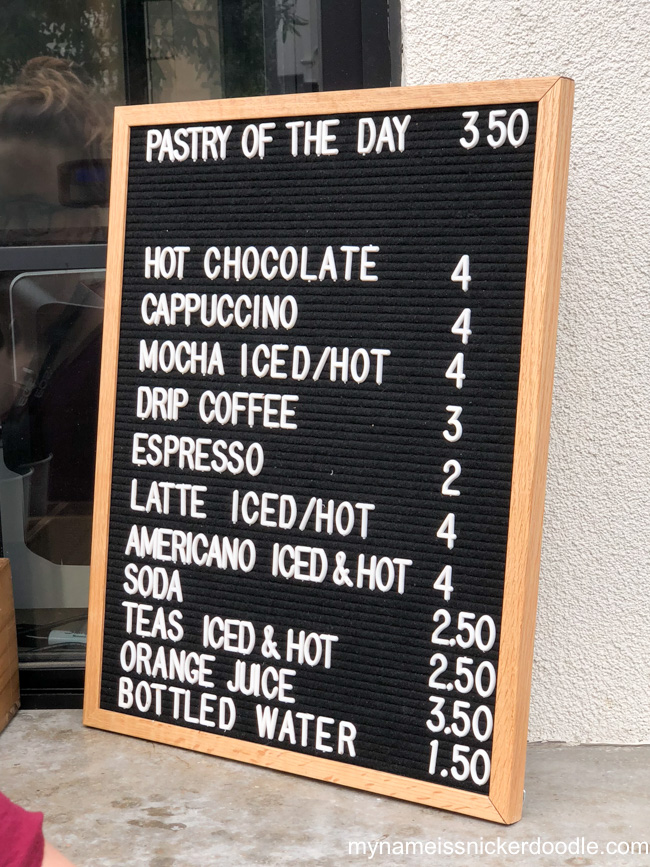 Instagram Stories are my favorite way to share things, but doing it in public always makes me nervous.  Especially if my husband is watching and taking pictures of me!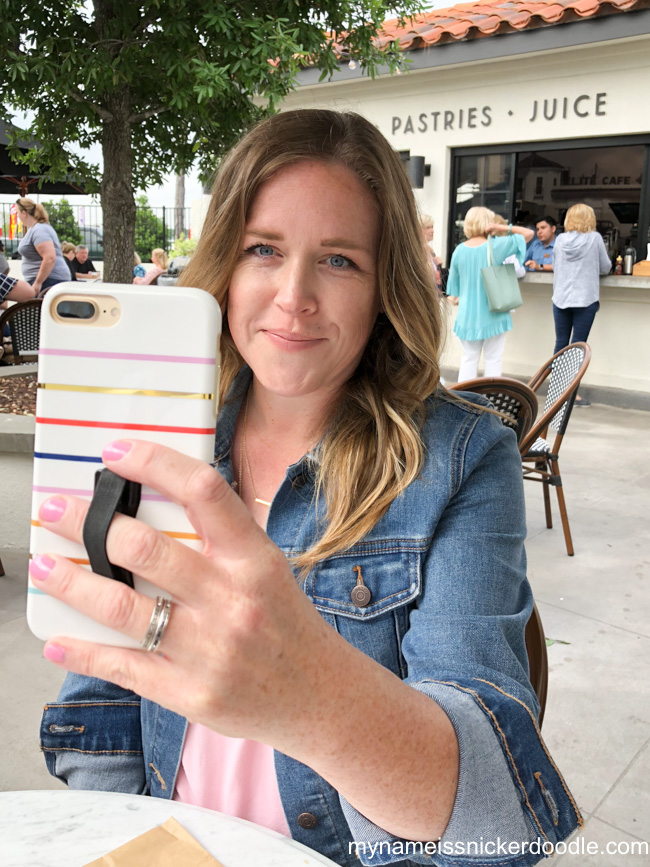 Then you ask him to take a picture of you casually eating the croissant, feel absolutely ridiculous and can't get a serious shot!  LOL!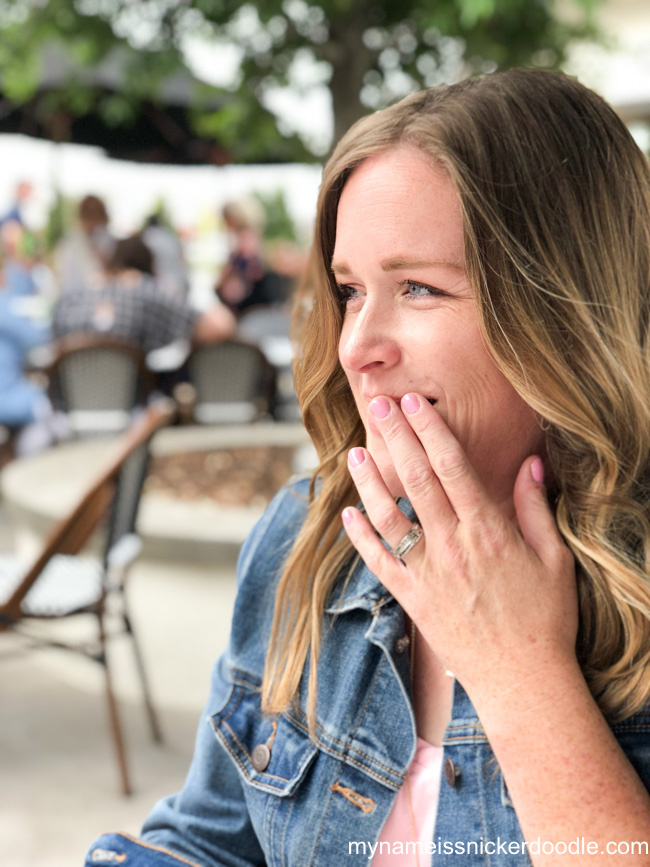 It was shortly after this that I got the text our table was ready!  We cleaned up our trash and made our way up to the hostess station.  She greeted us with a warm smile and welcomed us to Magnolia Table.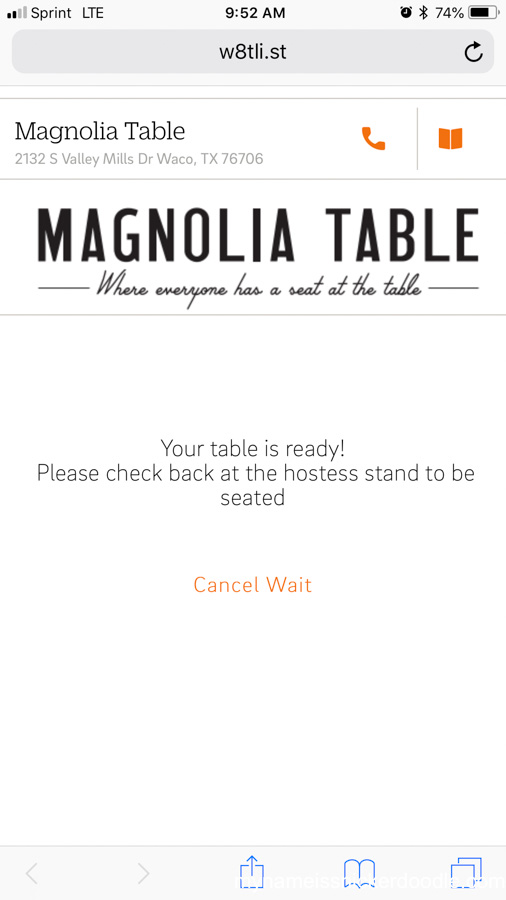 Read all about Eating At Magnolia Table on this post.