All growing up, I hating stuffing (or dressing) at Thanksgiving. Maybe it just got in the way of my favorite side, mashed potatoes and gravy. Or maybe it was just the way my mom made it. Sorry, mom, I love you! But guess where this recipe comes from? My mom. I know, I just said that I hated it.
The ingredients are all the same, with a few tweaks here and there in the prepping. They make all the difference, though! Just the smell alone of this cooking in my house brings back every single Thanksgiving of my childhood. Watching the parade with my mom, helping out a little in the kitchen prepping the Banana Cream Pie and listening to Christmas music. Maybe that's why I make this every year. Or maybe it's because is dang tasty and can hold it's own next to those creamy mashed potatoes!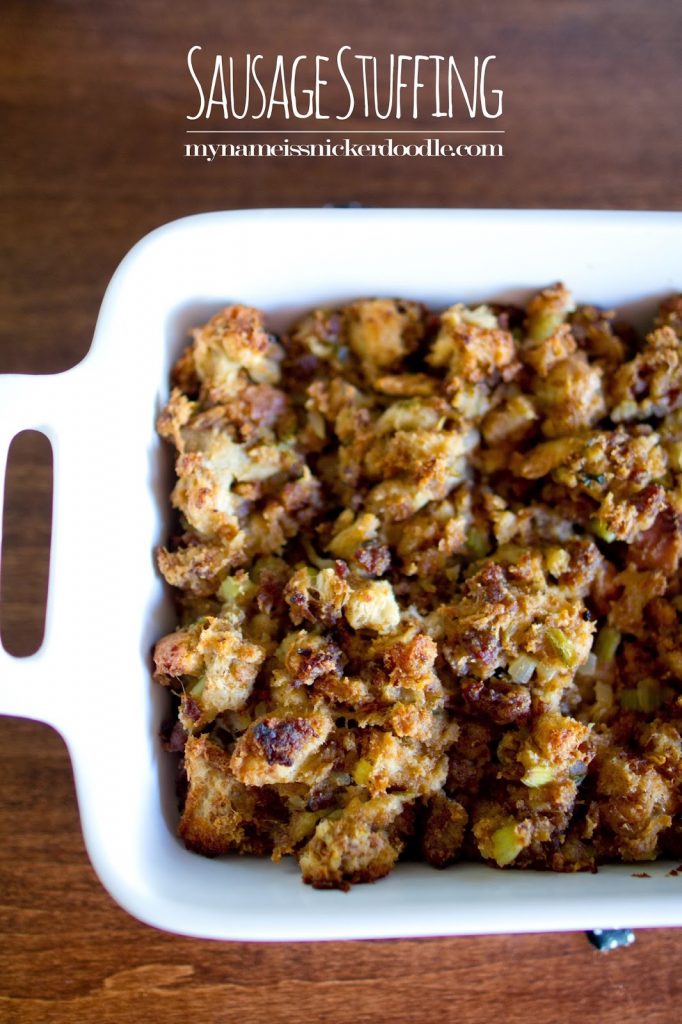 Sausage Stuffing
Printable Version
Serves 10-12
1 1/2 loaves of sliced white sandwich bread (about 35-40 slices)
48 oz chicken stock
2 cups diced celery (I like to use the inside stalks first, leaves and all)
1 1/2 TBSP poultry seasoning
1/2 tsp salt
1 lb breakfast sausage
1 medium onion, diced
1/2 cup butter
Preheat oven to 300 degrees. Break bread slices up into bite size pieces. Place onto two cookie sheets and toast in the oven for about 30-40 minutes. Check and turn bread every 10 minutes. You only want it slightly brown, but dry through out. Cool completely and transfer to a extra large bowl.
In a large pot add chicken stock, diced celery, poultry seasoning and salt. Bring to a boil and cook for 20 minutes.
Meanwhile, in a large pan break up sausage and brown over medium high heat. Drain onto a paper towel and add to bread. Using the same pan, melt butter over medium high heat and add in diced onions. Saute until translucent and slightly browned. Pour onions and butter over bread and toss together.
Slowly ladle in seasoned chicken stock and celery over the bread mixture and stir to combine. Don't add in all the stock at once because you might not need it all. Just add enough till the bread is completely moist, but not drenched.
Preheat oven to 350 degrees. Place stuffing into a 9×13 pan and bake for 40 minutes.
You can make this ahead. Once you've placed it in a 9×13, cover well with plastic wrap and place in the refrigerator. When you are ready to bake it, let it sit on the counter for 30 minutes and bake it for 40-50 minutes at 350 degrees.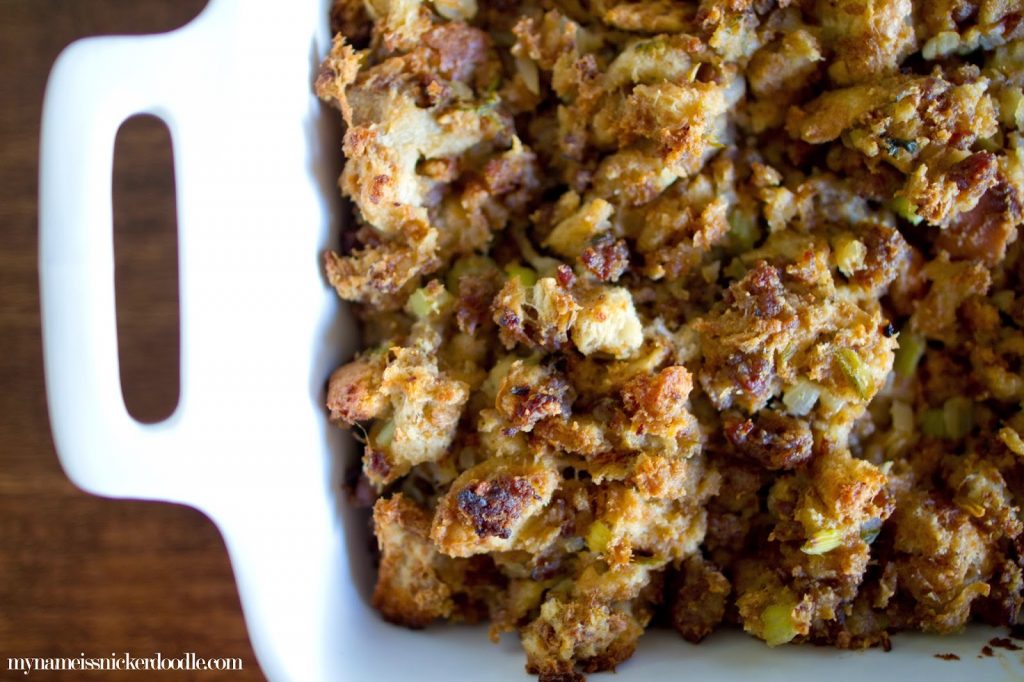 This recipe is linked up at – Totally Talented Tuesdays, Whimsy Wednesday,
Link Party Palooza,