Sausage Stuffing is a favorite Thanksgiving side dish.  This homemade version tastes incredible and is very easy to create in your own kitchen.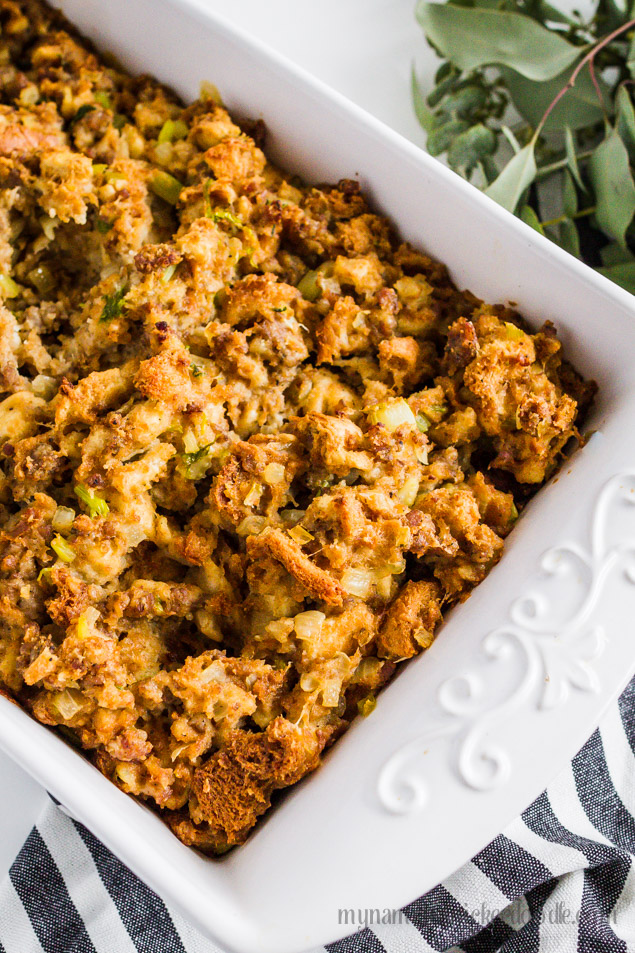 All growing up, I hated stuffing (or dressing) at Thanksgiving.  Maybe it just got in the way of my favorite side, mashed potatoes and gravy.  Or maybe it was just the way my mom made it.  Sorry, mom, I love you!
But guess where this recipe comes from?  My mom.
I know, I just said that I hated it.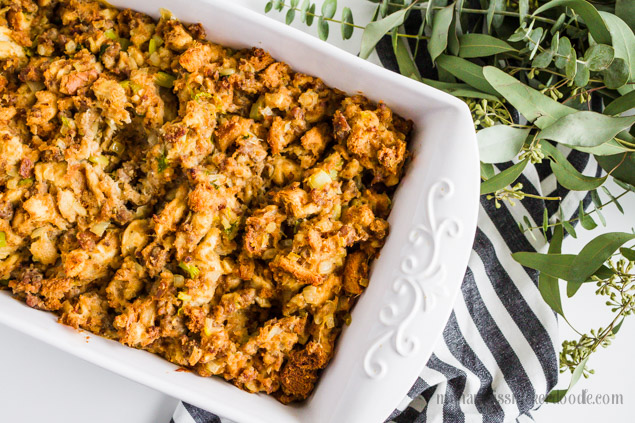 The ingredients are all the same, with a few tweaks here and there in the prepping.  They make all the difference, though!
How To Make Sausage Stuffing
Of course since there is sausage in the title, there is sausage in the recipe.  I truly love using Jimmy Dean breakfast sausage for this.  I prefer using either the Country Mild or Regular sausage, but there is also a Sage variety that could be great if you like the strong taste of sage.
All you need to do to prepare it is crumble it up in a large saute pan and brown it over medium high heat.  I also like to saute my onions along with the sausage so I cut down on the cooking time.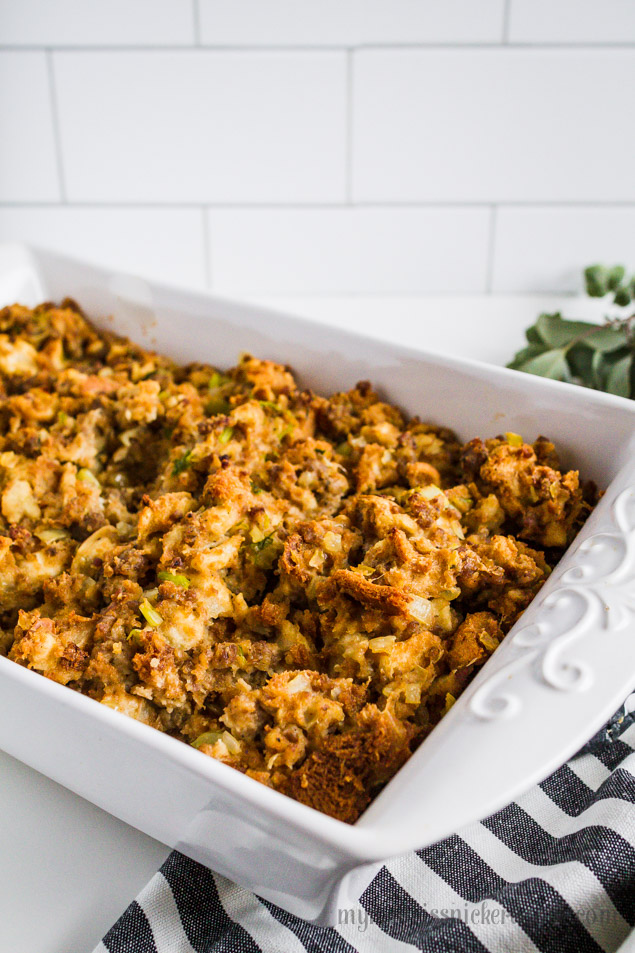 How To Toast Bread Cubes
When it comes to the bread, I prefer to toast my own.  You can certainly purchase plain bread cubes for stuffing at the grocery store around the holidays.
All you need to do to toast your own is tear simple white sandwich bread into bite size pieces.  Place it all on a baking sheet and bake on a super low temperature for about 30-40 minutes.
You'll want to toss the bread about every 10 minutes to help even browning.  This can be done up to a week ahead.  Make sure your bread crumbs are completely cooled and store them in an airtight container.
Lastly is the liquid you will need to help bring the moisture to this dish.  I use simple chicken stock.  I heat it up with a few teaspoons of poultry seasoning and diced celery for some aromatics.
The trick with celery is start with the inner stalks first when measuring it out.  I'm not talking about the bitter yellow ones, but the super tender light green one.  I even chop up the leaves and include them in my broth.  You will be surprised of how much flavor this adds.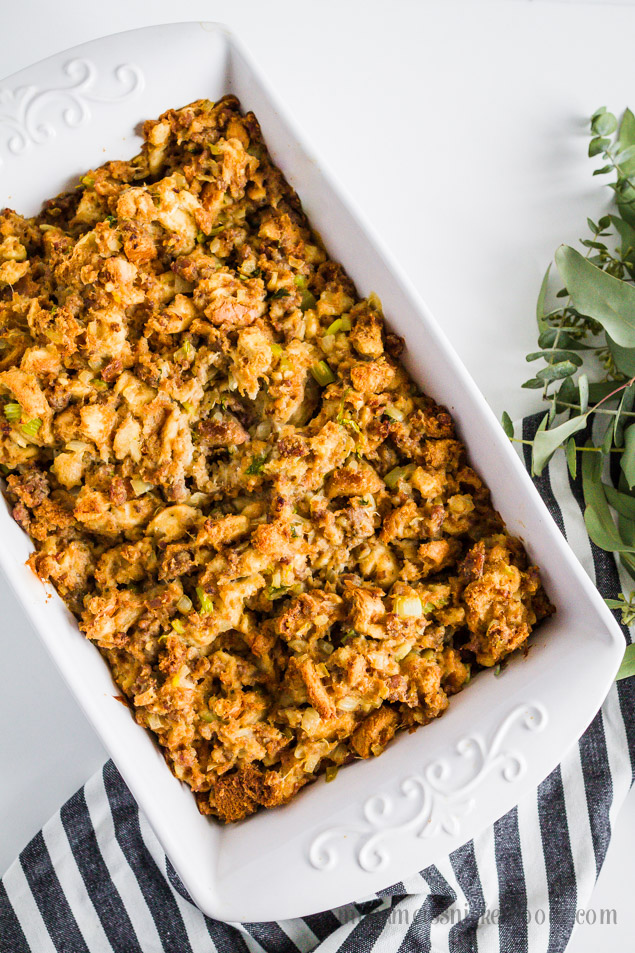 Just the smell alone of this cooking in my house brings back every single Thanksgiving of my childhood.  Watching the parade with my mom, helping out a little in the kitchen prepping the Banana Cream Pie and listening to Christmas music.  Maybe that's why I make this every year.  Or maybe it's because is dang tasty and can hold it's own next to those creamy mashed potatoes!
Sausage Stuffing Recipe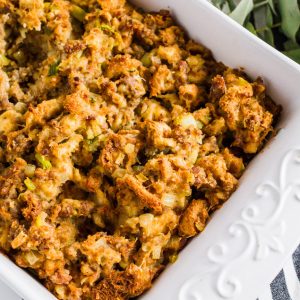 Sausage Stuffing
A savory and easy recipe for a favorite holiday side dish.
Print
Pin
Ingredients
1 1/2

Loaves

Sliced White Sandwich Bread (About 35-40 Slices) 

48

oz

Chicken Stock

2

Cups

Celery, Diced

Use the inside stalks first, including the leaves

1 1/2

TBSP

Poultry Seasoning

1/2

tsp

Kosher Salt

1/4

tsp

Freshly Cracked Pepper

1/2

Cup

Butter

1

Medium

Yellow Onion, Diced

1

lb

Breakfast Sausage
Instructions
Preheat oven to 300 degrees. Tear bread slices up into bite size pieces. Place onto two cookie sheets and toast in the oven for about 30-40 minutes. Check and turn bread every 10 minutes. You only want it slightly brown, but dry through out. Cool completely and transfer to a extra large bowl.

In a large pot add chicken stock, diced celery, poultry seasoning and salt. Bring to a boil and cook for 20 minutes.

Meanwhile, in a large pan break up sausage and brown over medium high heat. Drain onto a paper towel and add to bread. Using the same pan, melt butter over medium high heat and add in diced onions. Saute until translucent and slightly browned. Pour onions and butter over bread and toss together.

Slowly ladle in seasoned chicken stock and celery over the bread mixture and stir to combine. Don't add in all the stock at once because you might not need it all. Just add enough till the bread is completely moist, but not drenched.

Preheat oven to 350 degrees. Place stuffing into a 9x13 pan and bake for 40 minutes.

You can make this ahead. Once you've placed it in a 9x13, cover well with plastic wrap and place in the refrigerator. When you are ready to bake it, let it sit on the counter for 30 minutes and bake it for 40-50 minutes at 350 degrees.
If you need to know How To Make The PERFECT Turkey, I've got all the details here.  Just click the picture.