I am just going to get right down to it.  This year for Thanksgiving I cooked the perfect turkey.  If it sounds like I'm bragging, I am.  Absolutely the best turkey I've had in my entire life.  It was the first year I actually tried something different and I don't think I will ever go back to my old ways!
There is no basting, no brine and no bags.  Once it's in the oven, there is no need to fuss with it until it's done.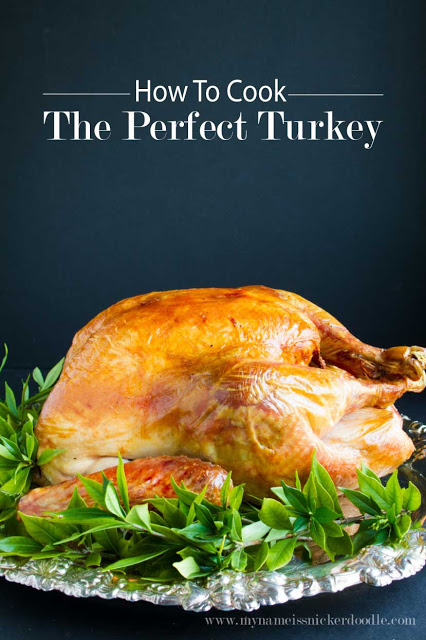 My old ways were cooking the turkey in an oven bag.  Which is great, easy and the turkey is pretty moist.  However, the turkey skin is always limp is the over all appearance is not all that appetizing.  They say that the presentation makes up half the taste.  Well, actually, there is no "they".  I just made that up, but it's completely true!
This year my oldest son asked for an orange turkey like he's seen in all the Christmas movies he had been watching.  I was totally confused by his definition until I finally got that he meant for that picture perfect roasted turkey.  I went on the hunt to make that happen for him.
I cannot claim this method as my own.  It comes from Michael Symon who I now deem a genius!  Can you tell I really love this turkey?  So much so that I went out and bought another one just so I could take pictures of it and share it with you.
The Perfect Turkey
Ingredients
14-20 lb whole turkey, giblets and neck removed
1 TBSP salt
1 tsp pepper
2 15 oz can chicken stock or 4 cups fresh turkey stock
1 medium onion, peeled and sliced in half
4 garlic whole garlic gloves, peeled and slightly crushed
6 sprigs of thyme
1 stick of unsalted butter
You will also need cheesecloth, roasting rack, roasting tray and large baking sheet.

Directions
THE NIGHT BEFORE
1.  Remove your thawed or fresh turkey from the fridge, open it up and place it on your roasting rack that has been placed in your roasting tray.
2.  Pat it dry with paper towels.
3.  Remove any giblets or innards and place the neck into the bottom of the roasting tray.  This will be roasted along with the turkey and just add more flavor to your future gravy.
4.  Sprinkle 1 TBSP salt over the entire bird and inside the cavity.  This will help break down the turkey meat, making it super tender.
5.  Tie legs together with cotton twine, turn wings under the back of the turkey (so they won't burn) and make sure the neck skin is folded under the back tightly.
6.  Cover the entire tray with plastic wrap and place in the fridge to chill overnight.
THE DAY OF 
1.  Remove the turkey from the fridge and place on the counter 1 1/2 hours before you put it in the oven.  Bringing it to room temperature will help ensure an evenly cooked bird.
2.  Place the oven rack on the lowest rung and preheat your even to 425 degrees.
3.  30 minutes before you start to cook the turkey, pour the the chicken stock into a medium pot.
4.  Add in onion, garlic, thyme sprigs and butter to pan
5.  Bring to a boil, then turn down to a simmer and cook for 10 minutes.
6.  Cool the mixture for 10-15 minutes.
7.  Remove the plastic wrap from the bird and season with pepper.
8.  Cover with folded cheesecloth as pictured above.
9.  Slowly pour or spoon evenly the stock mixture, reserving any solid bits, over the cheesecloth.  Discard the onion, garlic and sprigs. Just make sure the cheesecloth is completely soaked.  This is what helps self baste the turkey during the cooking process.
10.  Place the turkey into the oven (I like to put my roasting tray onto a large baking sheet for an easier transfer) and bake for 45 minutes.
11.  Reduce oven temperature to 375 and cook for the remainder of the time left for the size of your turkey.  See chart below.
12.  For the last 10 minutes of cook time, carefully remove browned cheesecloth and let it brown a bit more.
13.  Remove the turkey from the oven and let it rest for 30 minutes before carving.  This will allow all the juices to soak back into the meat.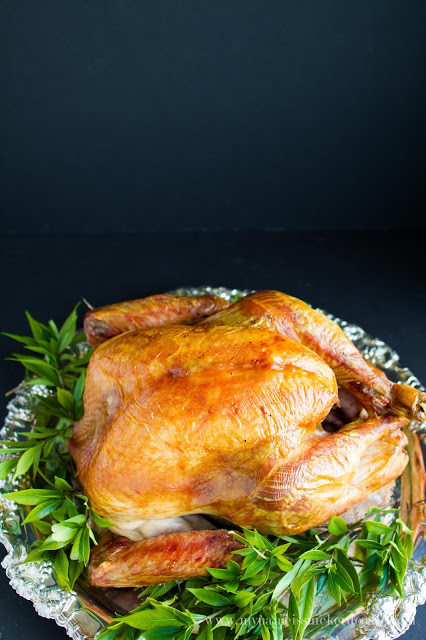 Make sure to check out these amazing sides to go along with your perfectly cooked turkey!