Who is already partying it up this holiday season?  Our family is practically booked from here until the new year with a few parties, get togethers, movies (Star Wars!!) and fun activity for the kids.  I usually try to bring something sweet when coming to parties because some people are intimidated by baking.
Even though I like to bake (more than any normal person should) it's fun to mix it up and bring something savory into the mix.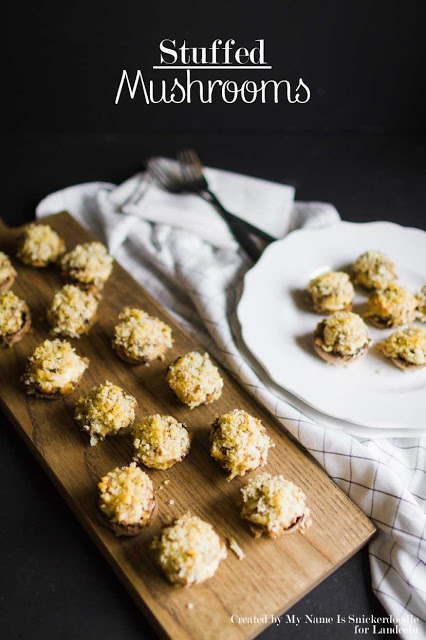 When it comes to making party food, you really want to think bite size and easy.  And it's got to have that I-want-more-of-it taste!  These stuffed mushrooms are all of those!  I had them at a women's church Christmas party a few years ago and got the recipe from a friend.  I've tweaked it a bit, but boy, they are just so good!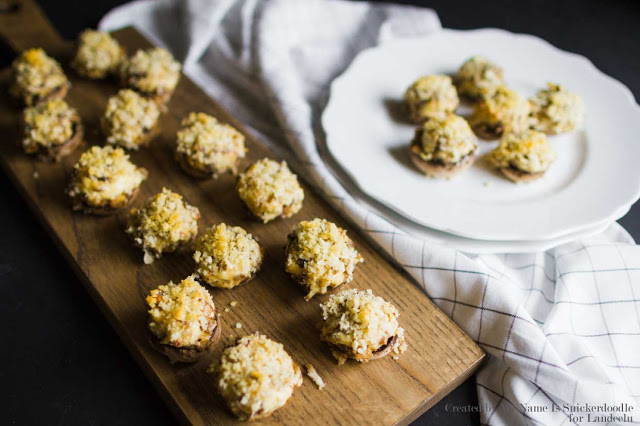 You can most definitely make these the day before.  Just place them in an airtight container and chill until ready to bake.  They are also best served at room temperature.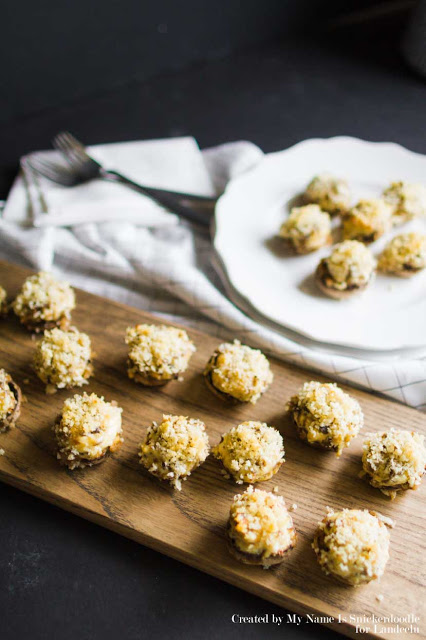 Stuffed Mushrooms
Printable Version
Ingredients
18 oz. whole button mushrooms
8 oz. cream cheese, softened to room temp
1/2 lb mild pork sausage
1 small yellow onion, finely diced
3 cloves garlic, minced
1 cup parmesan cheese, freshly grated
1 whole egg yolk
1/4 tsp pepper
1/2 tsp salt
1/2 cup panko crumbs
1 TBSP butter, melted
Directions
1.  Preheat oven to 350 degrees.
2.  Wipe mushroom clean and remove stems.
3.  Set the caps aside and finely chop stems.
4.  In a large skillet over medium high heat brown and crumble sausage.
5.  Using a slotted spoon remove sausage to a paper towel lined plate and cool.
6.  In the same skillet with some of the sausage grease, saute onions and mushroom stems over medium high heat for about 3 minutes.
7.  Add in garlic and saute for 1 additional minute, stirring constantly.
8.  Remove to a paper towel lined plate and allow to cool.
9.  In a medium bowl, mix together cream cheese, sausage, onion mixture and parmesan cheese, egg yolk, salt and pepper until well combined.
10.  Scoop 1 TBSP of cream cheese mixture onto the underside of each mushroom cap.
11.  Place caps into a 9×13 baking dish.
12.  In a small bowl mix together panko crumbs and melted butter.
13.  Sprinkle crumbs over the cheese mixture and slightly press down.
14.  Bake for 25-30 minutes.
15.  Cool in dish for 20 minutes before serving.
Some other fun appetizers you'll want to try…