Charcuterie Board for the perfect date night in! You can customize it to you and your partner's liking. Use your favorite cheeses and meats. Plate your favorite varieties of fruits and vegetables you know you both will love. Of course, add in a few sweets to celebrate just being together!
If you've been here long enough you know I LOVE making snack plates and charcuterie boards for any occasion. Did you see the charcuterie spread I made for my dear friend's baby shower? I also celebrated my 40th birthday with an epic charcuterie table that I enjoyed with all of my greatest friends. The principles of how to set it all up are the same as below, but I've also shared how to build a charcuterie board on a larger scale with more food options.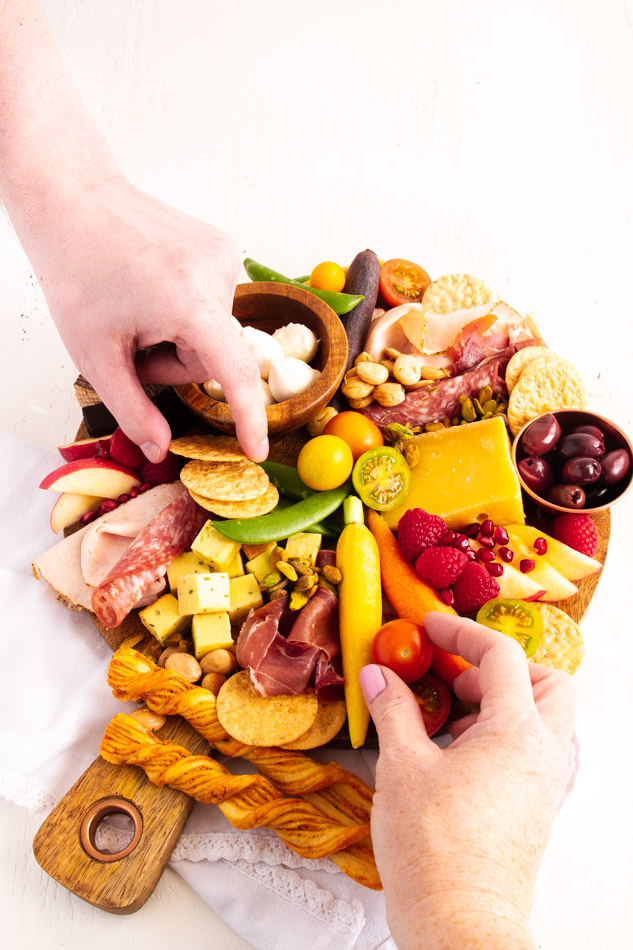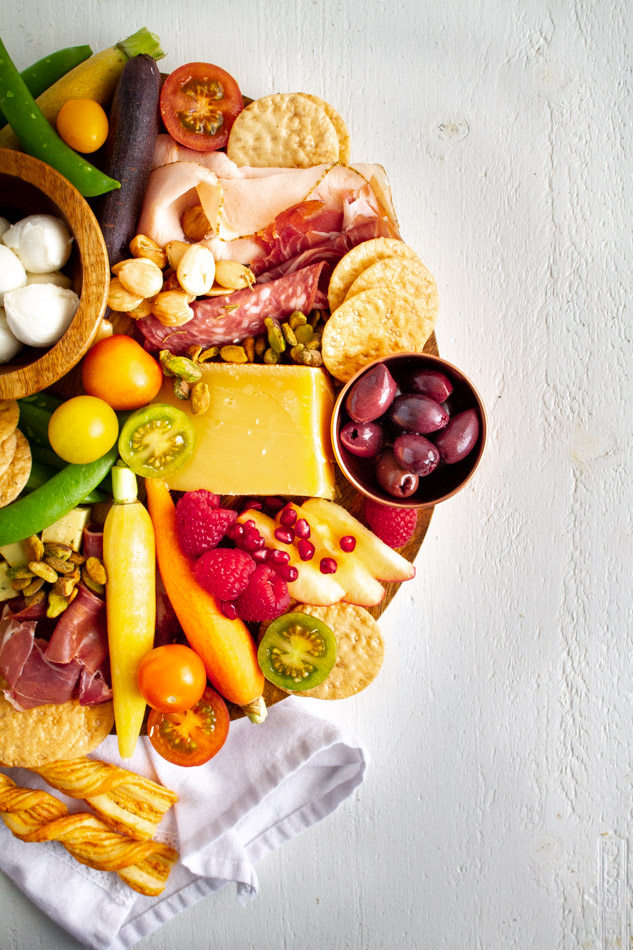 I've got you covered when creating your own mini Charcuterie Board. I make these often for an easy date night in home. Whether is just to watch a movie or cuddle up in bed and simply catch up with eachother.
This is also a fantastic idea if you need to pull something together quick for a girls night. Invite a few besties over and just relax from your crazy lives.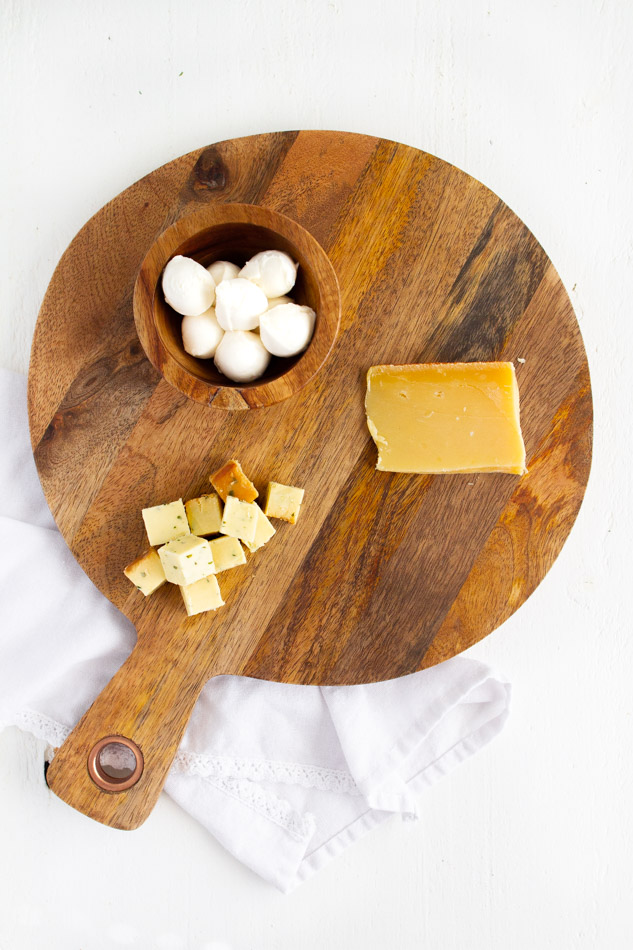 How To Make A Charcuterie Board
It's nice to have two to three different textured cheeses. It also mixes things up if you have some that are cubed and other that you have to slice. I used small mozzarella balls, smoked gouda and an herbed cheese.
Place them in a triad on your board.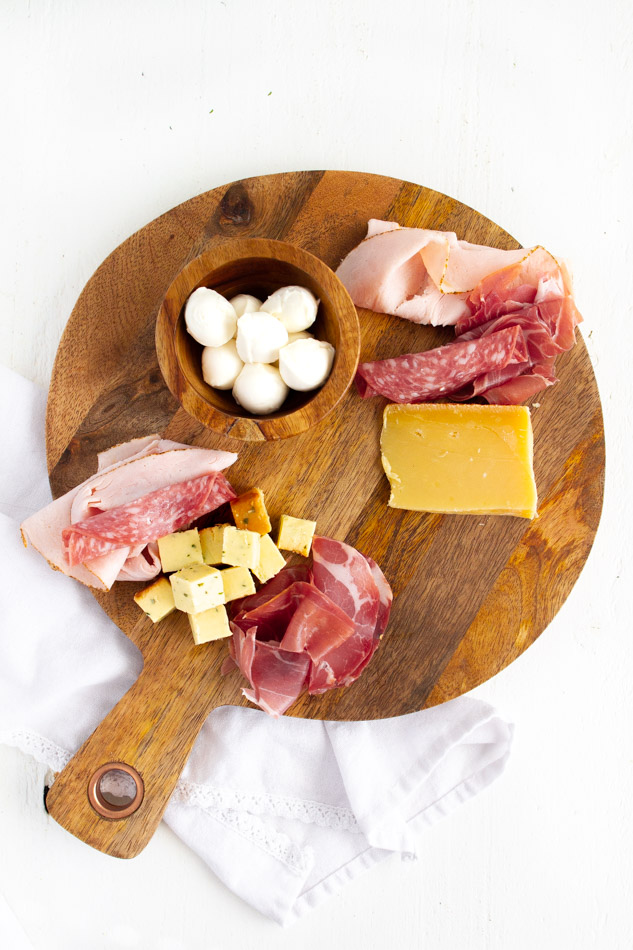 Three types of meats to pair up with the different cheeses. I used prosciutto, salami and smoked turkey.
Ruffle up each slice of meat and bundle them up next to the cheeses.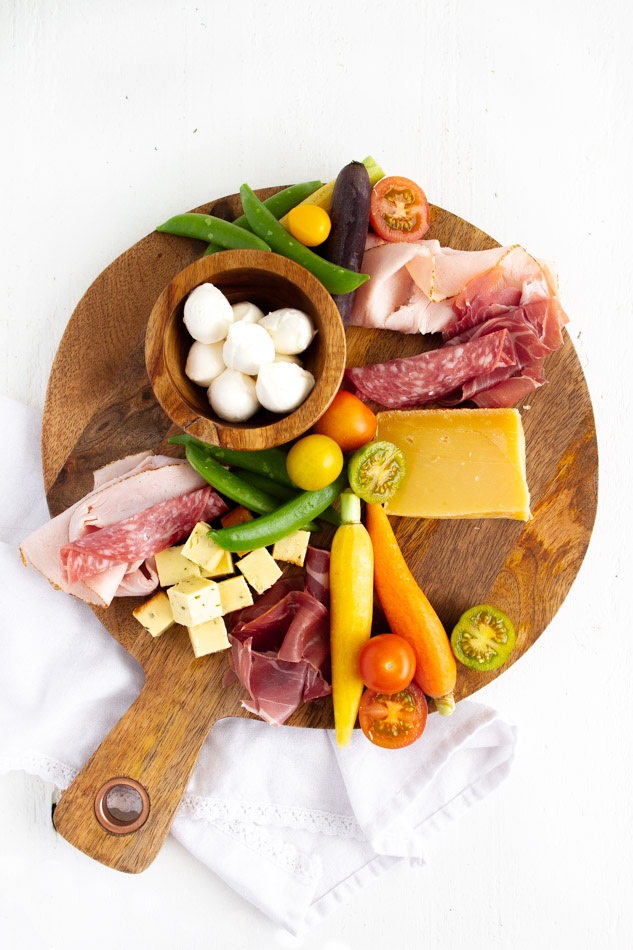 Meat and Cheese Board
Next, plate up your vegetables next to your meats. If you have tomatoes, slice them in half so they are easier to eat. You don't want to bite into a whole tomato and have it get juice everywhere. I used snap peas, mini multi colored carrots and mini heirloom tomatoes.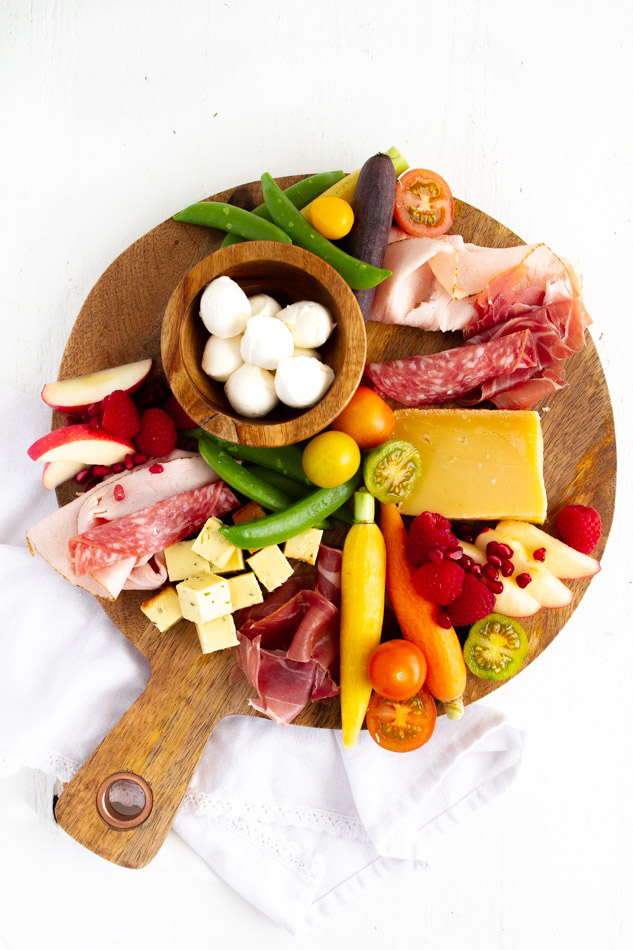 When adding fruits to your board, the same rules apply. You want to make it easy to bite into. Slice your apples or pears. With fruit, simply rinse the cut slices under cold water and it will help keep it from turning around. I used half of a honey crisp apple and fresh raspberries.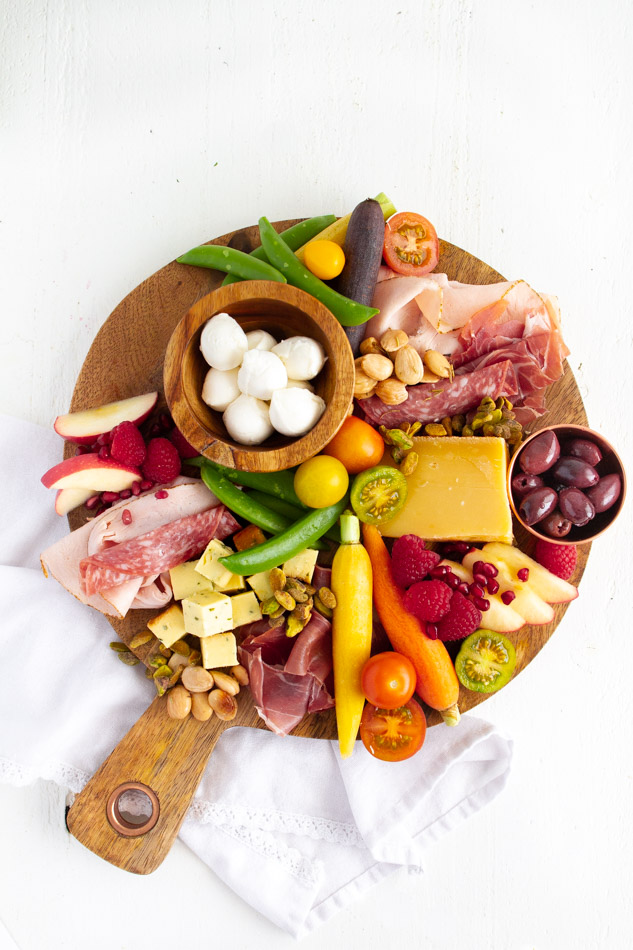 When serving items that have sort of brine or liquid, be serve to place them in a small bowl so they don't liquify everything.
Remember placement when it comes to your nuts. You don't want to put them next to cut fruit or even the juicy turkey. It will soften the nuts.
I used kalamata olives, shelled pistachios and rosemary marcona almonds.
Next up is crackers. Truly use what you love. They can be scattered around in the open spaces. I used rice crackers (from Trader Joe's) and cheese bread sticks (also from Trader Joe's).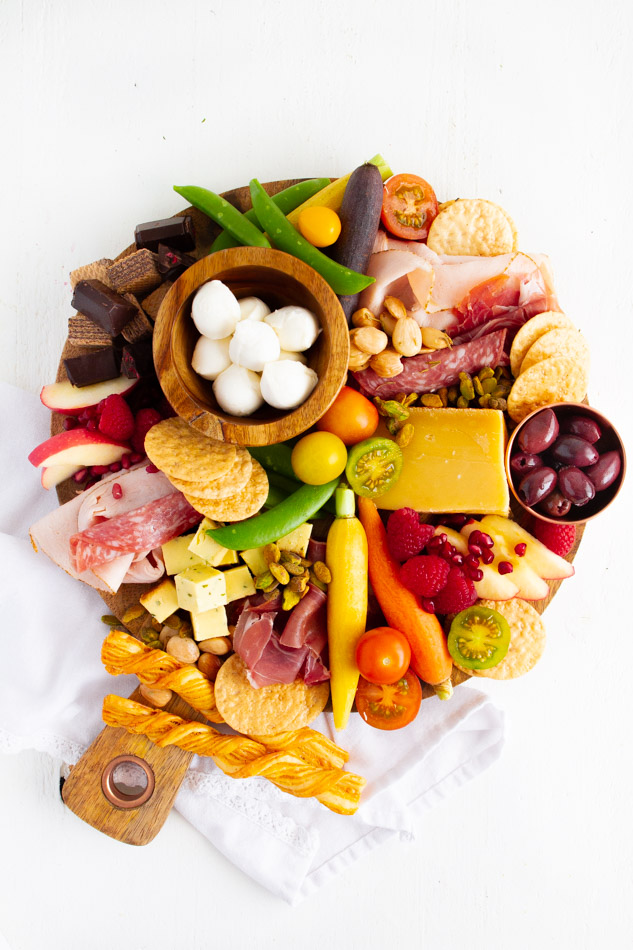 Lastly, the sweet stuff. Both my husband and I love chocolate so I was sure to include a few of our favorite chocolate squares. Place them in the last open spot you've got left.
I used dark chocolate raspberry chocolate squares and chocolate wafer cookie bites.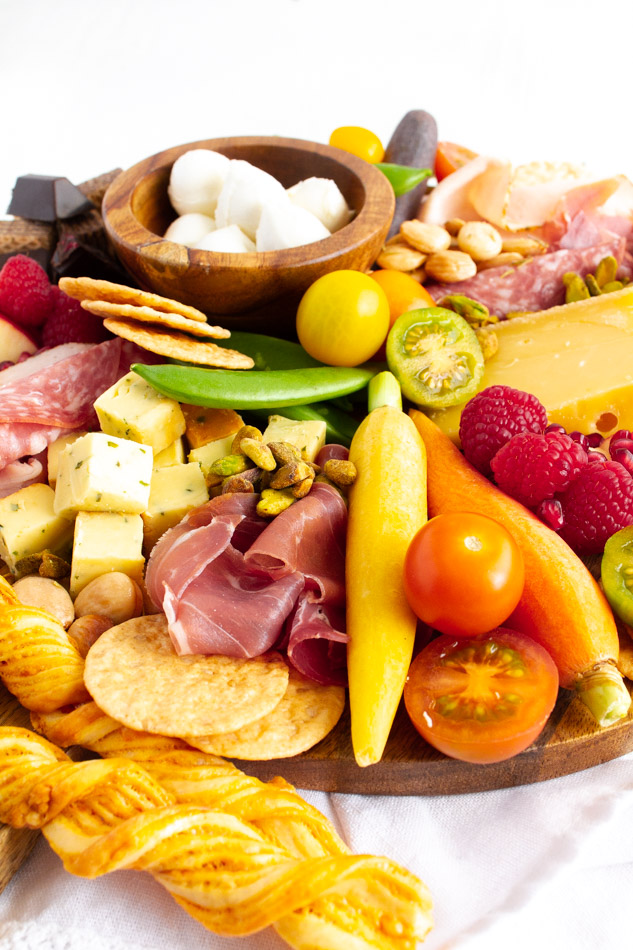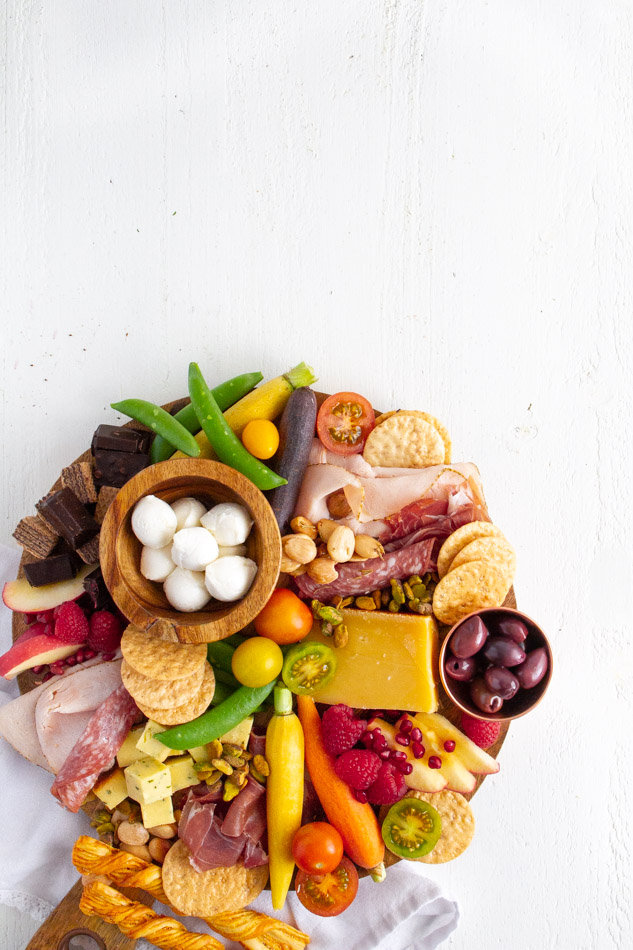 Charcuterie Board For Two How To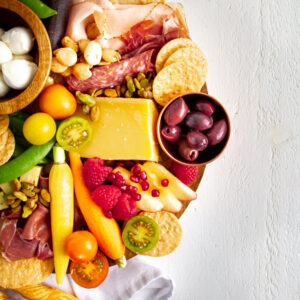 Charcuterie Board For Two
This small meat and cheese board is perfect for date night in! Or even great for a small girls night celebration.
Print
Pin
Ingredients
4

oz

Small Mozzarella Balls

2

oz

Smoked Gouda

2

oz

Herb Cheddar

Cubed

4

oz

Smoked Turkey Slices

4

oz

Salami or Lebanon Bologne

4

oz

Prosciutto

1

Cup

Sugar Snap Peas

6

Mini Multi Colored Carrots

1/4

Cup

Cherry Tomatoes

Sliced in half

1

Red Pear

Cut into thin slices

1/2

Cup

Fresh Raspberries

1/4

Cup

Kalamata Olives

Pitted

1

Cup

Rice Crackers

2

Cheesy Wafer Bread Sticks

1/4

Cup

Pistachios

Shelled

1/4

Cup

Marcona Almonds

4-6

oz

Chocolate Squares or Candy

1/4

Cup

Pomegranate Arils
Instructions
Place cheese on the board in a triad.

Ruffle each of the meats up and place them next to the cheeses.

Place each vegetable in a grouping next to the meats.

On the other side of the cheeses place the pear or apple slices and keep the raspberries in 2-3 small piles.

Add a small bowl of olives on to the platter.

Layer the rice crackers in a zigzag line in a few open spaces.

Place the cheese bread sticks on the edge of the board.

Fill in any remaining holes with chocolate and sprinkle the board with a few pomegranate arils.