Chocolate Pecan Pie Bars has impressed everyone who's eaten one.  The gooey and chewy center compliments the butter shortbread crust!  And they are packed with plenty of pecans and chocolate chips.
Thanksgiving is quite possibly the best meal of the year!! I've been making my Thanksgiving Turkey for a few years and it's the star of the show. In my opinion, the Rolls are the runner up! You can also make some easy appetizers while your guests wait for the feast. These Acorn Donut Holes are a kid pleaser. My family also really loves this Cheeseball Recipe.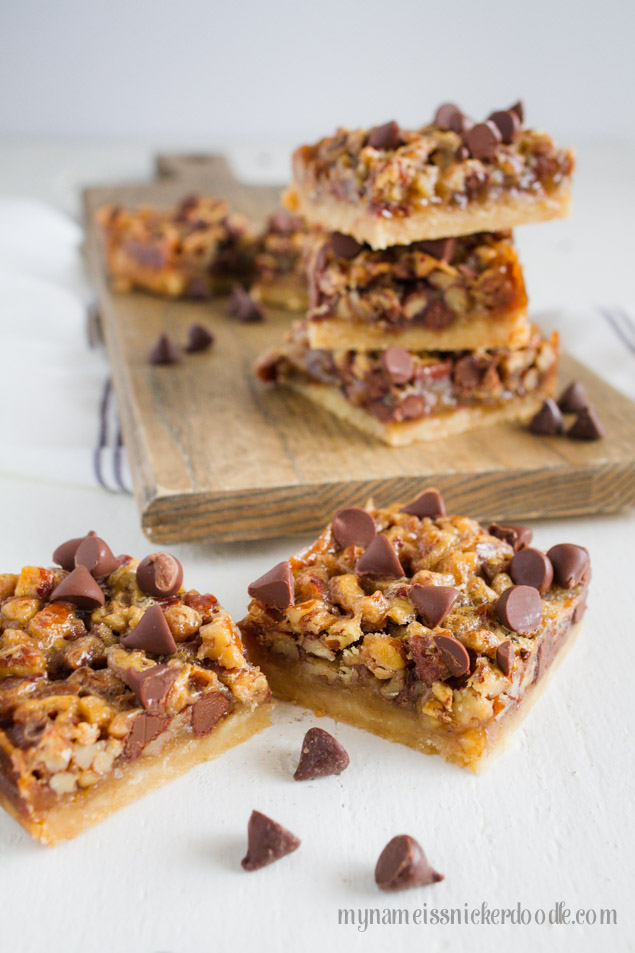 Chocolate Chip Pecan Pie Bars
The best part about this dessert is it can made ahead a few days. It can even be made weeks in advance, cut and frozen. It needs to be thawed just for 2 hours and it's ready to be served.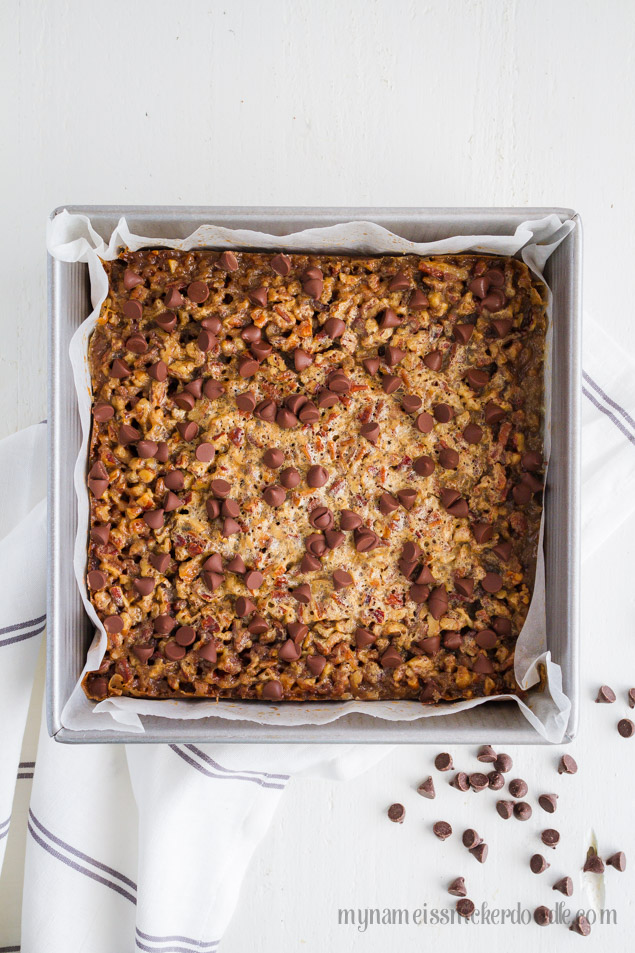 What Is A Pecan Pie Bar
It's only been recently since Pecan Pie Bars have even been on my radar and for some reason, they just looked so good to me!  Maybe it's not a full commitment as a whole slice of pie is.
Or it could be these desserts are made with a foundation of a buttery shortbread crust! Who doesn't love that?
They also have a thinner layer of a gooey filling so I feel like the ratio is better with the crust.  Dessert ratio ranks high in my books!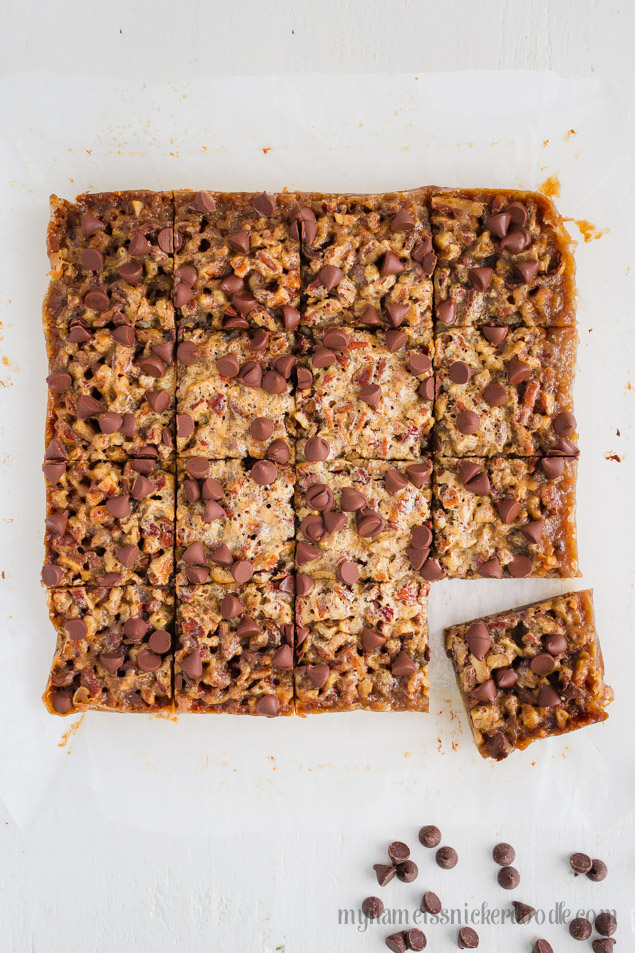 Chocolate Pecan Pie Bars
This holiday season I wanted to give them a try, but put my own little twist on the. Of course my go to twist is always adding chocolate!
Chocolate makes everything better.  The chocolate chips add a bit of smoothness in contrast to the crunchy pecans. You can certainly add in any chocolate that is your favorite, but I think semi-sweet works best in this recipe.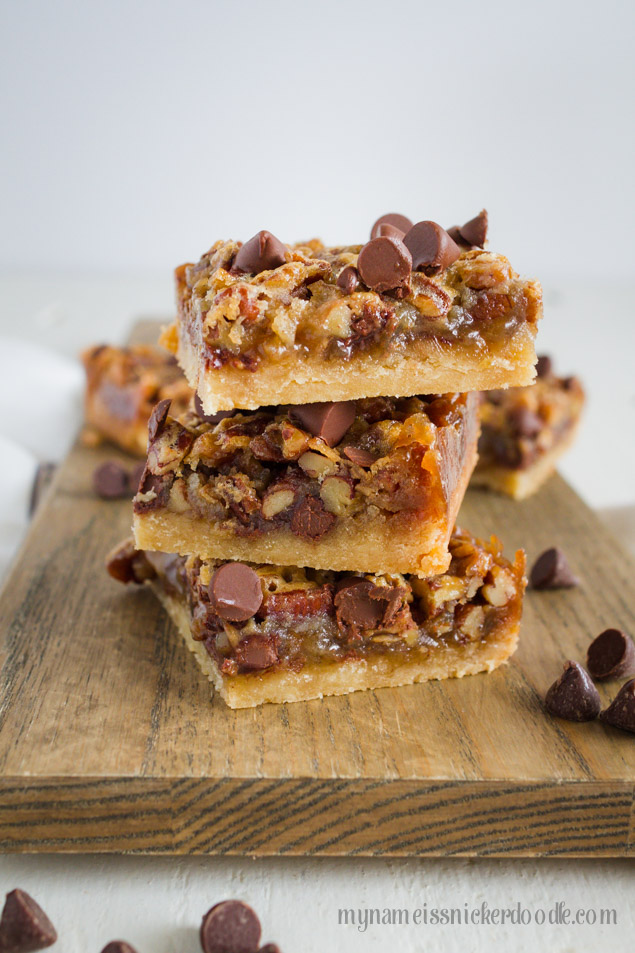 How To Make Chocolate Pecan Pie Bars
They are only two components to this recipe. The crust and filling. Just like your traditional pie.
The crust is simply made by combing all purpose flour, brown sugar and melted butter.  Some recipes call for just softened butter, but I find that makes the crust a bit too crumbly.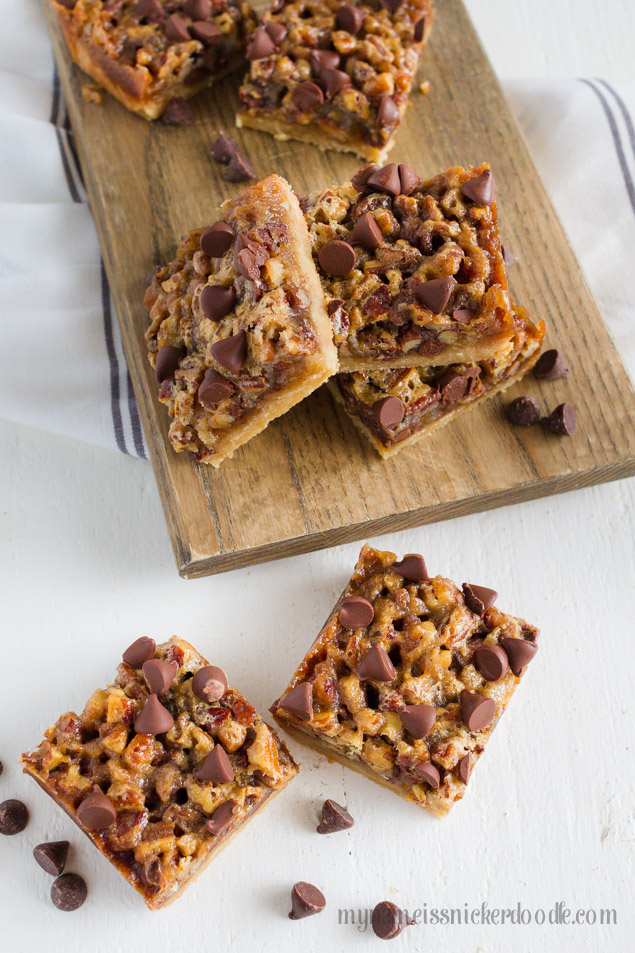 You will want to press the crust in firmly and evenly into the bottom of an 8×8 pan.  To make it easier to remove your finished dessert,  I like to line my pan with parchment paper.   On top of that I also like to lightly spray it with cooking spray.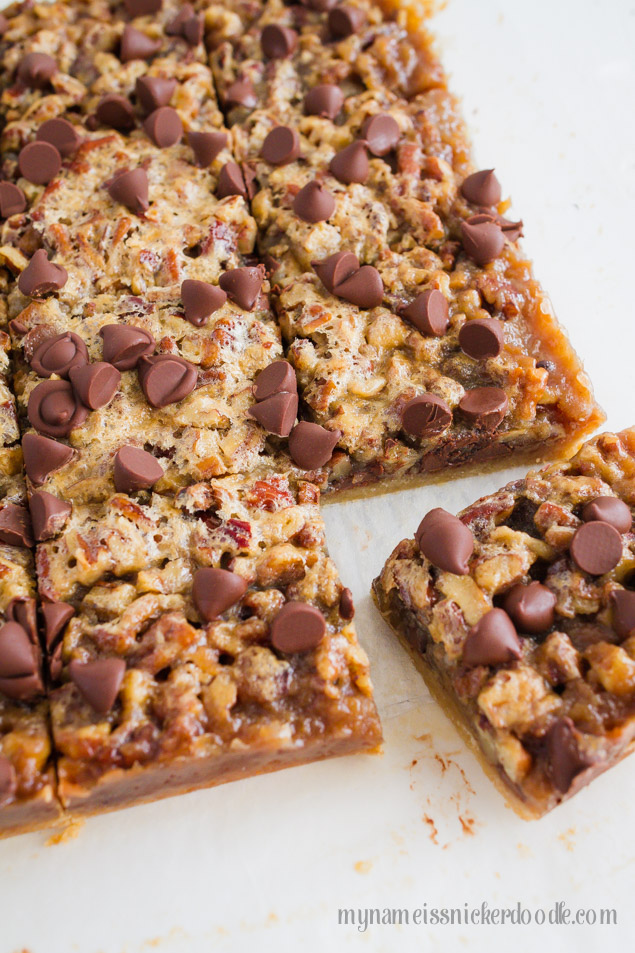 The reason this is so helpful is the filling is pretty gooey.  If you don't prep your pan properly, you will have a tough time getting the bars out.
The filling!  It's pretty incredible and only made from a few pantry staples.  Brown sugar, corn syrup, butter and eggs create a sweet base to fill with plenty of chopped pecans.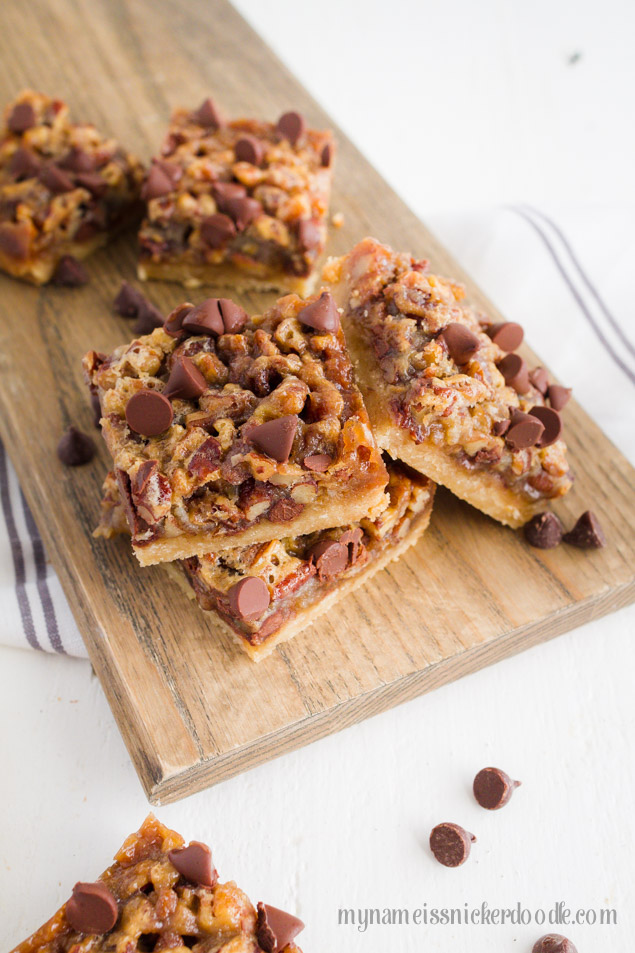 If you aren't a chocolate fan, you certainly can omit them from the recipe all together.  If this is the case for you, I would suggest adding and extra 1/2 cup of pecans.  This will help your bars be more full.
The recipe calls for chocolate chips divided.  Reason being I love to add chocolate chips, not only in the filling, but sprinkled on top of the bars once they are baked.  We eat with our eyes first and I feel like this makes this dessert look more appealing. The same concept works for my most favorite Chocolate Chip Cookie Recipe.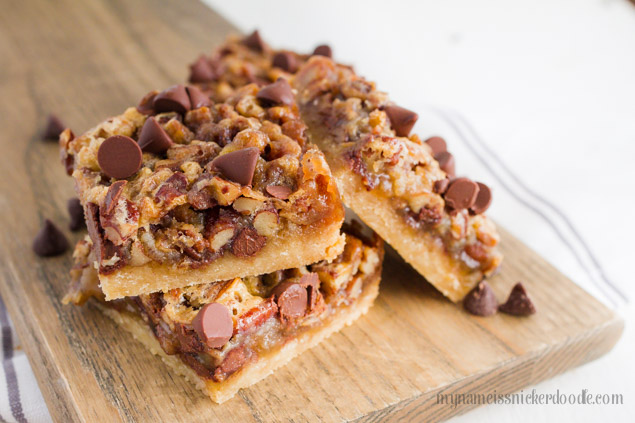 Holiday Desserts
I'm pretty sure these would be fantastic all year long.  The holidays like Thanksgiving and Christmas time seem like the perfect time to create these, though.  How fun they would also be to give a festive plate of these to your neighbor and friends!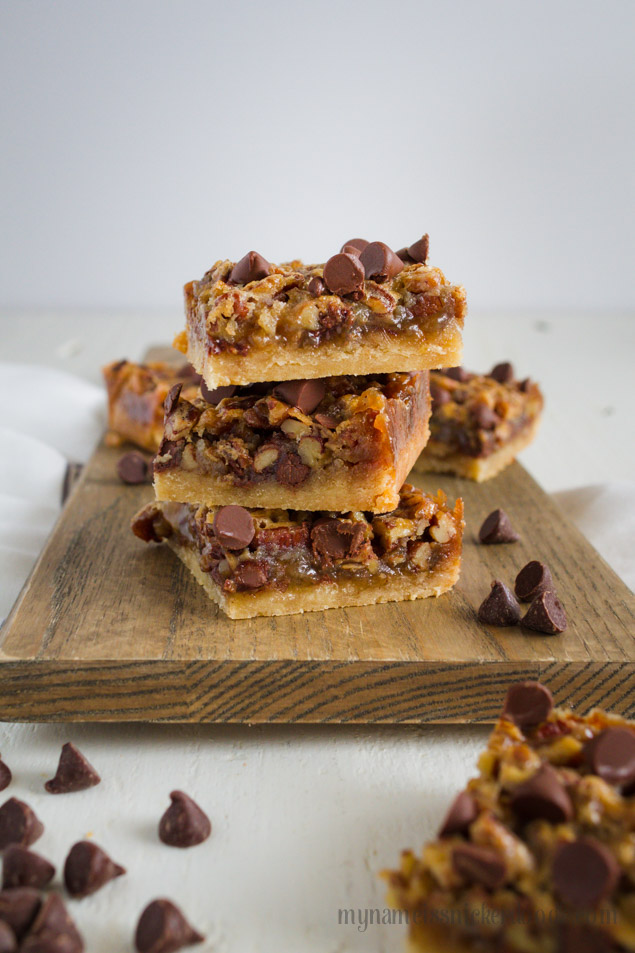 You can definitely make these ahead of time if you include these on your holiday feast menu.  I've even frozen these bars, once they have been cooled and cut to keep them on hand if I ever need a dessert for quests.  They thaw out in about 30 minutes and are actually really good chilled!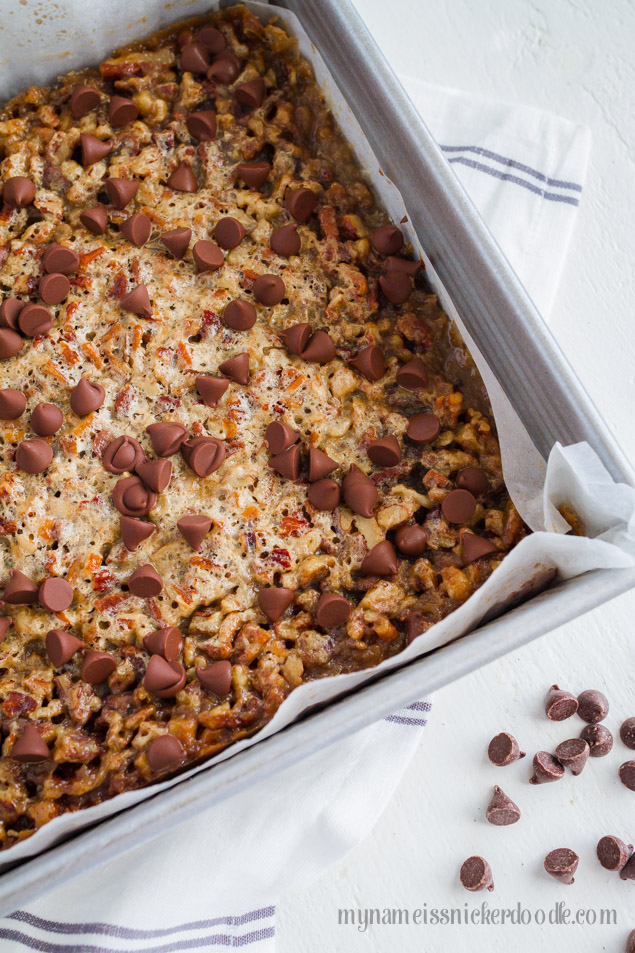 These are a must make for Thanksgiving or Christmas!
Chocolate Pecan Pie Bar Recipe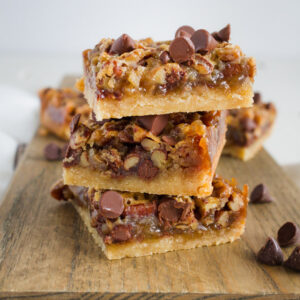 Ingredients
CRUST
1/2

Cup

Butter

Melted

1/2

Cup

Brown Sugar

1 1/4

Cup

All Purpose Flour
FILLING
1/2

Cup

Butter

Melted

1

Cup

Brown Sugar

1/3

Cup

Corn Syrup

1

Large

Egg

1

tsp

Pure Vanilla Extract

1 1/2

Cups

Chopped Pecans

1

Cup

Cup Semisweet Chocolate Chips

Divided
Instructions
FOR CRUST
Preheat oven to 350 degrees.

Line an 8×8 baking pan with parchment and lightly spray with cooking spray.

In a medium bowl combine melted butter, flour and brown sugar together until well combined.

Spread the mixture evenly into pan and press down firmly to form an even layer. Make sure to get in the all the edges and corners.

Bake for 15 minutes.
FOR FILLING
While crust is cooking prepare filling by mixing together melted butter, brown sugar and corn syrup together until smooth.

Add in egg and vanilla until combined.

Mix in chopped pecans and 1/2 cup chocolate chips.

Once crust has been baking for 15 minutes, remove from oven and pour in filling. Spread out evenly.

Return to the oven and bake for 25-30 minutes. Sides will be bubbling and center will have a slight jiggle.

Immediately sprinkle over remaining chocolate chips and run a butter knife around the edges too loosen up from the sides.

Cool completely before slicing and serving. About 4 hours.
*Originally posted November 2016 and updated October 2022.