Big and Chewy Chocolate Chip Cookies are absolute perfection!  Full of butter and pure vanilla extract.  The secret to these cookies is using both milk and semi sweet chocolate chips.  You know the saying bigger is better?  This totally applies to these cookies!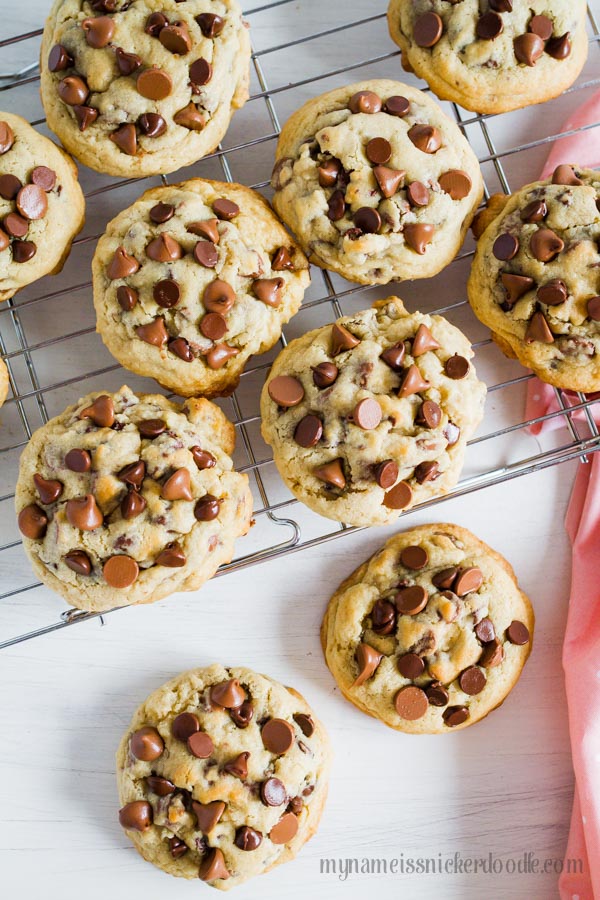 I have a few weaknesses in life and freshly baked chocolate chip cookies is pretty much at the top of the list!  Over the years I've had my favorite recipes and I even came up with some tips for making the perfect batch!  I've also experimented on my own to create my own perfect cookie and I'm here to tell you that I've finally done it!
Best Chocolate Chip Cookie Recipe
My recipe for these Big and Chewy Chocolate Chip are worth all the butter, sugar and chocolate chips I've used all these years.
The first time I made these cookies (and they turned out), I was the most favorited person in my household!  When my boys saw how huge they were, there eyes lit up!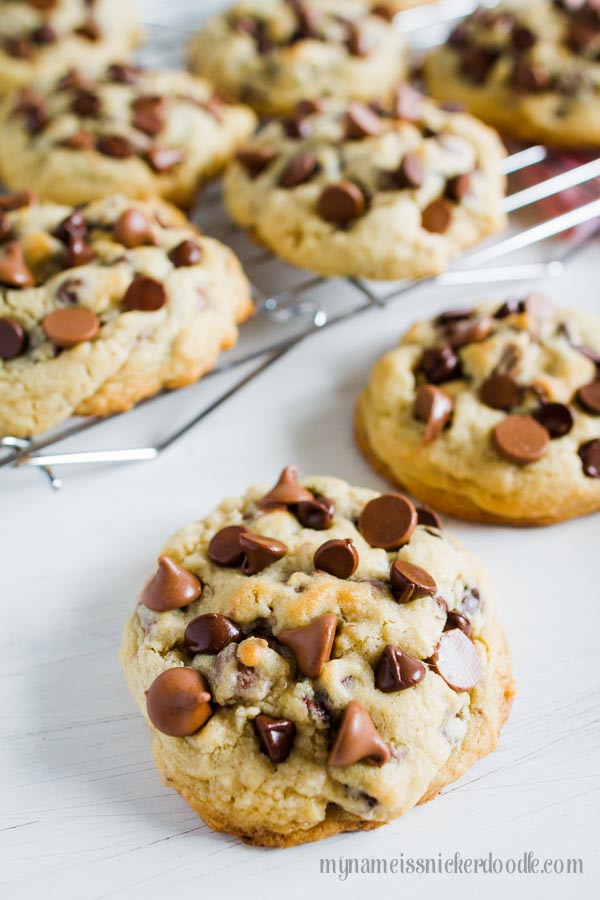 Slightly crispy edges, but the inside has the best chewy center.  Super irresistible! You can certainly make them regular size, but they actually bake up better if you divide them up using a 1/4 cup measuring cup.  I really prefer to use a super large cookie scoop like this one from Amazon.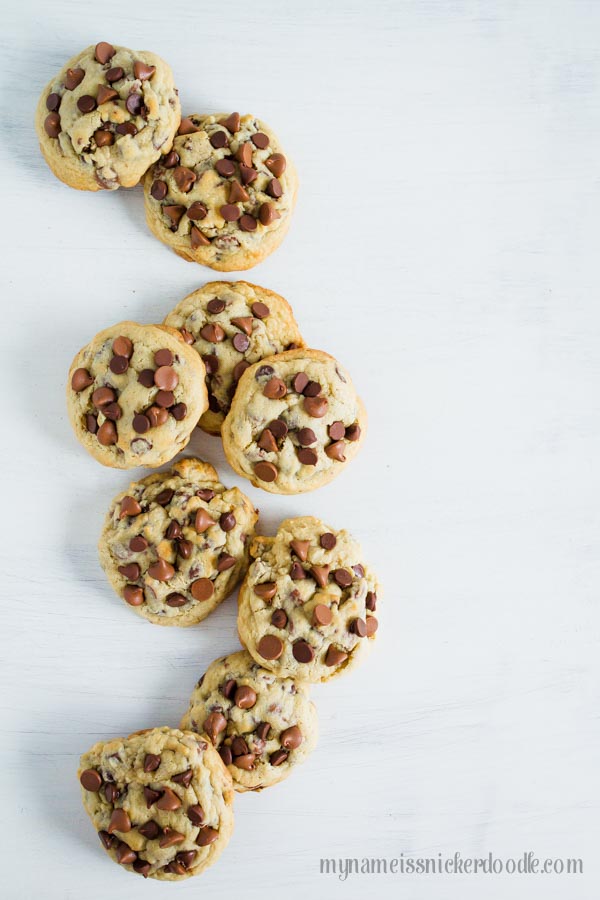 If you follow me on Instagram (which I hope you do!) you would have seen in my Insta Stories that I set a new year's goal to eat more cookies without feeling guilty!  I'll clarify that I meant to eat more worth while cookies like these and not feel guilty!  No more wasting my time on store bought or mediocre cookie recipes.  This one has my heart and will be a family favorite for years to come!
I taped a whole Facebook Live video showing you exactly how I make them.
When you try this recipe, I'd love to hear your feedback!  Let me know what you think in the comments!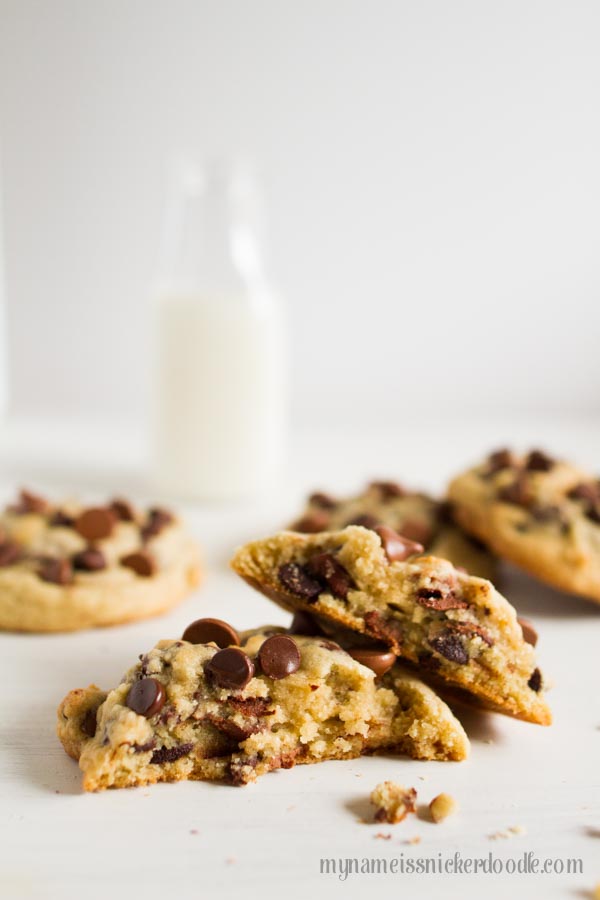 Test out these other scrumptious cookie recipes!
Big Chocolate Chip Cookie Recipe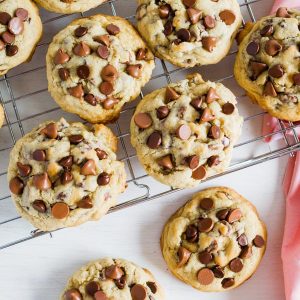 Big And Chew Chocolate Chip Cookies
These cookies are absolutely recipe perfection! The secret is using both milk and semi sweet chocolate chips
Print
Pin
Ingredients
1

Cup

Cold Butter, Cubed

1

Cup

Brown Sugar

1

Cup

Granulated Sugar

2

Large

Eggs

2

tsp

Pure Vanilla Extract

2 3/4

Cups

All Purpose Flour

3

TBSP

Corn Starch

1

tsp

Baking Powder

1/2

tsp

Baking Soda

1/2

tsp

Kosher Salt

1

Cup

Semi-Sweet Chocolate Chips

1

Cup

Milk Chocolate Chips
Instructions
Preheat oven to 400 degrees.

In a large bowl cream together butter, brown sugar and granulated sugar for 3 minutes on medium speed.

Add in eggs and vanilla and mix until well blended.

In a separate bowl whisk together flour, cornstarch, baking powder, baking soda and salt then slowly add to the wet ingredients.

Blend until the flour is halfway incorporated. You don't want to over mix the dough.

Add in chocolate chips and finish mixing until the flour is just incorporated.

Using a large cookie scoop* or 1/4 cup measuring cup, scoop up dough and place onto a large plate.

Chill in the refrigerator for 1-2 hours.

Place 6 dough balls onto a baking sheet. Make sure to space them evenly apart.

Bake for 12-14 minutes or until lightly golden brown.

Add a few more chocolate chips to the top of each cookie immediately after removing from the oven.

Let them cool for 5 minutes on the baking sheet then transfer to a cooling rack.

Repeat with the remaining dough.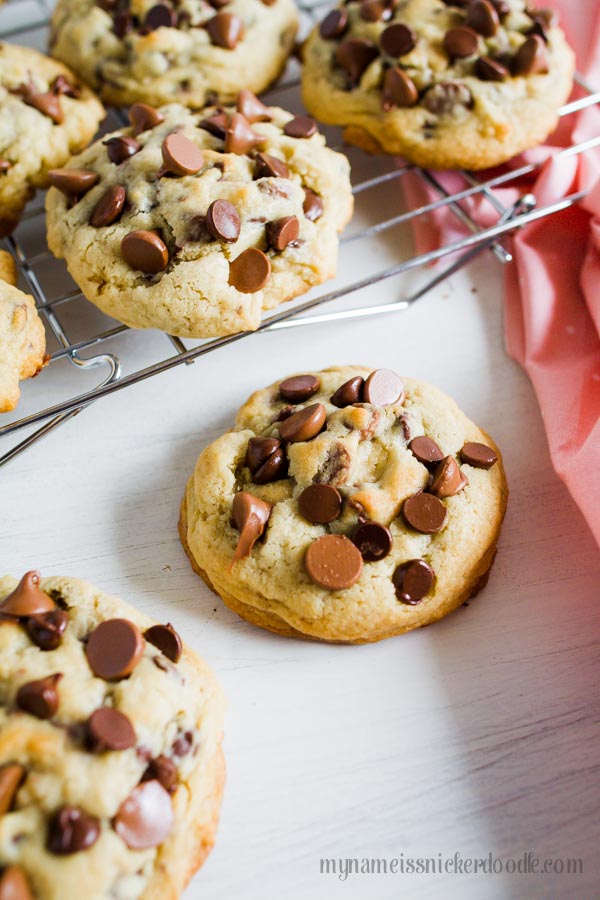 This post may contain affiliate links.