Here you will find the ultimate guide to building one gorgeous charcuterie board!
One of my favorite things to have for lunch or dinner is what's called a
ploughman's lunch
.  It typically consists of cured meat, cheese, bread or crackers, some sort of spread and veggies or sliced fruit.
When I turned 35 and knowing that 40 would be coming up soon, I wanted to a full ploughman's lunch spread with my friends for a party.  Well, when you are throwing a party and having everyone coming over for dinner, you call that ploughman's lunch a Charcuterie Board!  It's a bit more fancy and upscale sound, but the exact same ingredients.  You can read all about my 40th birthday party
HERE
.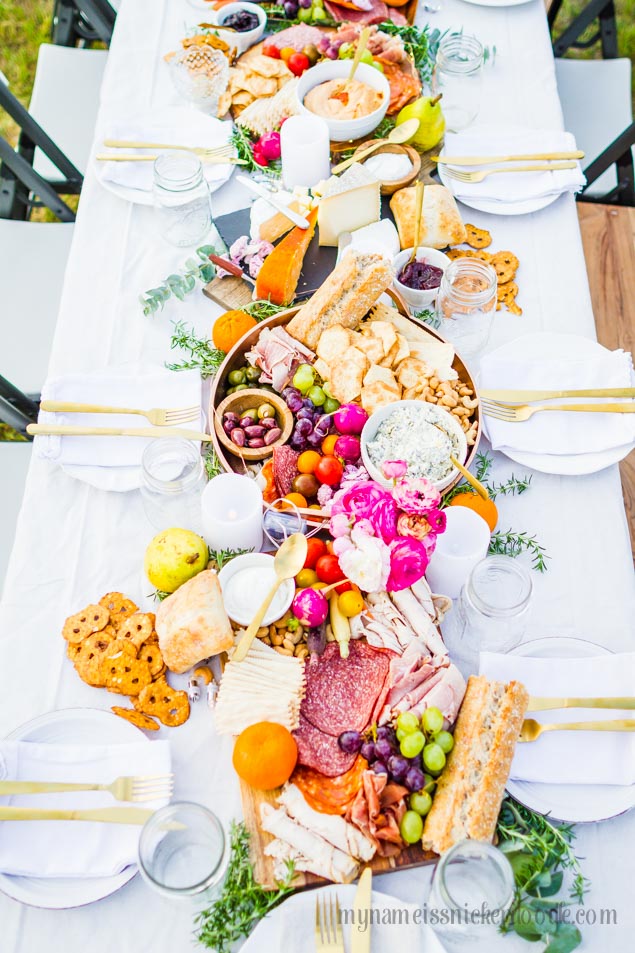 Even though there is no cooking involved in creating a charcuterie board (unless you are making your own spreads) it does take a minute to prepare ahead of time so I thought I would share what my husband and I did.  This way it takes all the guess work away from you so you can completely enjoy your event.  No matter how big or small!
Here's some great steps to get you started…
First, you will need trays and boards to serve your food on.  I already had a few wood cutting boards, but it wasn't enough to fill the table.  Gather, borrow or purchase large wood cutting boards, but also mix in some other trays.
Slate, marble and copper add fun texture and color to the table.  If you want a tray that isn't food safe (like this copper one) line the bottom of it with parchment or wax paper.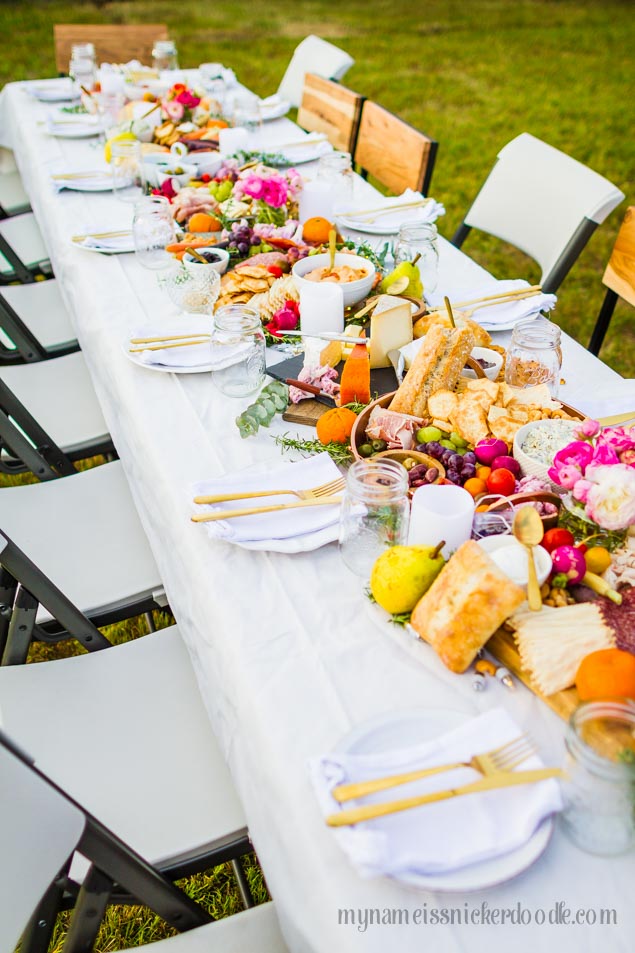 Second, choose foods that you just love, but don't be afraid to go outside of the box a little.  Keep in mind your quests and what they like, but also think this is a reflection of you and your tastes.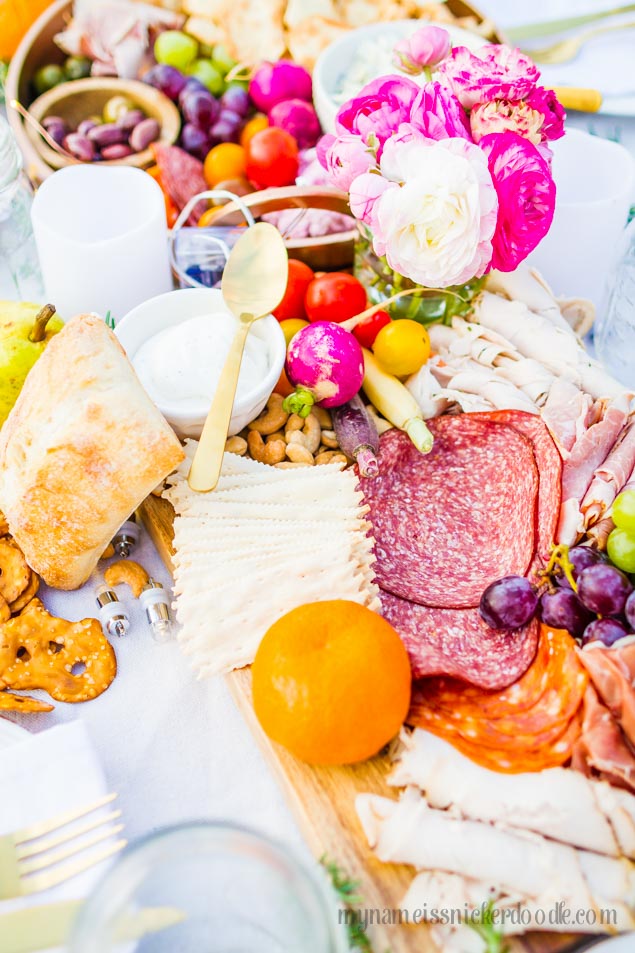 Third, make the meat and cheese the focus of your boards.  Especially if this will be served as a meal and not just as an appetizer.   It's also what you will be spending the most money on when it comes to the food.  Remember people eat with their eyes so pick meats of all ranges and contracts.  We have a few wonderful grocer delis so we didn't have to go any where extra special.  Make sure to have it sliced thin so you can roll it or fan it out.
You'll also want hard and soft cheeses to give the palate some different textures. We specifically went to a local cheese shop (Antonelli's) and they gave wonderful recommendations on what would work well with everything else we wanted to serve.
 
       Meat (5 oz total per person)
Smoked/Seasoned Turkey.  We had both Smoked Hickory and Provencal turkey.
Country Ham and Black Forest Ham
Prosciutto
Bologne.  We had Sweet Lebanon and Regular Lebanon Bologne.  It's amazing!
Salami
       Cheese (1 lb total per person)
Brie
Sheep's Milk Brie
Beemster Classic Gouda
Smoked Gouda
White Cheddar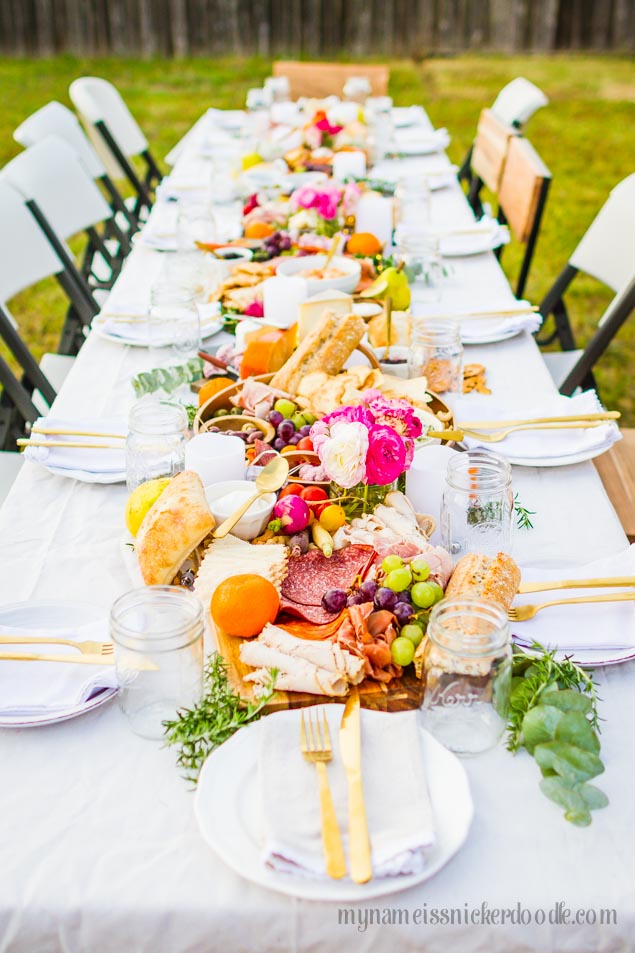 Fourth, is probably the easiest thing to choose.  Bread and crackers!  You can definitely go fancy with this (and spend a lot of money!), but we chose to go with what we loved and added visual texture to the tablescape.  Most everything was simple in flavor so it could pair well with everything on the table.  We bought crackers from Costco and our breads from Trader Joe's.
      Bread and Crackers
Ciabatta Loaves
French Bread Loaves
Artisan Sourdough
Pretzel Chips
Crispy Sea Salt Baked Crackers
Rosemary Italian Style Crackers
Croccantini Crackers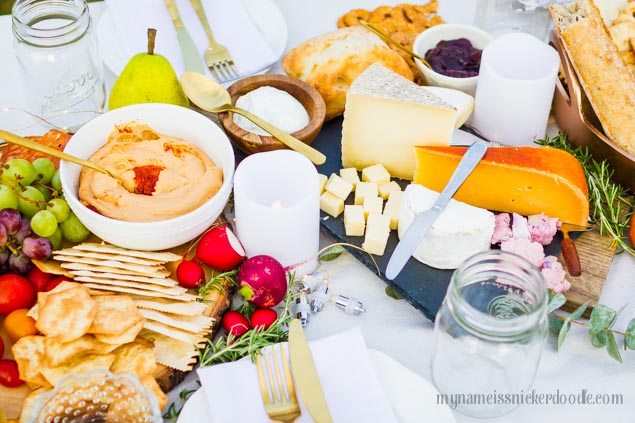 Fifth is now filling the table with some of your favorite vegetables.  If what you want comes in a fun variety, choose to put that on the table.  For instance, I wanted radishes and carrots on the table so I mixed in colorful versions rather than baby carrots you feed your kids or just having the small classic version of the radishes.
Fruits and Vegetables
Colorful mini carrots
Radishes
Mini heirloom tomatoes
Purple Cauliflower
Sugar Snap Peas
Whole Pears
Clementines
Blueberries
Red and Green Grapes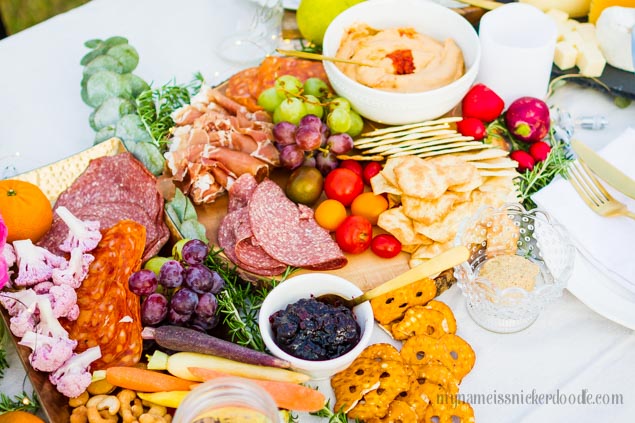 Sixth is everything else edible!  These are the salty and sweet items that kind of bring everything together.
Salt and Sweet Items
Kalamata Olives
Variety of Stuffed Green Olives
Rasberry Champagne Jelly
Black Current Jelly
Lemon Curd
Hummus
Artichoke Spinach Dip
Ranch Dip (for those that aren't as adventurous)
Cashews
Almonds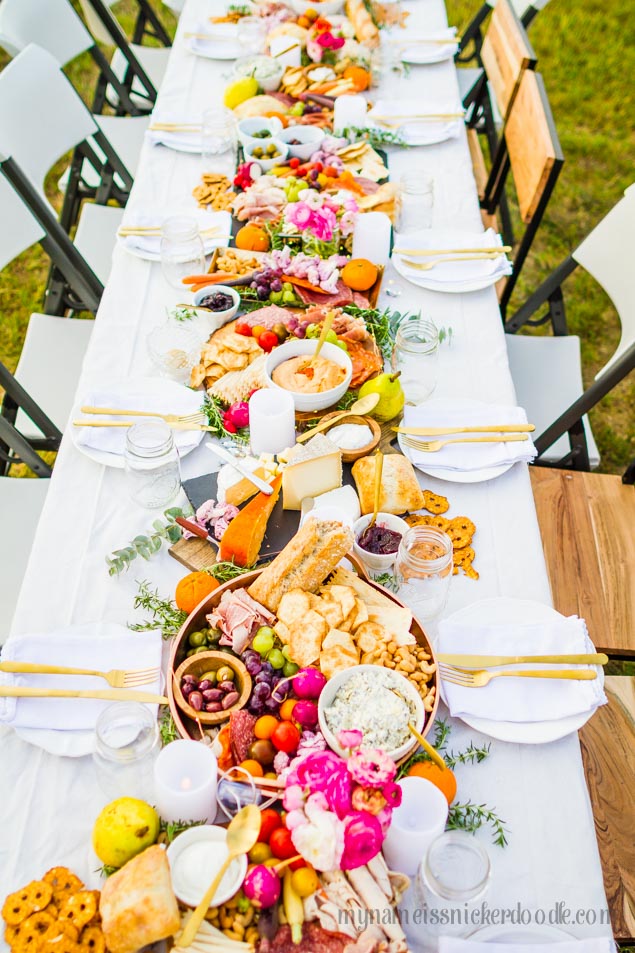 Seventh is focusing on the arrangement of everything.  You really want to spread out your items so no has to pass anything or feel like they have to reach for anything.
Lay down your tablecloth.  We used a long drop cloth from the hardware store.
Place all of the boards and trays down the center of the table.
If you are using bowls, set them on the boards alternating sides.
Start with your meats and cheeses first.  These are what will typically be eaten first so you want to make sure you even distribute them.
Next place your larger items like breads and vegetables.
Fill in the blank spots with fruits, chips, crackers and nuts.  These can be sprinkled throughout or even spilling off parts of the boards.
Fill your bowls with olives and spreads.
Once all of your food is out fill in spots with things like candles (we used battery operated), little flower arrangements in mason jars, eucalyptus, and freshly cut rosemary.  We also added a few strings of battery operated LED tiny starry lights.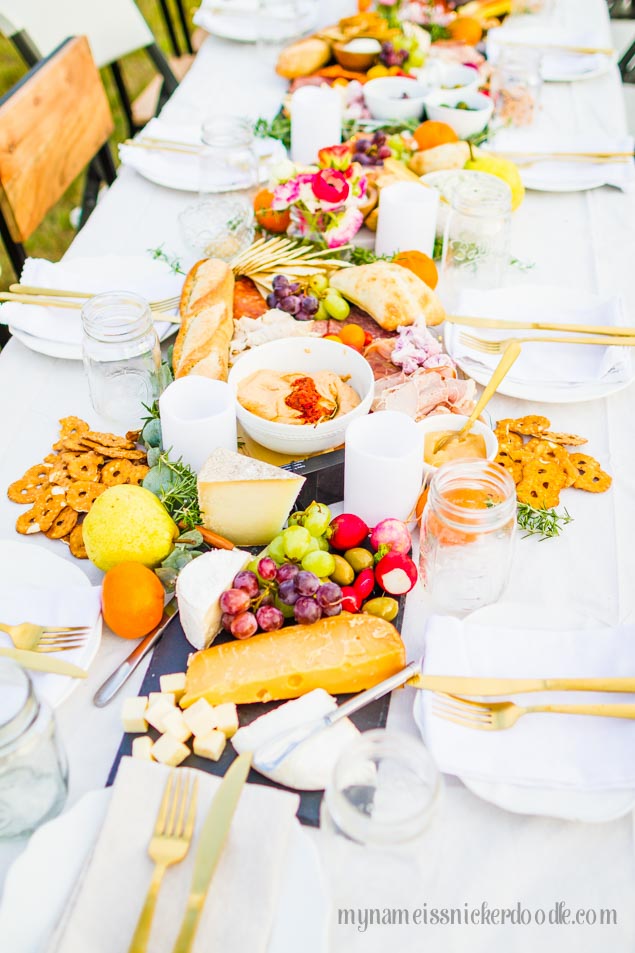 Lastly, step back and admire all that work you did!  Your guest will be in complete awe and feel very special!