I tend to fire up my oven during the holidays more than I care to admit.  It seems like I'm always cooking something for dinner and baking a ton of holiday treats.  Sometimes it's nice to have a no-bake treat to serve to my family.
My boys have just started to get into hot chocolate this year for the holidays.  Of course I tend to cool it down there mug by filling it half full with cold milk.  So really they are enjoying room temperature chocolate.
They still like to load it up with a ton of marshmallows and my oldest son can't get enough of piled high whipped cream!
It wasn't until just recently that I saw the idea from Popsicle's to use The Original Low-Fat Fudge Pop to create a Hot Chocolate Dipper!  The Fudge Pop cools it down to the perfect temperature and the kids think I'm super mom for essentially giving them two treats!
Another great no-bake treat is this festive Frozen Peppermint Cookie Hot Chocolate.  Sometimes those of us who live in hotter states can only handle a few cups of actual hot chocolate during the so called winter months.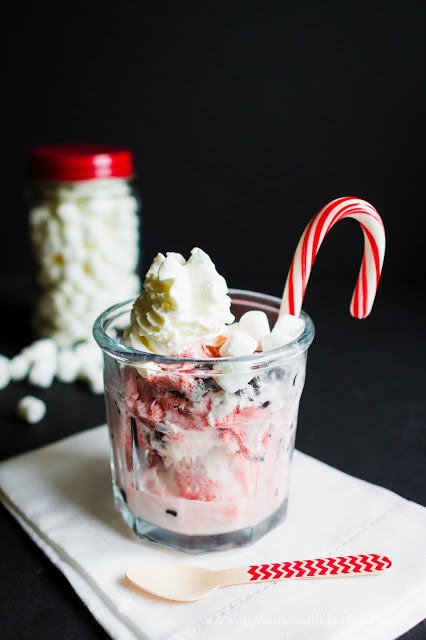 I created this with Breyer's Peppermint Cookie Ice Cream.  It's limited edition so rush out to purchase some!  I scooped about 1/2 cup ice cream into a glass (you can use a mug), sprinkled 1/4 cups of mini marshmallows over the top and of course added about 2 TBSP whipped cream.  I garnished mine with a candy cane just for fun.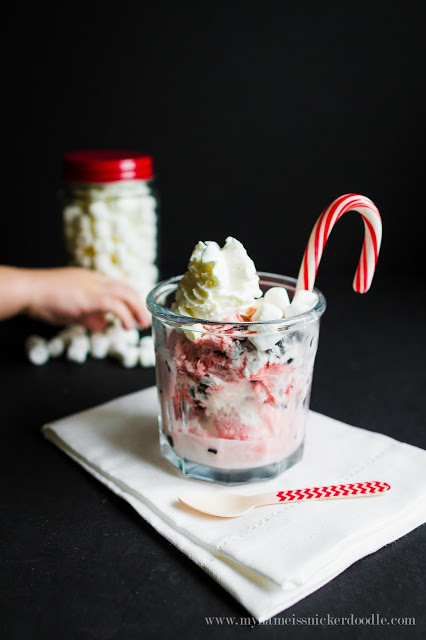 My little assistant was trying to "arrange" the marshmallows in the back ground.  Always so helpful!  I'm lucky I had any left…LOL!