Whenever I think of my favorite foods, salads never make the cut.  Well, there is one exception.  This Spinach Almond Salad is my favorite salad in all the world!  Sounds kind of dramatic, but it's true.
I've made it a lot recently for different church events (we even had it for our Christmas party and fed over 200 people) and I always get cornered by multiple people who have to have the recipe.  I love it and find it totally flattering.
I've actually posted this recipe here years ago and shared where it came from in the first place.  I feel like I've upped my photography skills and this one desperately needed a makeover!
This whole salad has a great texture and the dressing is totally unexpected.  You could definitely add in different dried berries, but don't cut corners and skip toasting the almonds.  I think it's what makes the salad as great as it is.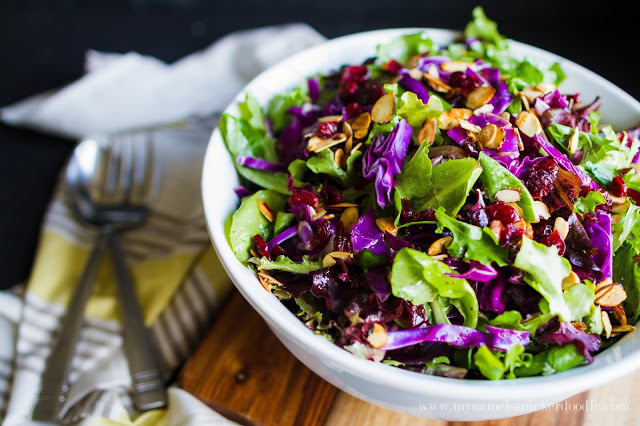 Typically I am morally apposed to posting a gazillon pictures of just one thing, but I'm making an exception because I can't decided which one I like best!  Pick your favorite and make sure to pin it!
Spinach Almond Salad
Printable Version
Serves 8-10
Ingredients
Salad
2 (9 oz) pkg fresh spinach
1/2 head purple cabbage, thinly sliced
1 cup sliced almonds
1 tsp granulated sugar
1 (6 oz) pkg dried mixed berries
1 cup dried cranberries
Dressing
1/4 cup sugar
1/2 cup vegetable oil
3/4 tsp salt
1 1/2 TBSP dry minced onion
1/4 cup white wine vinegar
3/4 tsp dry mustard
1/2 tsp celery seed
Directions
1.  Combine
the dressing ingredients in a mason jar.
2.  Tighten on lid and shake
vigorously. Chill for 2 hours.
3.  Place almonds and sugar in a medium pan over medium high heat and toast for 2-3 minutes or until lightly golden brown.  Move almonds around the entire time to avoid burning.
4.  Transfer to a plate to cool.
5.  In a
large bowl toss together spinach,
cabbage, berries and almonds together with a little dressing. Drizzle with more dressing if needed.
6.  Serve immediately.