All growing up I remember spending most Thanksgivings with extended family.  Being an only child, I'm sure my mom made sure I had lots of cousins around to spend holidays with.
The food, like most families, was the center of all our get togethers.  My mom, aunts and grandma would be busy all day in the kitchen cooking up yummy side dishes, salads and of course turkey.  The one thing I remember most is every one of them had a spoon in the gravy.  It would be bubbling away on the stove top and smelled amazing!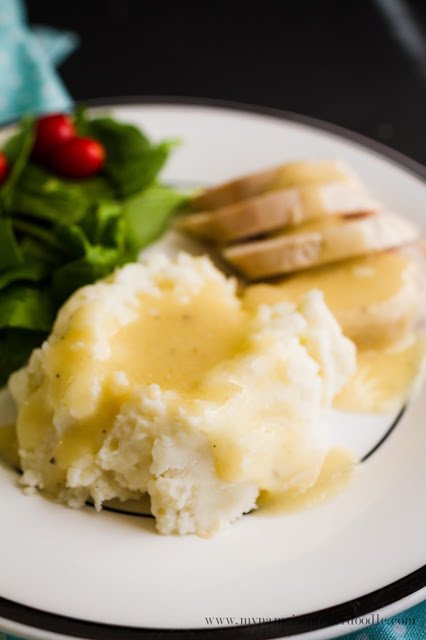 It wasn't until I was a teenager that I was taught the gravy ways and I'm about to take all the mystery out of it for you.  This is particularly helpful for those of you who cook your holiday bird (this works for chicken too) in a bag.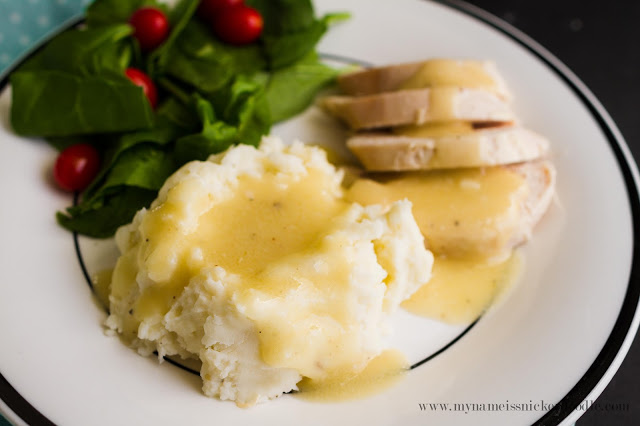 When I cook my turkey in a bag, I always rub it down with a stick of butter and add 2 cups of water to the bag before I tie it up.  This help with the richness of the turkey stock and gives me a little more to work with when I make the gravy.  I am a gravy fiend and tend to get a little grumpy if there isn't enough for me to drown in!  Just ask my husband.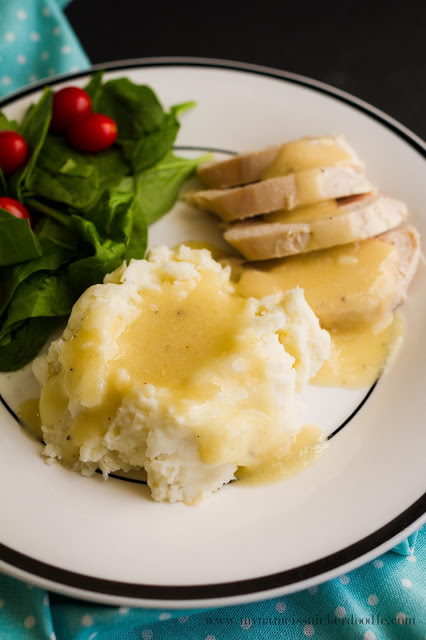 How To Make Turkey (Or Chicken) Gravy
*However much stock you end up with determines how much flour and milk you will need.  For every cup of stock you need 1 TBSP all purpose flour and 1/3 cup milk.   Adjust this recipe to fit your needs.
Ingredients
4 cups turkey stock
4 TBSP all purpose flour
1 1/3 cups milk
salt
pepper
Directions
1.  In a large pot bring stock to a rolling boil over a medium high heat.
2.  In a large cup or jar, using a fork, whisk together the flour and milk.  It helps to add a little salt to this mixture to help break up the flour.  I have a little salad dressing mixing jar that I use.  If you use a jar, you can tightly add a lid and give it a good shake.
3.  If the mixture is too thick add a little more milk.
4.  Slowly pour in the milk mixture  to the stock while vigorously whisking to combine.  Pouring it in slowly helps reduce the chance of getting lumps in your gravy.
5.  Depending on how thick you want your gravy, you may not add in all the milk mixture.
6.  Return the gravy to a boil and cook for another 5 minutes.  This helps cook the flour taste out.
7.  Season with salt and pepper.
8.  Serve.