Caramel Sauce is one of my favorite recipes to make during the fall months. This recipe is made with simple pantry ingredients that you might already have on hand. It's divine poured over ice cream, waffles or used as a dip for fruit! Keep a jar in your refrigerator for up to three weeks.
Fall is the perfect time to be in the kitchen with your family. Whether you are making comforting Corn Chowder or Easy Chili to keep warm or keeping things sweet with Pumpkin Bread and Chocolate Orange Pull Aparts. These are just some of my favorite recipes to make!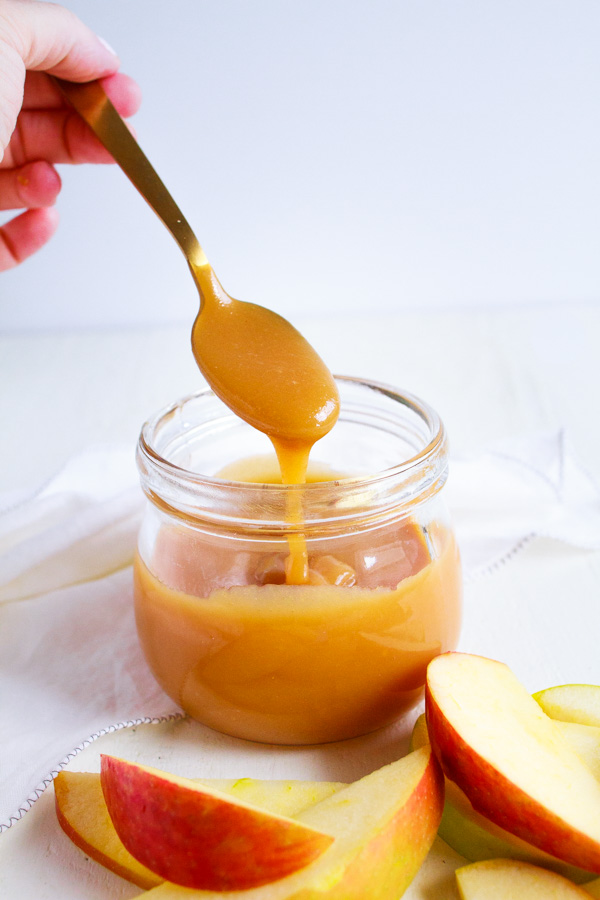 Every fall I love to try out all the selections of apple varieties my grocery store has to offer. Honey Crisp is always a delicious go to, but it's fun to mix it up sometimes with Smitten, Pink Lady and Sweet Tango.
The only thing to make these apples better is dipping them into my homemade Caramel Sauce! It mades for the perfect little treat and only made with a few simple ingredients.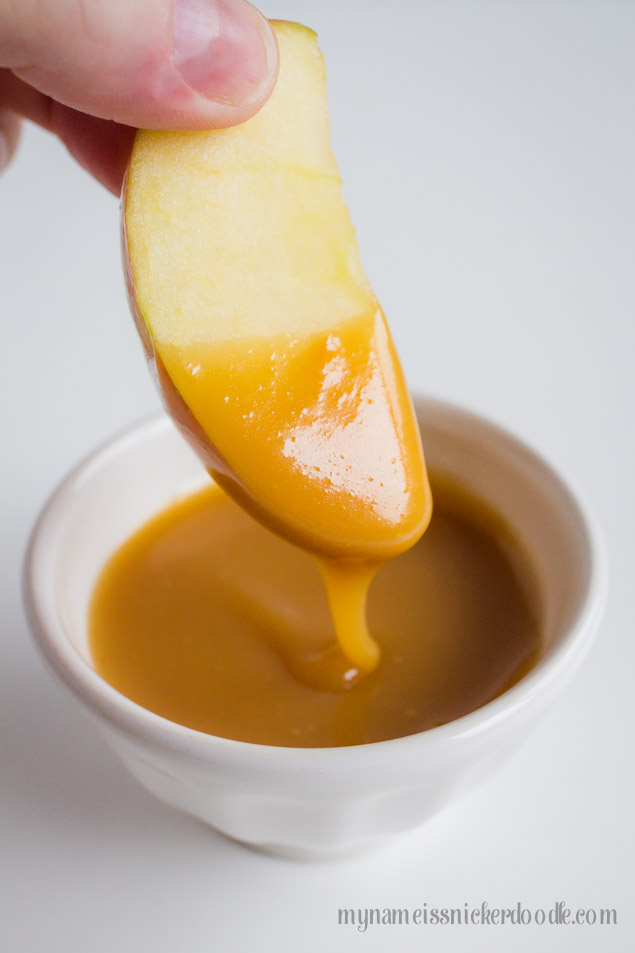 How To Make Caramel Sauce
Since this is one of my most favorite recipes, I always make sure I keep the simple recipe items in my pantry. Granulated sugar, light corn syrup, evaporated milk and salt have a long shelf life and can be kept on hand for a while. The recipe also calls for butter. Butter I always have on hand!
You'll combine the sugar, corn syrup, butter and milk all in a heavy bottomed pan.
Heat the pan over medium high heat and bring the whole thing to a boil. You'll need to stir it constantly to prevent it from burning on the bottom.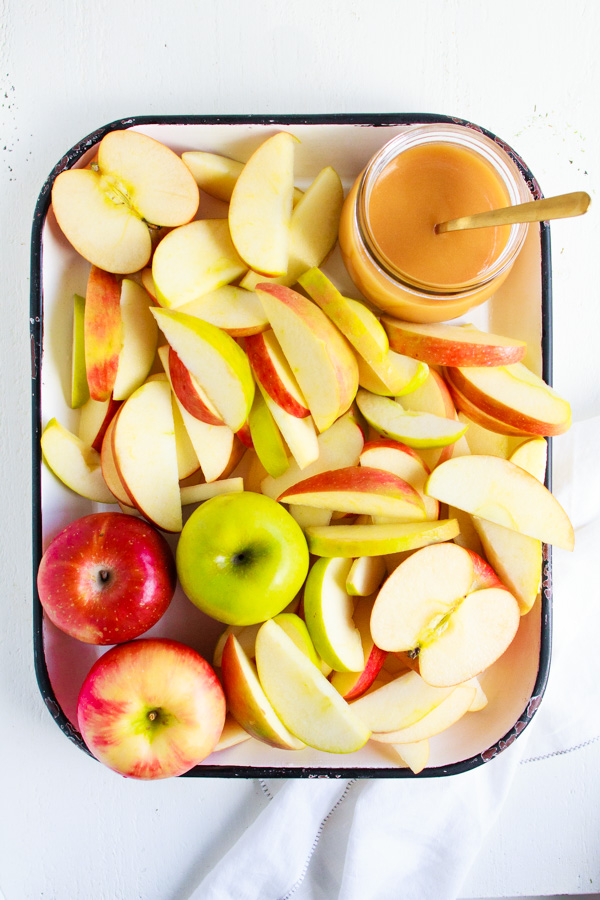 The hardest part is having to stir this for 7-8 minutes while the caramel is cooking. Trust me. It's worth it for sure!
You'll start to see the mixture turn to a dark caramel color and this is when you know it's almost ready. Be sure to cook it for the whole 8 minutes. This ensures it's going to be the right consistency.
It's only happened twice to me, but the caramel sauce separated once I was don't making it and letting it cool. I'm not sure exactly what happened, but I fixed it by placing it back on the heat and using a whisk to help it come back together. It worked perfectly and I saved the sauce.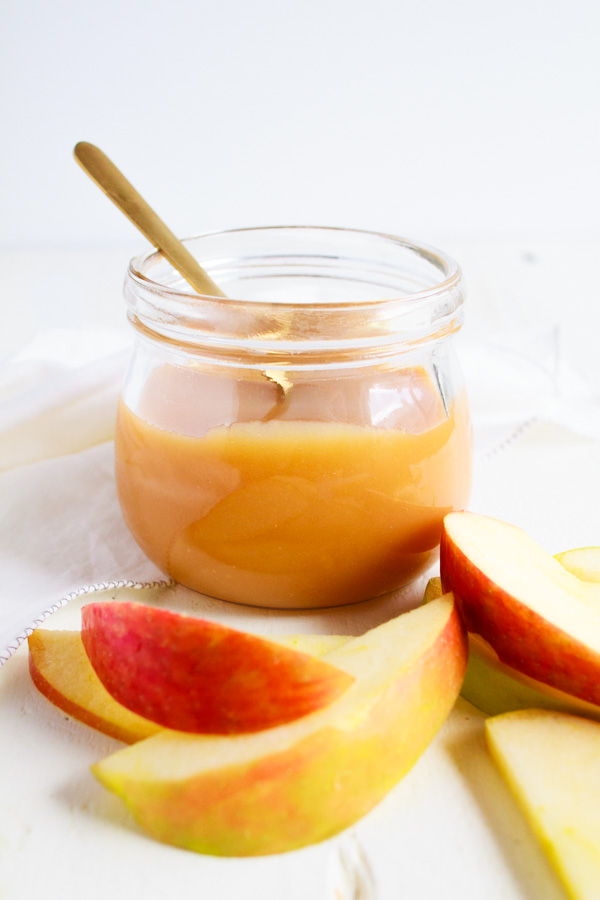 You need to let the caramel cool for about 20 minutes before you either serve it or pour it into an airtight container. I like to use mason jars and keep it in the fridge. The glass jars make it easy to warm it up in the microwave when you want to serve it.
Like I mentioned before this is really good as a dip for sliced apples. If you want to really live it up, make my Caramel Apple Nachos and impress your family and friends.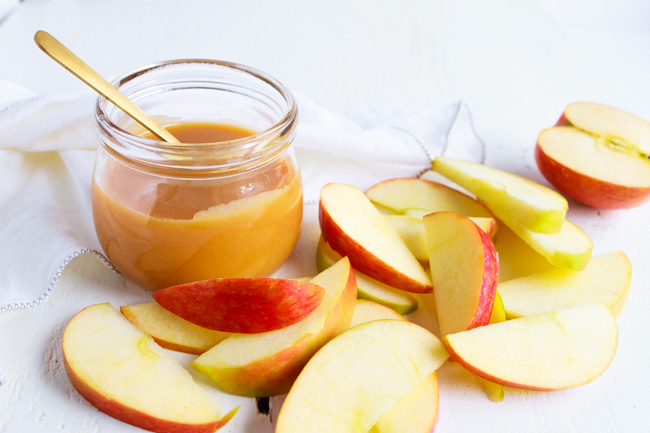 I've even served this over waffles that are topped with sliced bananas. That makes for a wonderful breakfast! And of course, you can simply use this over ice cream. It really is versatile!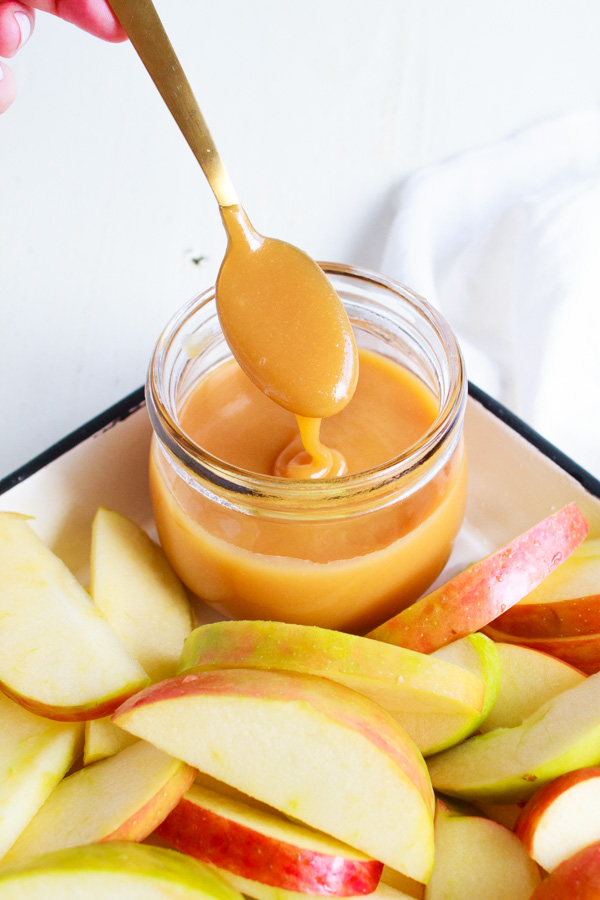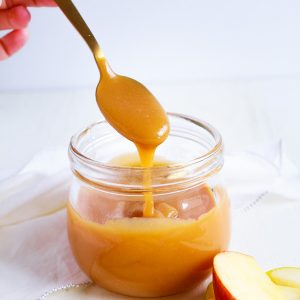 Ingredients
1 1/2

Cups

Granulated Sugar

1

Cup

Light Corn Syrup

1/2

Cup

Unsalted Butter

Cubed

1/2

tsp

Kosher Salt

12

oz

Evaporated Milk

1

tsp

Pure Vanilla Extract
Instructions
In a medium pot over medium high heat, combine sugar, corn syrup, butter, salt and milk together.

Once to a boil cook for 8 minutes, stirring constantly.

Remove from heat and mix in vanilla.

Let it cool for 20 minutes before serving.

When storing, cool completely and place in an airtight container. It can be stored in the refrigerator for up to 3 weeks.
*Originally published October 2018 and updated October 2020.
Entry 2 SECRET GIVEAWAY CODE (Part 1 of 3)
Tell me