I have a habit of creating a great recipe then making it over and over again within day and weeks of first having it.  My family tends to get really tired of it the second go around, so that's when I share them with my friends!  I'm still not sure if it's a good or bad habit, but I just can't help myself with it's so good!
This Summer Fruit Salad was one of those "recipes" and I use that term loosely.  I mean how can you can call you call chopping up fruit and tossing it in a secret dressing a recipe?  Oh, the dressing!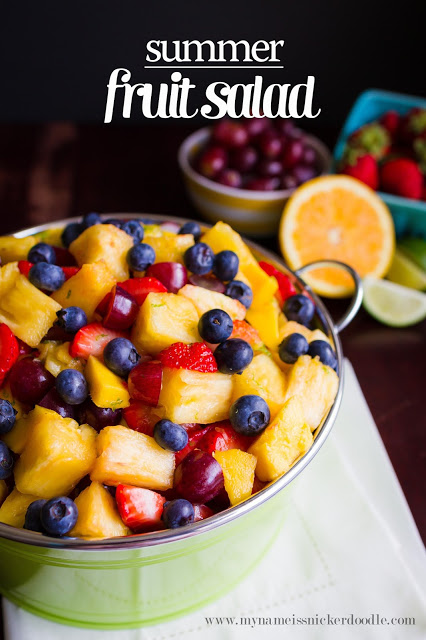 Okay, I'm not sure you can actually call it a dressing when it's
basically just freshly squeezed orange juice and lime zest.  But, WOW!
Those two combined bring the fruit to a whole new level in the flavor
department.  Everyone I've served it to truly loves it and can't ever
figure out why it's extra delicious until I tell them what the secret
is!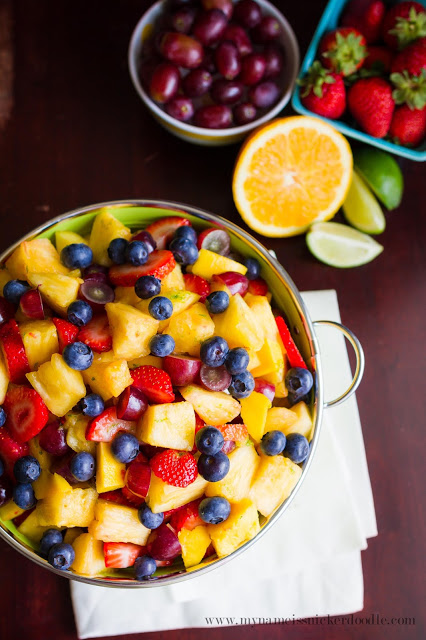 I really like to serve this salad along side my Easy French Dip Sandwiches and then maybe top it off with a slice of Cinnamon Sour Cream Cake!  Whatever you serve it with, it's sure to be completely fresh and satisfying!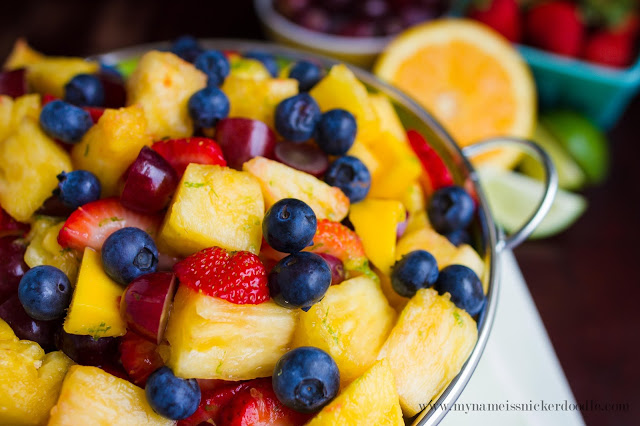 Summer Fruit Salad
Printable Version
Serves 8


Ingredients
1 whole ripe pineapple
12-16 oz fresh strawberries
8 oz fresh blueberries
2 cups red or green grapes
1 large orange
1 small lime
Directions
1.  Remove rind and core from entire pineapple.
2.  Cut into bite size chunks and place into a large bowl.
3.  Wash and hull strawberries and cut into fourths.  Place into bowl.
4.  Wash blueberries and place into bowl.
5.  Wash and slice grapes in half and place into bowl.
6.  Juice entire orange and pour into a small bowl.
7.  Zest entire lime and combine with orange juice.
8.  Pour juice over fruit and toss to coat.
9.  Chill until ready to serve.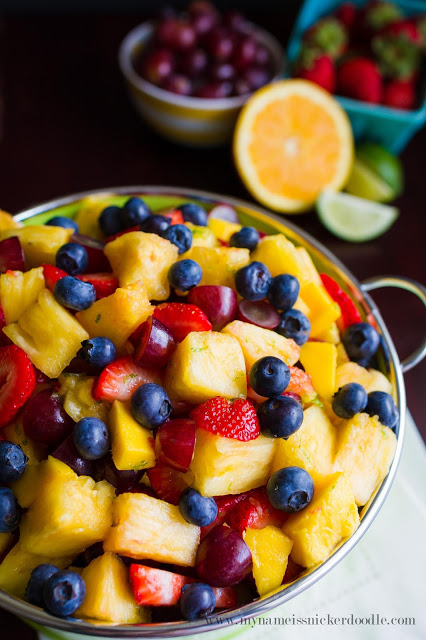 This recipe is linked up at – What's Cookin Wednesday, The Creative Exchange, Lovely Little Link Party, Weekend Re-Treat,