We have pasta often during the month.  All of my kids love it and it's pretty easy to prepare.  It's a good thing that my kids love veggies to balance it all out!
They love a good classic bowl of spaghetti and meatballs.  However, I like to mix it up with this Chicken and Broccoli with a Creamy Garlic Sauce every now and the.  I used to order a very similar dish at Olive Garden called Chicken Con Broccoli but, they no longer serve it.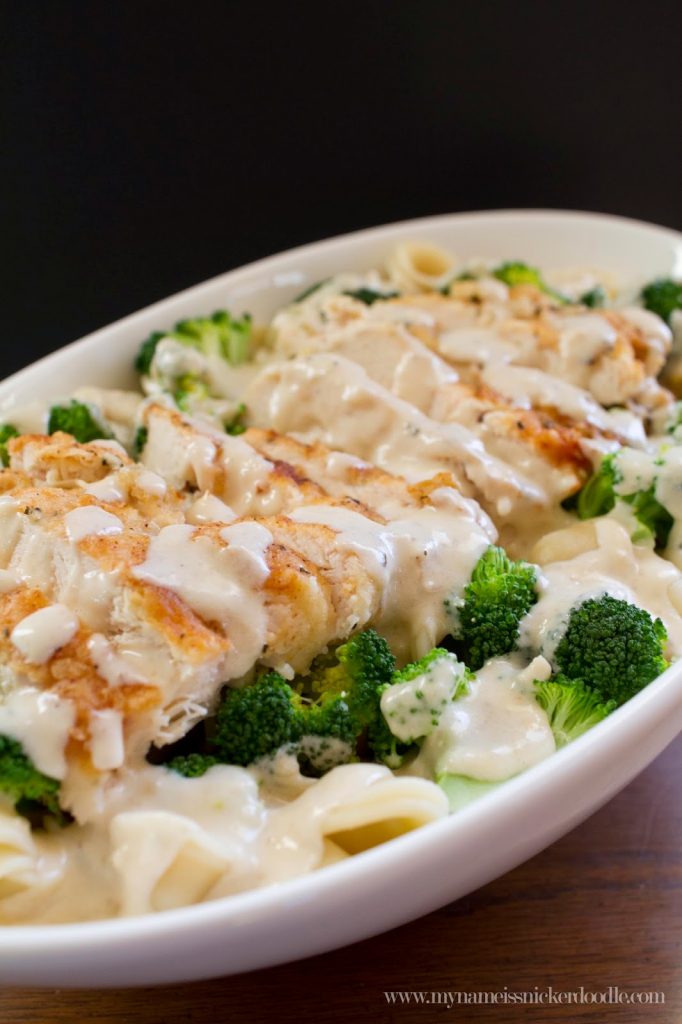 The recipe below calls for steamed broccoli but, this would be really great with some sauteed green and red bell peppers!  Ooohh, and toss in some mushrooms!  Okay, now I'm getting hungry!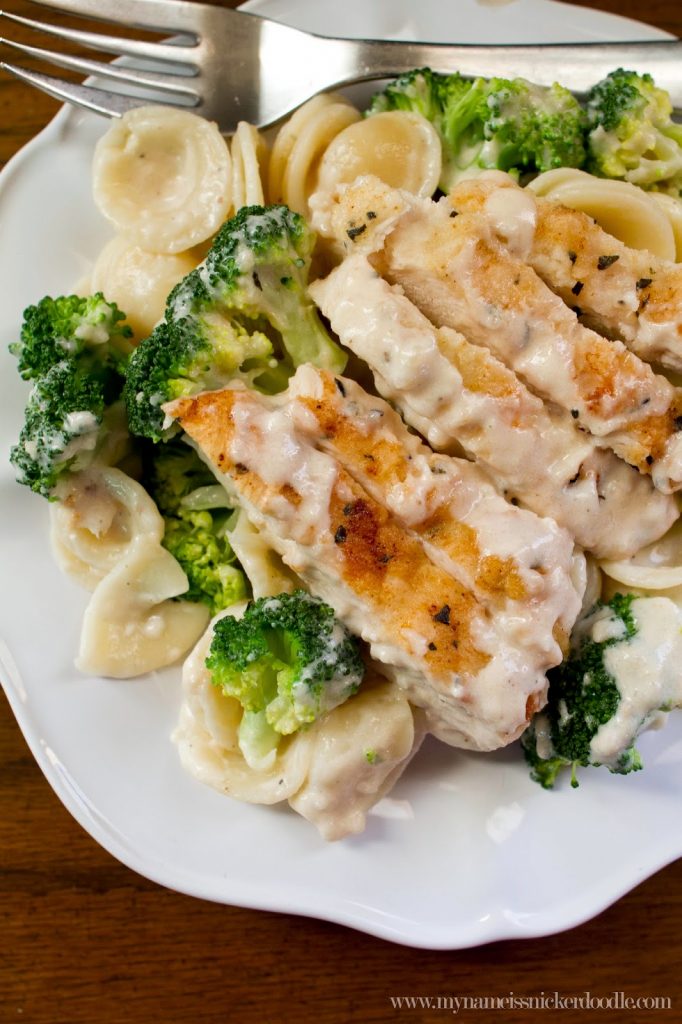 Creamy Garlic Chicken and Broccoli Pasta
Printable Version
Serves 4
  
Ingredients
2 Chicken Breasts
1/2 cup All Purpose Flour
1/2 tsp salt
1/2 tsp garlic powder
1/2 tsp pepper
1 TBSP Olive Oil
4 Cups Broccoli Florets, steamed
1 lb Orrecheitte Pasta or Rotini Pasta
For Sauce:
3/4 cup butter, salted
2 Garlic Cloves, Minced
4 TBSP flour
2 cups Heavy Cream
3 cup freshly grated Parmesan cheese
1/2 tsp pepper
1/8 tsp salt
Directions
1.  Cook pasta according to directions on package.  Drain and set aside.
For Chicken:
1.  In a large pan, heat olive oil over medium high heat.
2.  On a large plate mix together flour, salt, garlic powder and pepper.  Dredge chicken breasts in flour 3.  mixture and shake off excess.
4.  Place in hot oil and cook for 3-4 minutes on each side or until chicken is cooked through.
5.  Remove from pan and place on a clean plate to rest.
For Sauce:
1.  In a medium sauce pan, heat butter over medium high heat.
2.  Add in garlic and saute for 30 seconds.
3.  Stir in flour and cook for 1 minute, stirring constantly.
4.  Pour in heavy cream, Parmesan cheese, salt and pepper.  Turn heat down to low and stir until cheese is melted and everything is heated through.  Taste for seasoning.
Assembly:
1.  Toss pasta and cooked broccoli together.  Thinly slice chicken breasts and place over pasta.
2.  Generously pour sauce over and serve.
3.  Sprinkle with more Parmesan cheese.
This post is linked up at – The Weekend Re-Treat, Creative Collection, Lovely Little Link Party,