I became a fan of fajitas with our first move to Texas 9 years ago. My mother in law took me to Pappasitos and ordered them. I don't remember what I got, but I do remember drooling over what she got. Luckily she shared with me and I was hooked. Every Mexican restaurant I went to, I ordered chicken fajitas and pigged out!
A few years later I discovered McCormick Grill Mates Mesquite Seasoning (thanks to the Meyers!) This seasoning is perfect for chicken fajitas.
On to probably the most important part of the fajita…the tortilla! I knew you could make your own tortillas at home, but though it was a huge process. Come to find out, it so is not! When I came across this recipe I knew it was the perfect pairing to my already fabulous fajitas. They have fancy tortilla makers (which I would love to own some day), but if you have a rolling pin, you can make these. Original recipe found here.
*I completely forgot to take the "picture perfect" picture before we ate dinner so it's just a picture of Ian's second fajita…with LOTS of sour cream!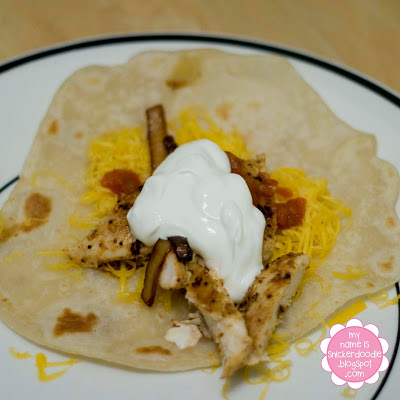 Chicken Fajitas
4 boneless skinless chicken breast
3 TBSP McCormick Grill Mates Mesquite Seasoning
1 yellow onion sliced thin
2 TBSP butter
1 1/2 TBSP soy sauce
shredded cheddar cheese
salsa
sour cream
tortillas
Place chicken and seasoning in a large ziplock baggie. Shake to coat. Marinate in fridge for 1 hour. Grilling is optimal, but we don't own one so I just pan fry mine. Place a little cooking oil in a large pan and heat to medium high heat. Cook chicken for about 4-5 minutes each side or until no longer pink in the middle. Transfer to a cutting board and let rest. Without washing the pan, place butter, onions, soy sauce in the pan. Saute onions on medium high heat for about 4-5 minutes until soft and golden brown. Cut chicken into thin slices and serve with favorite toppings.
Homemade Tortillas
(Here is the halved recipe version)
5 cups all purpose flour
1 TBSP salt
3/4 cup vegetable shortening
2 cups hot water
In a large bowl, whisk together flour and salt. Add in shortening and cut in with a pastery blender or 2 butter knives until crumbly. Slowly pour in hot water and carefully stir until well mixed. If dough is still too sticky add in more flour or if dough is too stiff add in a little more water. Dough should be soft and elastic. Knead for a 2 minutes and then place back in the bowl. Cover with a damp towel and let it rest for 30 minutes. Roll about a golf ball size piece of dough into your hands and then flatten out. Continue to flatten out with rolling pin on a floured surface. If you have a griddle cook them on 400º. If you do not (I don't) heat your large pan on just under your highest heat. Cook tortilla on one side until it started to 'bubble'. Flip and cook another 30 seconds or until slightly golden brown in spots. Remove to a towel and cover to keep warm while making the rest.
*These will stay in your fridge for up to 2 weeks or freeze for up to 2 months.
For Thanksgiving dessert I brought this super fat free/free of guilt goodness. *Wink, wink*! It's a Paula Deen recipe so it is far from it! Most everyone had seconds! I dedicate this recipe to Ian's cousin, Hal. He absolutely loves everything banana!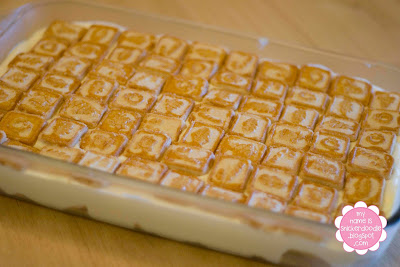 Not Yo' Mama's Banana Pudding
2 bags Pepperidge Farm Chessman Cookies (I used the special mini Christmas ones they put out this time of year. 1 large box will do.)
6-8 bananas
1 5oz. box instant vanilla pudding
milk (whatever is called for on the back of the box)
1 8oz. package cream cheese, softened
1 14oz. can sweetened condensed milk
1 8oz container cool whip
Line the bottom of a 9×13 pan with cookies. Top with sliced bananas. In a bowl combine milk and pudding and blend well. Using another bowl, combine the cream cheese and condensed milk together until smooth. Fold the cool whip into the cream cheese mixture. Add the cream cheese mixture to the pudding and stir until well combined. Pour over cookies and bananas. Top with remaining cookies. Chill for 1 hour.