I don't think I will ever post anything on my blog that is healthy. Enough said with this next recipe that I found on this site.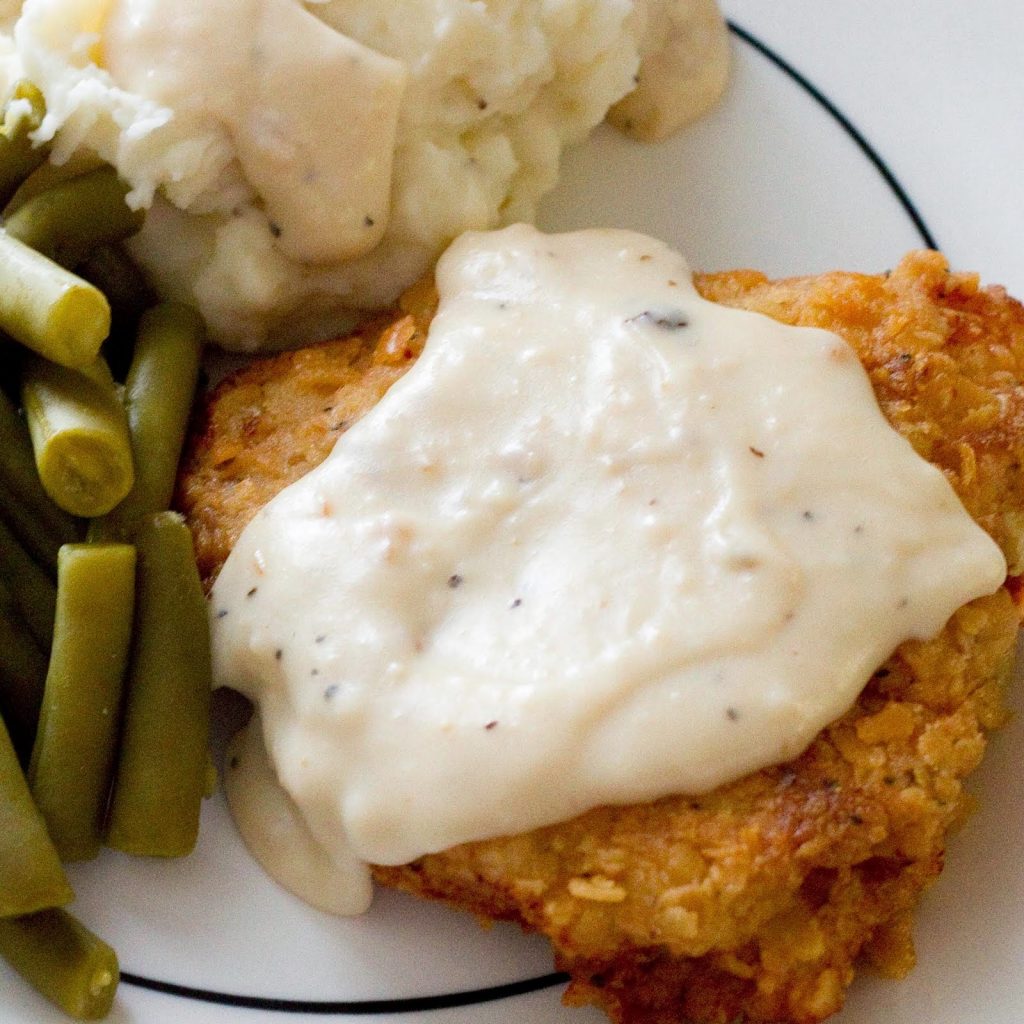 Chicken Fried Chicken
4 skinned and boned chicken breasts
1 tsp salt
2 tsp freshly ground black pepper
1 sleeve saltine crackers, crushed
1 cup all-purpose flour
1/2 tsp baking powder
1/2 cup milk
2 large eggs
oil
Place chicken breasts between 2 sheets of heavy-duty plastic wrap, and flatten to 1/4-inch thickness using a meat mallet or rolling pin. Sprinkle with half of the salt and pepper. Set aside. Combine cracker crumbs, flour, baking powder, remaining salt and pepper. Whisk together milk and eggs. Dredge chicken in cracker crumb mixture; dip in milk mixture, and dredge in cracker mixture again. Pour oil to a depth of 1/2 inch in a 12-inch skillet (do not use a nonstick skillet). Over medium high heat (more on the high side) fry chicken, in batches, 10 minutes, adding oil as needed. Turn and fry 4 to 5 more minutes or until golden brown. Remove to a wire rack in a cookie sheet. Keep chicken warm in a 225° oven.
Country Gravy
1/3 – cup flour
2 – 3 tablespoons pan drippings
3 cups milk
salt & pepper to taste
Carefully drain the hot drippings, reserving cooked bits and 2 -3 tablespoons of the drippings in skillet. Add 1/3 cup flour to the skillet with the drippings. Cook over medium high heat. Using a whisk mix the flour into the drippings until it starts to brown and become a paste. This is called a roux. If the roux looks too oily and runny you can add another tablespoon or so of flour and mix again. Whisk constantly until the paste becomes nice and brown.
Slowly add the milk whisking constantly and blending the liquid with the flour mixture until combined. Let the gravy come to a boil and then reduce heat and simmer until the gravy thickens up. If the mixture thickens too much add more milk as needed until the gravy is the consistency that you want. This could end up being more then the required 3 cups. Season generously with salt and pepper and serve over the chicken fried steak and mashed potatoes.