These are my new go to rolls. I have been making them for buns for various recipes (like below) and love how fast and easy they are to make. Don't get me wrong, I still love my roll recipe, but different rolls for different functions, right? These are rolls seen in this recipe picture. I found the recipe here.
French Bread Rolls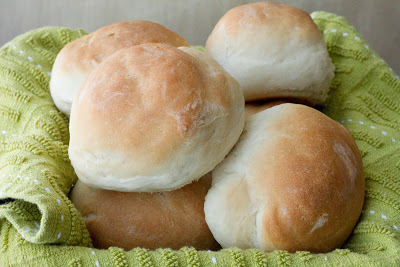 1 1/2 cups warm water
1 TBSP active dry yeast
2 TBSP white sugar
2 TBSP vegetable oil
1 tsp salt
4 cups all-purpose flour
In a large bowl, stir together warm water, yeast, and sugar. Cover with a towel and let stand until bubbly, about 10 minutes.
To the yeast mixture, add oil, salt, and 2 cups flour. Stir in the remaining flour, 1/2 cup at a time, until the dough has pulled away from the sides of the bowl. Turn out onto a lightly floured surface, and knead until smooth and elastic, about 8 minutes. Lightly oil a large bowl, place the dough in the bowl, and turn to coat. Cover with a damp cloth, and let rise in a warm place until doubled in volume, about 1 hour. Deflate the dough, and turn it out onto a lightly floured surface. Divide the dough into 12 equal pieces, and form into round balls. Place on lightly greased baking sheets at least 2 inches apart. Cover the rolls with a damp cloth (or greased saran wrap), and let rise until doubled in volume, about 40 minutes. Meanwhile, preheat oven to 400º. Bake for 12-13 minutes or until golden brown.
For some reason I thought these sandwiches were way out of my comfort zone, but I sucked it up and decided to try them anyways. Good thing I did because they were scrumptious! Once I found the recipe, I saw it everywhere so I hope it's new to you.
Cheesy Ham Sammies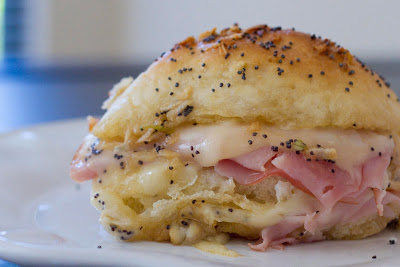 12 freshly baked rolls or store bought soft dinner rolls
12 slices fresh swiss cheese
1 lb thin sliced deli ham, smoked or honey baked
mayonnaise
1/2 cup butter, melted
1 TBSP onion flakes
1 tsp poppy seeds
1 1/2 tsp Worcestershire sauce
1/2 tsp ground mustard
Slice rolls in half. Spread a little mayo on one side of the bun. Place a few slices of ham and top with cheese on the bottom of the bun. Cover with the top half of the bun. Place tightly into a 9×13 baking dish. In a small bowl, combine butter, onion flakes, poppy seeds, Worcestershire sauce and ground mustard. Pour over sandwiches. Cover with plastic wrap and marinade in the fridge for 4-8 hours. Preheat oven to 350º and bake for 15 minutes or until cheese is melted. Serve hot.
This post is linked up at – Totally Talented Tuesdays,