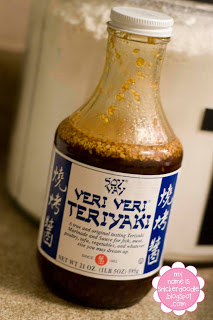 You all know how much I love rotisserie chicken. My second favorite version of chicken is tempura chicken. Oh man, do I love it. For those of you who don't know what it is it's a cornstarch based batter mostly used in Chinese dishes….like sesame chicken or sweet and sour. This batter works wonders on vegetables, too. I will post some recipes on that later. This chicken works really well with most sauces so pair it up with what you like best. One of our family favs is Veri Veri Teryaki. We discovered this a few years ago when a friend introduced it to us. Then, you could only by it at a Central Market but is now sold at Walmart or I have also found it at Albertson's (found down the Asian food isle.) This sauce is surprising wonderful on Hillshire Farm Keilbsa Sausage. Cut sausage in half lengthwise, brush on sauce and then grill to perfection! SOOOO GOOD!
Tempura Chicken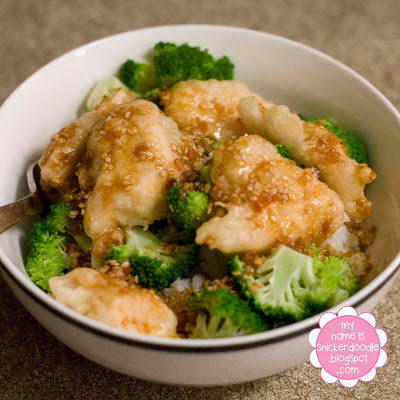 4 chicken breast cubed
3/4 cup cornstarch
1/4 cup flour
1 tsp baking powder
1 1/2 tsp salt
1/2 cup cold water plus 2 TBSP
vegetable oil
Heat about 2 inches of oil in a large pan to medium high heat. Mix together cornstarch, flour, baking powder, and salt. Add in water and stir to combine. You want the batter to be the consistency of thin pancake batter so adjust your water if you have to. Toss in cubed chicken and toss to coat. Place chicken in a single layer into hot oil. You may have to cook two to three batches. Cook chicken on side for 2-3 minutes and then turn once with tongs. Cook another 2-3 minutes or until chicken is cooked through. Your batter will only get slightly golden…if it's too brown, you have over cooked it. Drain on a paper towel. Cook remaining chicken. I served mine over cooked rice and broccoli. Drizzle sauce over the top and enjoy!
I found the perfect way to cook my fresh broccoli. Cut up and put in a microwave proof bowl. I use the small micro cooker. Place a little water in the bowl and cover. Cook in the microwave for 1 minute and 45 seconds. Drain water and serve.
This recipe I discovered on this much beloved food site. I am such a cookie monster it was a must to try. So moist and delish!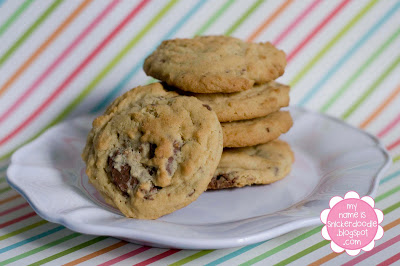 Symphony Cookies
1 cup butter softened
3/4 cup brown sugar
1 small box vanilla instant pudding mix
1 tsp vanilla
2 eggs
2 1/2 cups flour
1 tsp baking soda
1 Giant Symphony Candy Bar (the blue kind with toffee bits) chopped
Cream butter, sugar, pudding mix, and vanilla until light and fluffy. Add eggs and beat until creamy. Combine flour and baking soda. Add to butter mixture, stirring until combined. Stir in chopped chocolate. Drop by spoonful on ungreased cookie sheet. Bake at 375 degrees for 9-10 minutes. Cool on rack.