Tradition. I am sure all of you have some holiday traditions and this stuffing is a long standing tradition in mine. I, however, have altered it to more of my liking so is that still considered a tradition? Anyways it's a yummy one reguardless. This is a must try for this Thanksgiving! The smell of sausage and onions always brings me back to the days when my mom would hand me a large bowl and bags of bread to tear. It was my 'job' and it will be my children's job when they get old enough!
(Click HERE for an updated version of this recipe.)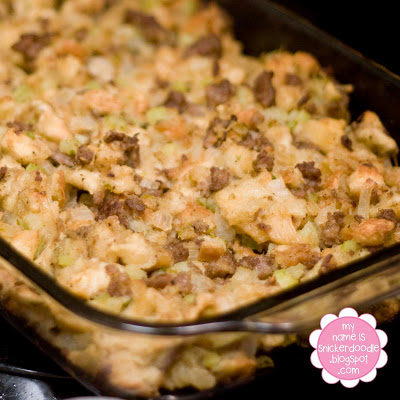 Stuffing
1 loaf white bread (the cheaper the better)
1 lb. regular sausage
1 large yellow onion
1/2 cup real butter
2 cups diced celery (use the middle yellowy tender ones with leaves first)
2 15 oz cans chicken broth
1 cup water
1 1/2 tsp poultry seasoning
1 tsp parsley
1 tsp pepper
1/2 tsp pepper
Tear bread into small pieces (a little smaller than bite size). Place on a cookie sheet and toast in oven on 250º for 1 1/2 hours. Toss lightly every 20 minutes to prevent burning. You want the bread to be slightly toasted. It's okay if some of the bread is a little moist. Cool and place in a large bowl. In a large pot bring to a boil chicken stock, water, celery, poultry seasoning, parsley, pepper and salt. Boil for 10-15 minutes or until celery is tender, not mushy. Meanwhile, crumble and brown sausage in a large pan. Try not to leave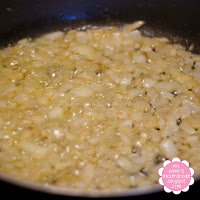 too large of pieces. Drain on paper towel. In the same pan (without washing) add in butter and onions. Saute on medium heat until onions become translucent and brown around the edges. About 20 minutes. Without draining, place onions, butter and sausage in with the toasted bread. Toss to combine. Using 1 cup at a time, add in chicken stock mixture to bread mixture. Keep stirring and adding in liquid until bread is wet through, not mushy. Taste to check for seasonings (you may want to add more poultry seasoning…just sprinkle a little over the top and mix in.) Place in a 9×13 pan and bake at 350º for 45 minutes. You don't want it to be too dry, just perfectly moist.
*If you need to make this ahead of time, just cover and place in the fridge for up to 2 days. When baking, you may need to increase the cooking time to adjust for it being so cold from the fridge.
And for not such a Thanksgiving tradition, but a delicious treat any day of the year. Muddy Buddies! This is one of those that I am sure all of you have made one time or another, but just in case…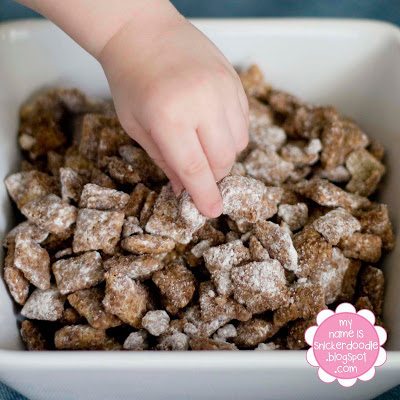 Muddy Buddies
9 cups rice Chex
1 cup chocolate chips (I use milk because it's my fav, but feel free to use semi-sweet)
1/2 cup peanut butter
1/4 cup real butter
1 tsp vanilla
1 1/2 cup powdered sugar
Place cereal into a large bowl. In a microwavable bowl add chocolate chips, peanut butter and butter. No need to mix together at this point. Microwave 1 minute and then stir to combine. If it is not smooth then cook for another 15-30 seconds until smooth. Stir in vanilla. Pour over cereal and toss to coat completely. Very carefully add in powdered sugar and toss to coat completely. If you have a 2 quart large baggie, then toss all of this together into the bag and shake to coat. Store in an airtight container in the fridge.
Liam couldn't contain himself when I was taking this picture. I thought it was adorable and a keeper. Plus it was his first time tasting this yummy treat. A success according to the two small bowls he scarfed down!