Since it's officially fall I think it's safe to say that we are all starting to enjoy more homey, warm, comfort foods. (Even though our crazy Texas weather brings us 49º one day and 77º the next!) This recipe is another one that I got from my mother-in-law that I have altered over the years. And easy enough with only 5 ingredients if you don't count the salt and pepper!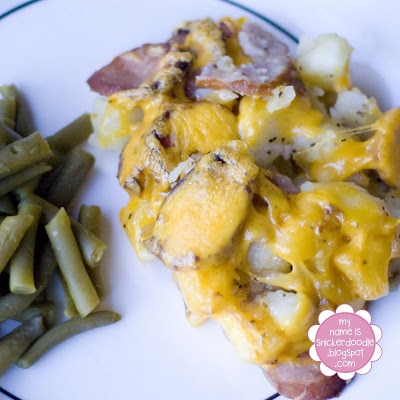 Potato Sausage Casserole
1 pk kielbasa sausage (I like to use Hillshire Farm's brand…you can use the all beef one if you would like)
1 medium yellow onion
2 TBSP butter
6-8 small/medium potatoes
2 cups shredded cheddar cheese
salt
pepper
Scrub potatoes and place in a large pot. Cover with water and bring to a boil. Boil for about 35-45 minutes until fork tender. You do not want them to be mushy so start checking them around 25 minutes. Remove to a cookie sheet and let cool for about 30 minutes to one hour. If you have super tough and calloused hands feel free to skip this part, GI Jane!) You can also cook them the day ahead and once they have cooled some, place them in the fridge. While potatoes are cooling, dice up the onion however small you like it and your family will eat it. I like mine really small so I used my food processor. You can also grate the onion if you have picky eaters. Place butter in a medium pan on medium high heat. Let butter melt and brown slightly before adding the onion. Saute for about 3-4 minutes until translucent and slightly golden brown. Pour into a large bowl. (Feel free to not add all that butter if you have a lot left over. Peel potatoes and cube into bite sizes. If they are still too warm, use a clean dish towel to "assist" you in holding it. Place in bowl with the onions. Salt and pepper to taste. Remember the potatoes are bland so you may need to add more salt than you think. I know the sausage is salty, but not enough. Slice up the sausage about 1/4 inch thick. Toss with the onions and potatoes. Place in a 9×13 pan. Sprinkle with cheese. Bake at 350 for 30 minutes or until cheese is melted and bubbly. Serve with ketchup or BBQ sauce.
I was going through all my pictures of the recipes that I have made over the last little while and I have run out of dessert recipes to share with you again…well, not out of recipes entirely, just that I haven't made any and don't have any pictures to share along with the recipe. Got it? So enjoy all that left over Halloween candy just a bit longer!
While you are eating that candy, you can watch this little clip that I think is HILARIOUS! If Paula Deen absolutely drives you crazy (dad) do not watch this clip. You were warned!