If you don't know who The Pioneer Woman is by now, you need to have your computer rights revoked. She is one fab cook and I haven't ever tried a recipe of hers that I haven't liked. The first night I made it Ian asked what was for dinner. I told him beef and snow peas and he justabout melted into the floor with pure disappointment. THEN I told him it was a PW recipe and he cheered right up. True story. Since I found the recipe we have it once a week since. Literally. I, of course, made my own modifications so here is my version.
Beef and Snow Peas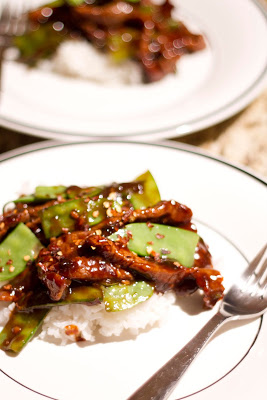 2 lbs Eye of Round Steak, sliced thin against the grain
1 cup low sodium soy sauce (regular soy sauce will be too salty)
4 TBSP brown sugar
1 TBSP cornstarch
1/4 tsp ground ginger
2 garlic cloves, finely minced
4 green scallions, thinly sliced
2 cups snow peas cut in half
vegetable oil
cooked white or brown rice
In a medium bowl whisk together soy sauce, brown sugar, corn starch, ginger, garlic and scallions. Toss in sliced meat. Set aside and cook your rice. Once your rice is cooked, about 20 minutes, heat a large sauce pan to medium high heat. Heat up oil. Once really hot add in the meat leaving the marinade still in the bowl. Spread out meat into a single layer and cook about 1 minute. Turn over and add in snow peas. Cook for 1 more minute. Remove from the pan to a plate. Return pan to heat and pour in the remaining marinade. While whisking, bring to a low boil and cook for about 1-2 minutes until slightly thick. Remove from heat and add in meat and snow peas. Toss to coat. Serve over rice.