I know, I know! I don't have a picture for this one. I am such a visual person when it comes to food and recipes that most of the time I won't even give a recipe a second thought if I can't "see" it first. However, you will regret not making this one just because I haven't provided a pic…yet. You see, I will be making this recipe, but not until tomorrow which is Saturday and not Friday. Hence Fabulous Food FRIDAY! Ever since I can remember my mom always made chili on Halloween. Something warm and delicious to keep us warm while we trick or treated. Sometimes even in the snow (gotta love crazy Wyoming weather!). So you will get your picture sometime next week. It is the easiest recipe and completely and utterly scrumptious!
Mom's Easy Chili
1 lb ground beef
2 large cans chili beans or 4 regular cans
1 large can V8 juice
1 pkg McCormick Chili Mix
1 tsp pepper
Brown beef in a large pot. Drain off any excess grease. Add in beans, pepper and chili mix. Stir to combine. Add in 1/2 of the can of V8 (you know, that super large can…I can't remember the ounces). Stir. Add in more V8 juice to desired constancy. *If you are making it ahead, you will want to add more juice because the beans will soak it up. Turn down to low and simmer for 1/2 hour.
Here is another recipe that I have had forever (since 2005) and was a little too scared to make it back then. When I saw it, I was only thinking of the colors, brown and orange, to celebrate Halloween. But when Ian ate it, he said that it reminded him of Christmas….like those yummy chocolate oranges that you smash to break apart. Well, it's not as easy as smashing and eating, but it definitely was not hard to create. Just a few more dishes that needed washing. UHhhhhh, this was sooooooo good. This one made it to my top 5 dessert list! Whether you make it for a fun Halloween party or tomorrow or wish to wait to savor it at Christmas time, you will definitely dazzle your guests with it! Original recipe can be found here.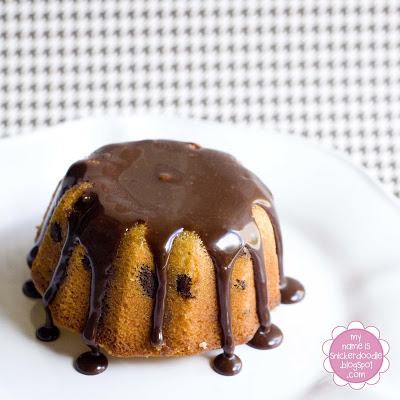 Mini Orange Chocolate Chunk Cake
Cake
1/4 pound unsalted butter at room temperature
1 cup sugar
2 extra-large eggs at room temperature
1/8 cup grated orange zest (2 large oranges)
1 1/2 cups all-purpose flour plus 1 tablespoon
1/4 teaspoon baking powder
1/4 teaspoon baking soda
1/4 teaspoon kosher salt
1/4 cup freshly squeezed orange juice
1/2 cup buttermilk at room temperature
1 teaspoon pure vanilla extract
1 cup good semisweet chocolate chunks
Syrup
1/4 cup sugar
1/4 cup freshly squeezed orange juice
Ganache
3/4 cup good semisweet chocolate chips
1/4 cup heavy cream
Preheat the oven to 350 degrees F. Grease and flour 6 individual serving baking molds.Cream the butter and sugar in the bowl of an electric mixer fitted with the paddle attachment for about 5 minutes, or until light and fluffy. Add the eggs, 1 at a time, then the orange zest. Sift together 1 1/2 cups flour, the baking powder, baking soda, and salt in a large bowl. In another bowl, combine the orange juice, buttermilk, and vanilla. Add the flour and buttermilk mixtures alternately in thirds to the creamed butter, beginning and ending with the flour. Toss the chocolate chunks with 1 tablespoon flour and add to the batter. Pour into the pans, smooth the tops, and bake for 30 minutes, until a cake tester comes out clean. Let the cakes cool in the molds on a wire rack for 10 minutes. Meanwhile, make the syrup. In a small saucepan over medium-low heat, cook the sugar with the orange juice until the sugar dissolves. Remove the cake from the pans, put them on a rack over a tray, and spoon the orange syrup over the cakes. Allow the cakes to cool completely. For the ganache, melt the chocolate and heavy cream in the microwave 10 seconds at a time until chocolate is melted and mixture is smooth. Drizzle over cakes.