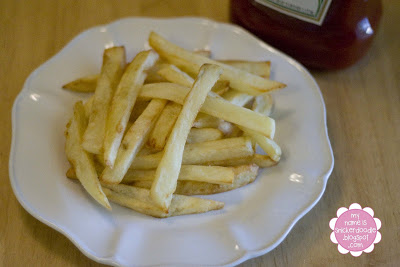 ***I made a mistake with the date of this post so it posted below…sorry!
French fries are a weakness of mine…let me restate that. Fantastic French fries are weakness of mine. I originally got this recipe from my aunt Sara and have been making them for a couple years now. So easy, but I can't promise that your house won't smell like a greasy spoon from the back woods of Louisiana!
French Fries
5-8 large potatoes
Canola Oil
Salt
Peel potatoes and cut into thirds lengthwise. Cut each third into sticks. Fill large bowl with ice cold water. Place fries in bowl and let sit for 10 minutes. Meanwhile place 2 inches of oil in a large skillet with high sides. Heat to medium high. Drain fries and dry off on a kitchen towel. You will need to cook these in batches. Place a single layer into oil. Cook until white (more white than when raw) and no longer translucent, about 3-5 minutes. Take out and drain onto a paper towel. Continue with remaining fries. Place the first batch back into the oil and cook until slightly golden brown, another 3-5 minutes. Drain on fresh paper towels and immediately sprinkle liberally with salt. Continue with remaining fries. Enjoy with ketchup or fry sauce (1 part mayo with 2 parts ketchup. Mix together.)
*Adjust your oil heat to where it's not completely bubbling when you place the fries in, but not low enough where they are just 'simmering' in the oil. It's super important to completely dry off your fries at the very beginning. If you put wet fries in oil, it will pop and crack and you could get burned.
I am fan of pumpkin food dishes. Just another reminder for my mouth that fall has arrived. I was looking through my cook book of collected recipes and came across this one. I can't remember where I got it, but knew that it would hit the spot. I added the caramel sauce to the original recipe, but is just as tasty with a sprinkling of powdered sugar!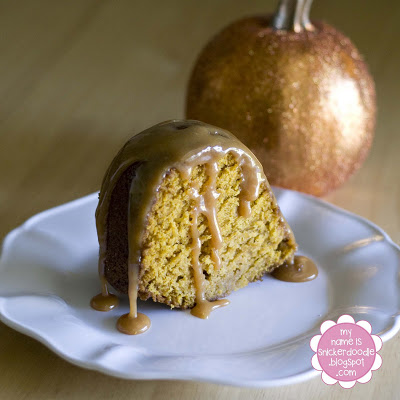 Pumpkin Pound Cake with Caramel Sauce
2 1/2 cups sugar
1 cup vegetable oil
3 eggs
2 TBSP baking soda
3 cups all purpose flour
1 tsp cinnamon
1 tsp nutmeg
1/2 tsp salt
1/4 tsp cloves
1 can (15 oz) pumpkin puree
Caramel Sauce
15-20 caramels
2 TBSP milk
Preheat oven to 350º. Grease a bunt pan and set aside. In a medium bowl whisk together baking soda, flour, cinnamon, nutmeg, salt and cloves and set aside. In a large bowl combine oil and sugar. Add in eggs on at a time beating well after each addition. Add dry ingredients to sugar mixture, alternating with pumpkin puree until all is well combined. Batter will be thick. Pour into prepared pan and bake for 50-60 minutes or until a toothpick inserted into center comes out clean. Let cool in pan for 10 minutes before turning over onto plate. If not using caramel sauce, sprinkle cake with powdered sugar. If you are using caramel sauce, prepare sauce while cake is cooling. Combine caramels and milk in a bowl and microwave for 30-60 seconds. Stir and if needed, heat for another 10-20 seconds at a time until completely melted. Serve hot over warm cake.
*See my adorable glittered pumpkin? LOVE IT!