Have you noticed that food prices are starting to come back down…well, at least on a few things. I haven't bought potatoes for months now because they were just too pricey when I know they used to be sold for cheaper. The other day when I went to the store, a 10 lb. bag of spuds was on sale for $1.50! I couldn't pass it up. Then I was stuck with the dilemma of what to do with all of them for just the three of us. It's been pretty rainy here the last week or so and I have loved the cooler weather. What a perfect way to celebrate by making soup! I actually had all the ingredients on hand and in no time, I was in soup heaven. I told Ian we were having soup, but didn't mention what kind. As he was eating it, he proclaimed that it tasted like a loaded baked potato. I just laughed because that was exactly what I was going for!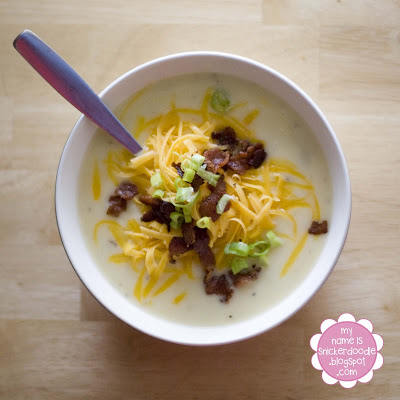 Loaded Baked Potato Soup
6-8 large baking potatoes (depending on the size) peeled and cubed
2 cans chicken broth
water
salt
pepper
2-3 cups milk
2 TBSP butter
1 lb bacon diced and browned
1 medium yellow onion, diced and sauteed
2 cups shredded cheddar cheese
Green onions sliced for garnish
Place cubed potatoes in a large pot. Pour over chicken broth. Add enough water to cover, about 2 inches above potatoes. Stir in 1 tsp salt. Bring to a boil. Boil for about 20-30 minutes. You want the potatoes to break down further than you would if you were making mashed potatoes. Keep an eye on the liquid because you don't want to scorch the bottom. Add more water if needed. While potatoes are cooking, brown bacon. Remove from pan and saute onion in 1 TBSP of bacon grease. Once potatoes are cooked take off heat and mash with a potato masher. They should be the consistency of really thin mashed potatoes. Return to low heat and add in 1 more tsp salt, 2 tsp pepper and butter. Mix until butter is melted. Stir in milk to desired constancy. You may not use all milk. Heat for about 5 more minutes, constantly stirring. Take off heat. Mix in 2 cups of cheese, onions and most of the bacon (save some for a garnish). Add more salt and pepper to taste. Ladle into bowls and and garnish with more shredded cheese, bacon and green onions.
Growing up my favorite dessert that my mom made was banana cream pie. Not anything fancy with a complicated homemade custard filling…just the good ol' pudding out of the box and poured into a pre-made graham cracker crust. I have discovered how to make it better! Secret ingredient…evaporated milk. So simple, but such an improvement. I didn't save my picture that I took of my pie, but you all you know what one looks like!
Banana Cream Pie
2 small boxes banana pudding
1 small can evaporated milk
3/4 cup milk
1 graham cracker crust
2 bananas
whipped cream
In a medium bowl, whip together pudding and milks. Whisk for 1 minute. Place one sliced banana onto the bottom of the crust. Pour pudding over bananas. Top with second banana, sliced. Cover completely with whipped cream. Chill for 2 hours before serving.