Halloween is a week away and to say my boys are excited is an understatement.  We've got some parties planned, a trunk or treat to attend and of course trick or treating.  There is a lot of candy in our house right now so my only logically solution was to make more!  Hahaha!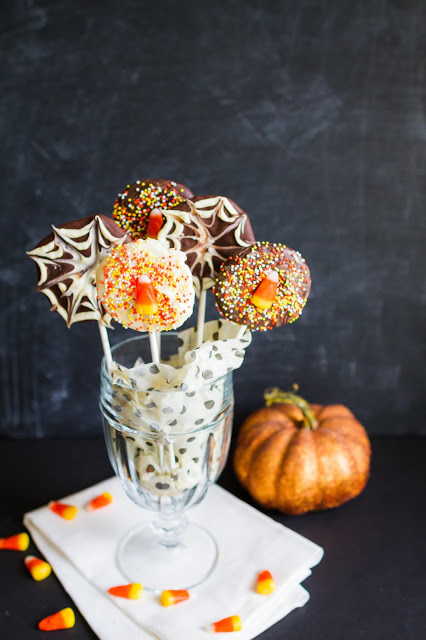 My boys and I had fun making these suckers.  It was something they needed a little help with, but were excited over what they had made.  What's extra great about these is you can use your left over Halloween candies and turn them into Chocolate Fall Candy Suckers or even make a Thanksgiving version.  All you need is some chocolate, sprinkles, candy corn, sucker sticks and parchment paper!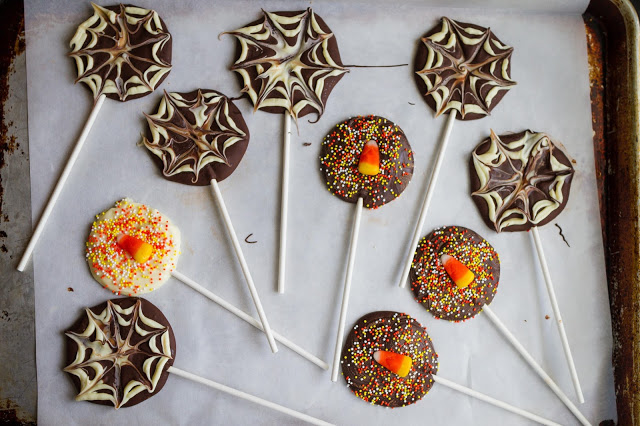 Chocolate Halloween Suckers
For Spiderweb Suckers
2 cups dark or semi-sweet chocolate chips
1 cup white chocolate chips
8 sucker sticks
For Candy Corn Sprinkle Suckers
1 cup dark or semi sweet chocolate chips
1 cup white chocolate chips
8 candy corn
colored sprinkles
8 sucker sticks
Directions
1.  Line a baking sheet with parchment paper and set aside.
2.  Melt semi sweet chocolate in a microwave proof bowl for 50 seconds, stirring after each 10 seconds.
3.  Repeat with white chocolate in another bowl.
4.  Place about 2 tablespoons of semi sweet chocolate and onto baking sheet and spread out slightly 5.  with the back of the spoon to make a circle.
6.  Roll the sucker stick into the bottom half of the chocolate circle until completely coated.
7.  Repeat with white chocolate.
8.  For the webs, place 1 cup melted white chocolate chips into a piping bag or baggie.  Whatever you use, make sure the hole tip is pretty small.
9.  Pipe a small circle into the center of the semi sweet chocolate and then two circles around it, making a bulls eye or target.
10.  Immediately take a toothpick and starting in the center white dot, drag a straight light out.  Do that about 7-8 times creating a spiderweb effect.
11.  For the candy corn, sprinkle each sucker with sprinkles and place a candy corn directly in the center.
12.  Let these set at room temp for about 2 hours before removing and serving.