I've been trying to combine pumpkin and chocolate together in multiple recipes this season and I think this is my new all time fav!  Anything with fudge in the recipe is all right by me!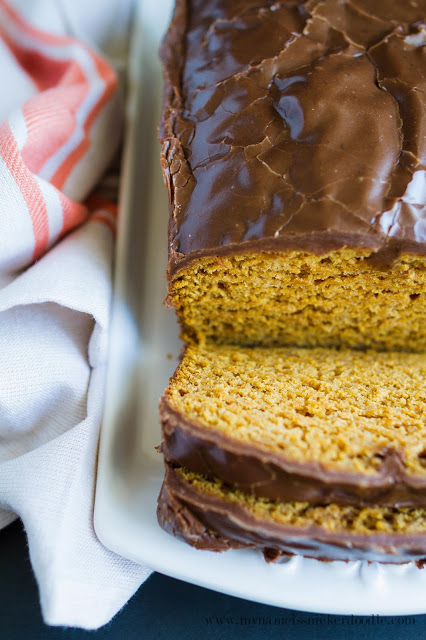 Pumpkin is such a classic autumn treat, but it's I especially great paired with chocolate.  I typically love to throw chocolate chips in the mix (which you certainly can do with this recipe), but I wanted the fudge frosting to shine a bit more!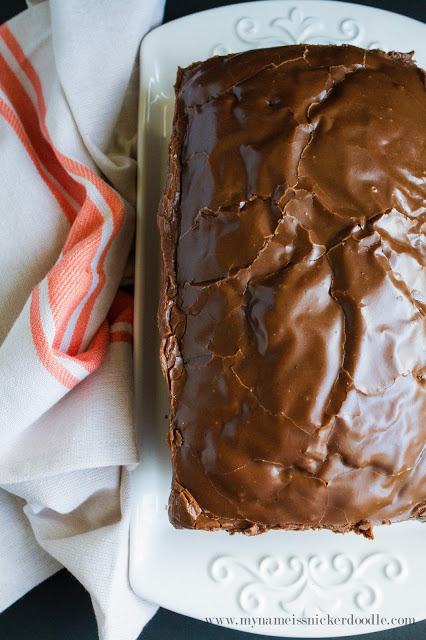 The frosting comes from my mom and it's actually something I customized from her Texas Sheet Cake recipe.  So you know it's going to be good.  It's that pourable, silky frosting that sets and tastes like fudge!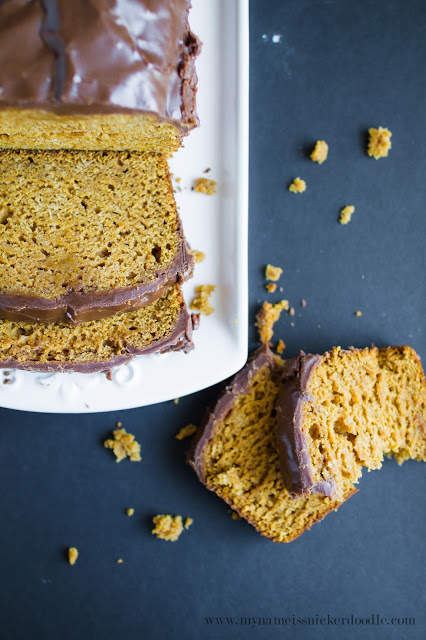 Pumpkin Bread With Fudge Frosting
Bread
Ingredients
2 cups sugar
2 eggs
1 1/4 cups pumpkin puree
1/4 cup oil
2 1/4 cups all purpose flour
1 tsp baking soda
1/2 tsp salt
1 1/2 tsp cinnamon
1/2 tsp nutmeg
1/4 tsp ginger
Fudge Frosting
Ingredients 
1/4 cup butter
2-3 TBSP  milk
1/4 cup cocoa powder
1 tsp vanilla
2 1/2 cups powdered sugar
Directions For Bread:
Preheat oven to 350°.
Spray a loaf pan with cooking spray and set
aside.
In a large bowl, cream together sugar, eggs, pumpkin and oil.
In another medium bowl, whisk together flour, baking soda, salt,
cinnamon, nutmeg, and ginger.
Add dry ingredients into wet
ingredients and mix until just combined.
Pour into loaf pan and set aside.
Bake for 55-60 minutes. Let it cool for 10
minutes and pour over frosting.
Directions For Frosting:
In a small sauce pan over medium heat melt together butter and cocoa.  Stir to combine.
Remove from heat once butter is melted and stir in 2 TBSP milk and vanilla.
Stir in powdered sugar and add in last of the milk if needed.
Frosting will be thick, but pourable.  Let it cool for about 5-10 minutes until thickened.
Pour over the bread while the bread is still in the pan.
Let it set for about 1 hour before removing from pan.