I make banana bread at least once a week at my house. My boys absolutely love eating it in any form. Muffins, slices, with chocolate chips, without chocolate chips. Anyway I serve it to them, they love it. They typically eat two muffins and so I thought to make it into mini loaves which is about the same batter.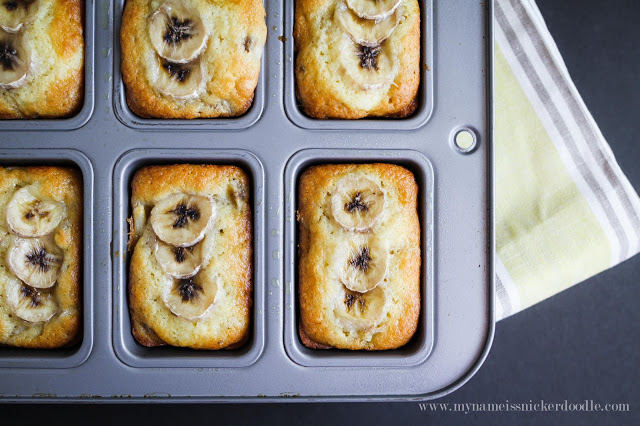 I remember being a kid and feeling so cool if I got to eat mini anything! It made me feel like a giant and I think that's why my boys loves it too.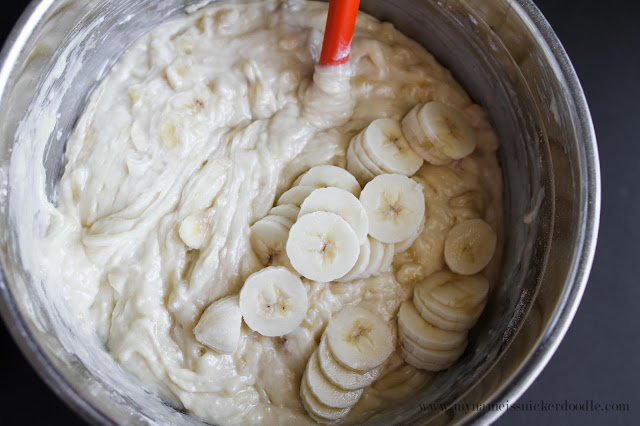 This updated version has two secret ingredients. Not only are there mashed bananas, but I include sliced bananas as well! It just brings a complete new level of moisture to the bread. And speaking of moisture, I also add in plain Greek yogurt. The old recipe called for sour cream, but I find I really like the yogurt much better!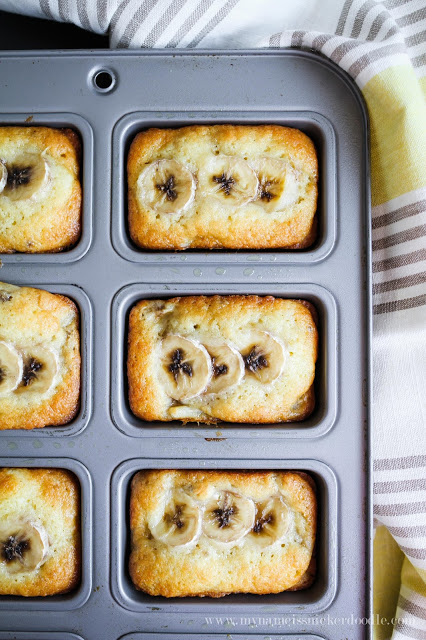 Mini Banana Bread Loaves
Makes 10-12 Mini Loaves
Ingredients
1/2 cup butter, softened
1 cup sugar
2 eggs
3/4 cup plain Greek yogurt
1 1/2 cups all purpose flour
1 tsp baking soda
1/2 tsp salt
1 cup mashed over-ripe bananas (about 2 medium bananas)
2 ripe bananas, sliced and divided
1 tsp vanilla
Directions
1. Preheat oven to 350 degrees.
2. In a large bowl cream together butter and sugar for two minutes on medium speed.
3. Add in eggs one at a time, beating well after each one.
4. In a separate medium bowl sift together flour, baking soda and salt.
5. Turning your mixer onto low speed, alternate adding in the flour mixture and sour cream into the butter mixture.
6. Mix until flour is almost fully incorporated.
7. In a medium bowl, mix together mashed bananas, 1/2 of the sliced bananas and vanilla. Add into batter.
8. Stir until completely combined. Do not over mix.
9.
Place about 1/2 cup mixture into each mini loaf tin that is well greased.
10. Line the top with 3 slices of banana each.
11. Bake for 20 minutes
or until an inserted toothpick into the center comes out clean.
12. Cool in the pan for 15 minutes, then turn out onto a cooling rack and cool completely.