This year when I asked Ian what he would like for his birthday dinner he replied with something that made me cringe. "I want you to make a new recipe that you haven't ever made before…be adventurous!" It's the last word that got me because adventure is so out of my comfort zone. But I sucked it up and knew exactly what recipe I was finally going to try. Whenever we go to Macaroni Grill Ian always gets Penne Rustica…his favorite dish. I happened upon this recipe a few months ago and thought it was ambitious, but wanted to be "adventurous" and try it out someday.
I altered it to make it my own so it is Penna Rustica-ish and MIGHTY delicious! Original recipe can be found here.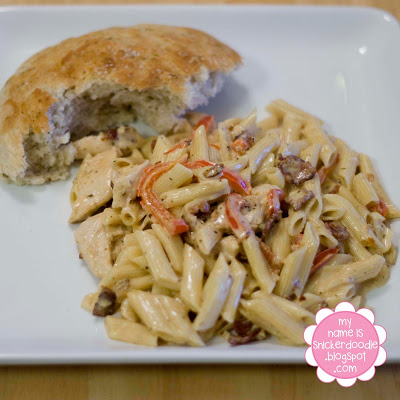 Rustic Chicken Pasta
4 boneless, skinless chicken breast or 8 chicken tenders (they tend to cook a bit faster)
flour
1 tsp garlic powder
1 tsp parsley flakes
1/2 tsp pepper
4 strips of thick bacon
1 red bell pepper, cut in half then thinly sliced
2 TBSP olive oil
2 garlic cloves, minced
1 14 oz can chicken broth
1/2 tsp dry mustard
1/2 tsp chopped rosemary
pinch of cayenne pepper or 1/2 tsp red pepper flakes
1 cup freshly grated Parmesan cheese
2 cups heavy cream
1/2-1 tsp salt
3 cups uncooked penne pasta
Cook pasta according to directions on the box. Drain and set aside. While pasta is cooking dice bacon and place in a pan that has been preheated on medium high heat. Brown and remove to a bowl. Drain off grease, but do not clean pan out. Place 1 TBSP of olive oil in pan and heat to medium high heat. On a plate, mix together flour, garlic powder, parsley and pepper together. Dredge chicken in flour mixture and place in pan. Cook until no longer pink in the center, about 4-6 minutes for chicken breasts and 2-4 minutes for chicken tenders on each side. Remove to a plate to let rest. Pour remaining 1 TBSP olive oil in the pan. Heat up to medium heat. Place sliced red pepper into pan and saute for 3 minutes. Add in minced garlic and move constantly (to prevent burning) and cook for 45 seconds to a minute. Pour in chicken stock and whisk up bits from the bottom of the pan. Bring to a low boil and cook for 5 minutes, stirring some. Turn down to medium heat and whisk in dry mustard, rosemary, cayenne pepper and heavy cream. Add in parmesan cheese and stir until completely melted. Add in salt to taste. Cook for one minute. Slice up chicken. Place chicken, bacon and pasta into the sauce and toss to coat. (Be careful not to add to much pasta because it will soak up all the sauce.)
I also served one of our favorite bread standbys…Macaroni Grill's Bread-ish! I love this bread. Unfortunately it's not as good the second day so you must eat it ALL when you bake it! Here is the original recipe.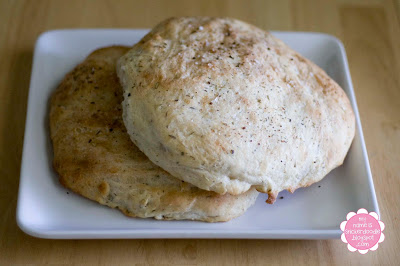 Macaroni Grill Bread
1 Tbsp. Dry Yeast
1 Tbsp. Sugar
1 cup warm water (105 – 115 degrees)
2 ½ cups all purpose flour, divided
1 tsp. salt
1 TBSP dried rosemary, chopped
1 TBSP olive oil
2 TBSP butter or margarine
Kosher salt
Place the sugar, water and yeast in a bowl and cover with a towel. Let proof for 5 minutes. Mixture should be bubbly. Turn the oven onto 200°. (You just need to warm it up; you're not baking yet.) Pour the yeast mixture into a large mixing bowl and add two cups of the flour, salt, and half of your chopped rosemary. Keep the other half cup of flour close at hand. Knead the dough for a few minutes. Add the rest of the flour as needed to get the dough to the right consistency (soft and stretchy without being overly sticky).Turn the oven off! Lift the dough out of the mixing bowl. Add the olive oil to a bowl and swirl it around. Roll the dough in the olive oil so it is well coated and let it sit in the bowl. Cover the bowl with a dish towel and place it in the oven (the oven should be off by now, if you missed that step). Leave the door cracked so it isn't too hot in there.Let the dough rise for about an hour. It should be approximately doubled in size. Punch the dough down and knead it again. Divide it into two equal sized lumps and let it sit for about 5-10 minutes. Prepare your baking pan. I use a ceramic stone, but a cookie sheet will work. If the surface is not naturally non-stick, spray it with the cooking spray, or use parchment paper. Shape the dough into two oval-shaped loaves and arrange on the pan. Melt the butter or margarine. Use a brush to paint the surface of the loaves with butter. Take the rest of the chopped rosemary and sprinkle it over the loaves. Pat it down gently to set it into the dough. Return the loaves to the oven. Don't turn it on yet. Let the dough rise again, for about 45 minutes. Remove the loaves and preheat the oven to 450°. Sprinkle a little bit salt over the loaves. Return the dough to the oven. Bake for 20-25 minutes until light brown.Makes two loaves. Best enjoyed with olive oil and balsamic vinegar.
And finally here are those Brownie Bites I was talking about. And they are not just any Brownie Bites…they include a white chocolate cheesecake filling! Or if yours turned out like mine and didn't really fall, frosting! I got this yummy recipe from my friend, Jamie (private blogger), who I hope doesn't mind that I am sharing it.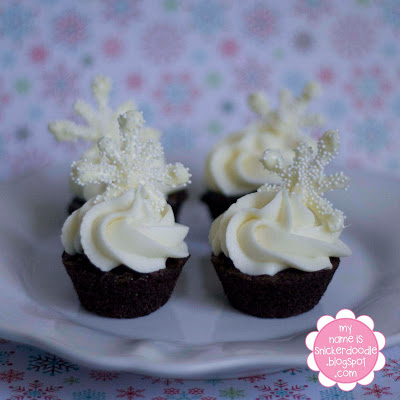 Brownie Bites
Brownie Mix (plus ingredients of what it calls for on the back of the box)
2 oz. white chocolate
2 TBSP milk
1 8 ox pkg cream cheese, softened
1/2 cup powdered sugar
1 cup cool whip
Bake brownies in a small WELL GREASED muffin pan for about 10-13 minutes or until center comes out clean. Let them cool completely and remove. If they get stuck, stick them in the freezer for 5 minutes and then remove. In the microwave, melt together chocolate and milk 15 seconds at a time until mixture is smooth. Whip together cream cheese and powdered sugar. Fold in cool whip and chocolate mixture. Pipe onto brownies. Top with berries and drizzle with more melted chocolate.
*I didn't have any berries, so I just used to the remaining white chocolate to make myself some little snow flakes!