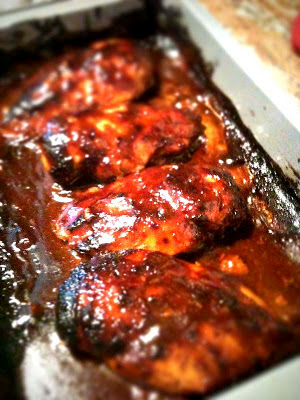 **Picture taken with iPhone**
I am not a huge fan of BBQ anything really and I haven't really found a bottled sauce that I luuuve…maybe it's because BBQ sauce really isn't my thing. UNTIL I made this recipe and fell in love with this super tender and delicious chicken. Even though it's made root beer, it's not too sweet and not too tangy. It's juuuust right!
RB BBQ Chicken
2 cans root beer or 3 cups, divided use
1/2 cup smoky barbecue sauce
1/2 cup Dijon mustard, plus 1/4 cup more for marinade
brown sugar, if needed
1 lb. boneless, skinless chicken breasts
1/2 tsp salt
1 tsp pepper
1 TBSP paprika
1 TBSP garlic powder
2 tablespoons olive oil
In a small saucepan, boil one can (or 1 1/2 cups) root beer until thick and syrupy, about 30 minutes. Stir in 1/2 cup smoky barbecue sauce and 1/2 cup Dijon. Taste the sauce and add brown sugar if it needs a little sweetness. Meanwhile, in a large Ziploc bag add in remaining Dijon, salt, pepper, paprika, garlic powder and olive oil and stir together with a fork. **Reserve about 1 cup for dipping and basting. Add in chicken and toss to coat. Pour over remaining root beer and place the bag in a large bowl (to help prevent any "accidents" that may occur). Place in the fridge and marinate for at least 1 hour up to 24 hours. I like to turn my bag over a few times while marinating so all the chicken is evenly flavored. Discard marinade and baste chicken with BBQ sauce. **Set aside any sauce that you want to use for dipping before you start basting. Grill or broil chicken, about five minutes per side, or until outside is nicely browned and inside is no longer pink.