My aunt Lisa has been making this salad for years. I remember having it at her house when I was 15 and thought it was very fancy. It's a family favorite whenever we all get together. I don't even know if I can call it a recipe because you basically just throw everything together.
Chicken Apple Salad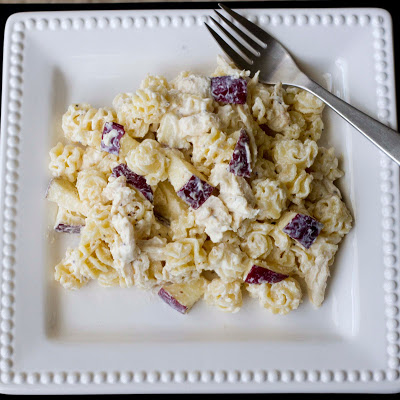 2 cups cooked chicken breasts, cubed or shredded (I like to use rotisserie)
2 apples, cut into bite size pieces (anything, but granny smith in my opinion)
mayo (Hellmann's is the absolute best!)
1 lb spiral pasta (any fun pasta will do)
salt
pepper
Additional add-ins (These are not family approved, just my ideas…I don't want my extended family to get made at me!)
diced celery
red grapes
cashews
Cook pasta according to package directions. Drain and rinse in cold water. Sprinkle with a little salt and a lot of pepper. Toss together with cooked chicken and diced apples. Add in desired mayo amount (about as much as you would for potato salad) and stir to combine. Add more salt and pepper if needed. Refrigerate for a better taste, but can be served immediately.