I think that this pregnancy has been different from Liam's. Health wise and eating wise. I felt really hungry for the first, but this time around, I want to eat everything! Cravings are coming on random and super quick (mostly for eating out foods).
Last week I HAD to have a cheese ball. Before I met Ian I was not a fan of cheese at all. When we would go to his parent's house for holidays his mom would make this cheese ball and the family would go nuts over it. Over time, my pallet has changed and I luuuve this and only this cheese ball. Once again…it's super easy and delish!
Cheese Ball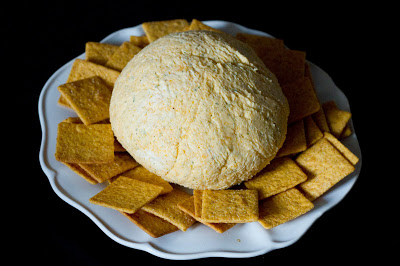 8 oz. cream cheese softened
8 oz. sharp cheddar cheese, shredded
1 pkt Hidden Valley ranch mix
*You can mix this by hand, but it's much faster in a food processor.
In a food processor, combine all three ingredients until it starts to form a ball. About 30-45 seconds. Using a rubber spatula, scrap out onto a large sheet of plastic wrap. Gather up the sides and form the mixture into a ball with your hands. *If you double the recipe, it's easier to form this into a log using the same plastic wrap method. Once into a ball, turn over on a plate and serve immediately. If making ahead, place in the fridge still wrapped. Take out of the fridge about 45 minutes before serving. Serve with your favorite crackers.