This is one of those delicious recipes that is versatile to what your tastes are. But a must have is definitely the avocados! I am completely digging that green little fruit (or veggie depending on who you talk to) and try to incorporate it into everything I make!
Avocado Cilantro Lime Salad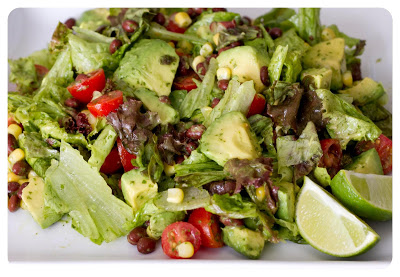 adapted from this recipe
Dressing
1/2 cup extra virgin olive oil
3/4-1 cup cilantro leaves, chopped
zest from 1 lime
1/4 cup fresh lime juice
1/2 tsp salt
1/4 tsp pepper
Salad
Romain lettuce
Grape or cherry tomatoes, cut in half
1 14 oz can black beans (drained and rinsed)
1 cup frozen corn, thawed
2 green onions, sliced
2 ripe avocadoes, peeled and cubed
grilled chicken, sliced, optional (not pictured)
In a small food processor or even a simple mason jar with a lid, mix together dressing ingredients until well blended. In a small bowl combine the tomatoes, avocados and onions. Pour about half of the dressing over top and stir to coat. Tear lettuce into a large bowl and add in black beans, corn and avocado/tomato mixture. Toss together and dress with more dressing if needed. Garnish with lime wedges. Serve.