I've had a ton of new readers a.k.a online friends in
the last few weeks so I just wanted
to say hello and thank you for coming by!
It makes me extremely happy to see that
people actually like to read my little blog because
I know I love to create it!
I would love it if you would take a second to follow my blog and
"like" me on Facebook (check it out to the right!)
Also, I am really trying to reply back to your comments,
but I need one more thing from you.
Some of you have it set up where your email address is hidden.
I know some of you purposely have it set that way…and I get that. Some of you might not even know that it's set that way and
won't care if people have your email address.
This only takes seconds to change as well!
(This is for bloggers who use Blogger.)
Go into your dashboard and click 'Edit Profile'.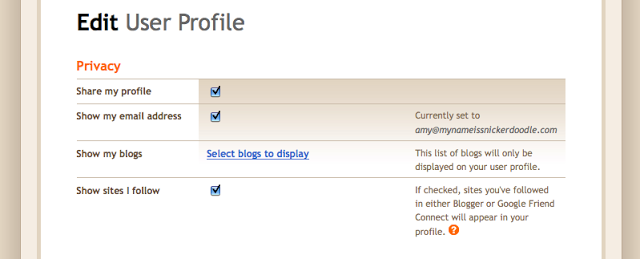 You may or may not need to enter your email address
if you didn't when you set up your account.
Your email address will not show up on
your blog by checking this box.
What it does is when you comment on someone's blog
they can see your comment/address in their email box…
in turn, replying to your fabulous comment that
will be sent to your email address.
Make sense?
I hope you come back often!
For those of you who don't know, most every Friday
I post my Fabulous Food Friday recipes.
I'm coming up on FFF #100 soon so be looking for a fun giveaway. Speaking of giveaways don't forget about this one.
Thanks again for your wonderful support and comment love!