Technically it's not autumn yet, but I am sure I'm not the only one that wishes it would be here sooner! Not only do I wish for cooler days, cute cardigans and any excuse to make a pot of soup, but I wish for those fabulous recipes using pumpkin. You either love or hate pumpkin and I happen to be a person who loves it! So I thought, "Why wait?" All month long I am going to post recipes using that funny orange pumpkin!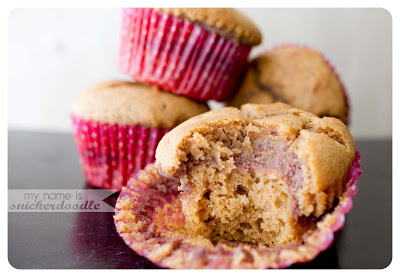 Nutella Cheesecake Pumpkin Muffins
Printable Version
Pin It
Muffin
4 eggs
1 1/2 cups sugar
1 1/2 cup vegetable oil
1 15 oz can pumpkin puree
3 cups flour
2 tsp cinnamon
1 tsp nutmeg
2 tsp baking soda
1 tsp salt
Cheesecake Filling
1 8oz cream cheese, softened
1/2 cup Nutella
1 egg
Preheat oven to 375°. In a large bowl, beat eggs slightly. Add in sugar, pumpkin and oil and beat thoroughly. Add in remaining dry ingredients and mix until smooth.
In a small bowl, beat together cream cheese, Nutella and egg until smooth.
Place paper liners in a muffin tin. Place about 2 tablespoons of pumpkin batter into liner, then 1 tablespoon of Nutella batter, then top with 2 more tablespoons of pumpkin batter. Bake for 18-22 minutes. These are best served completely cooled. Makes 20 muffins.