During this crazy summer (packing, moving, family wedding, crazy sickness and weird leg ailments) I was contacted by Sheila Kelly to taste test some amazing product! She and her husband, Reggie Kelly…yes, the same NFL athlete Reggie Kelly…have created some pretty incredible BBQ sauces, rubs, salsa, apple butters and even flavored honey. Right up my alley! And I'm all about taste testing! Their company is Kyvan and I'm completely impressed of how mouthwatering their entire selection is.
I know I didn't want to go traditional with the Sweet BBQ Sauce they sent by just glazing some grilled chicken with it the first time we tasted it. I wanted to experience it like a special treat. I actually used it in an aioli that I created for some grilled burgers. It brought classic burger to a whole new level!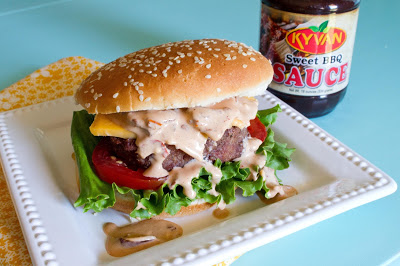 Sweet and Spicy Aioli
1/4 cup Kyvan Sweet BBQ Sauce
1/2 cup mayonaise
2 chipotle peppers in adobo
Chop peppers into a medium dice. In a small bowl combine above ingredients and chill until ready to serve.
As Ian was eating it, he kept commenting on how it was the sweetness from the BBQ sauce that made it! I know you can order their products online or even look up in your local area to see where it's sold! Have fun shopping!