Soft and Chewy Salted Buttered Pretzels are super easy to make and way better than anything you can find at the mall!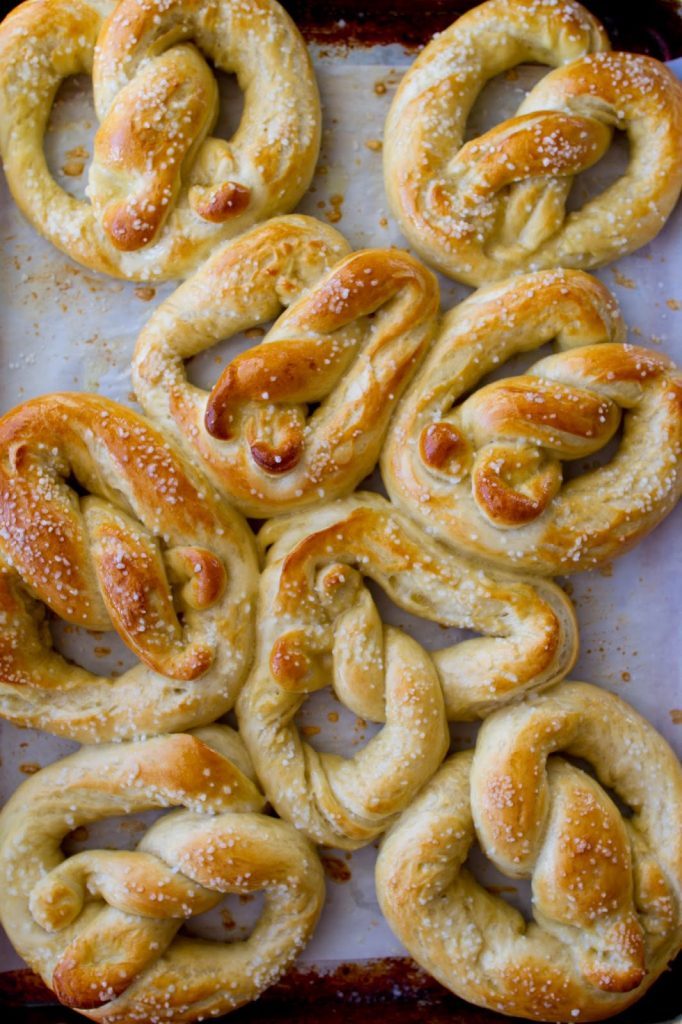 All of my kids love them and if I have any left over, I will throw them in their lunches for the next day.  They taste really well on their own or you can even pop them in the microwave for about 25 seconds.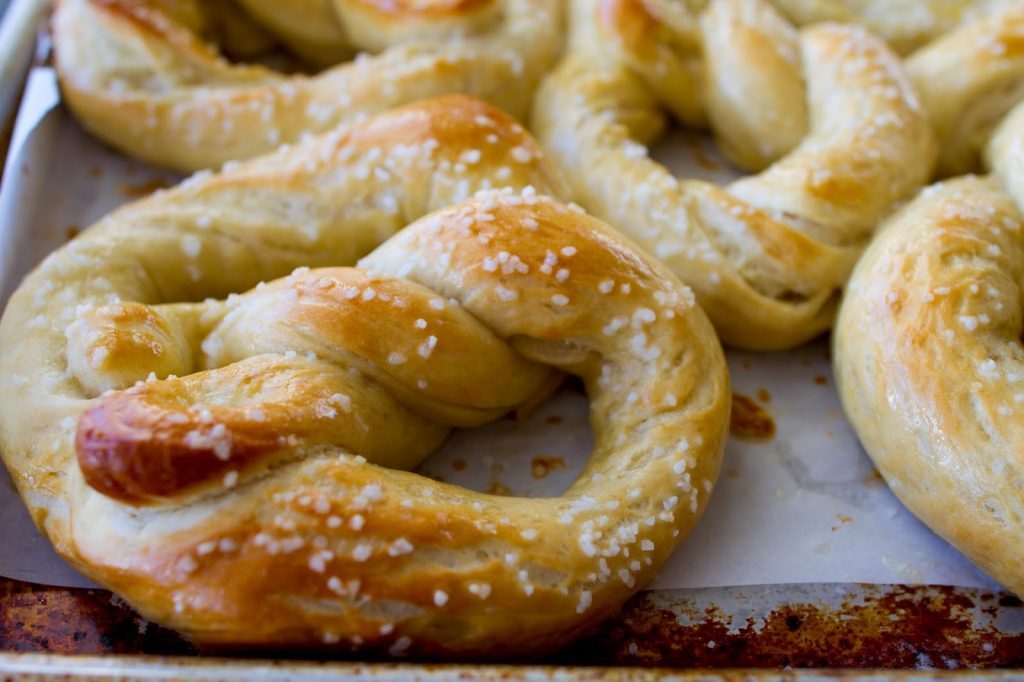 Since the first time I made these pretzels, I have made them at least once a month.  It's been almost three years.  Ridiculous, I know.  It was hard actually getting a picture of them because I either made them later in the night (poor lighting), or we just ate them too quickly.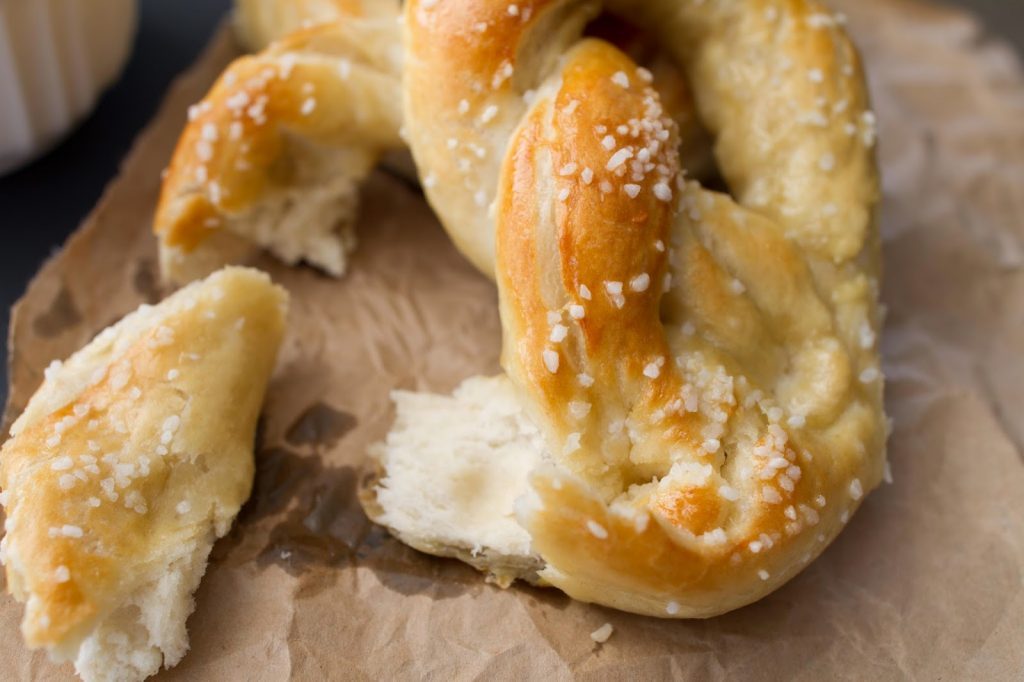 I typically will make them for dinner along with a veggie or side.
Totally kidding!
I really don't serve anything else with them unless it's a yummy dipping sauce.
They don't even make it to a plate.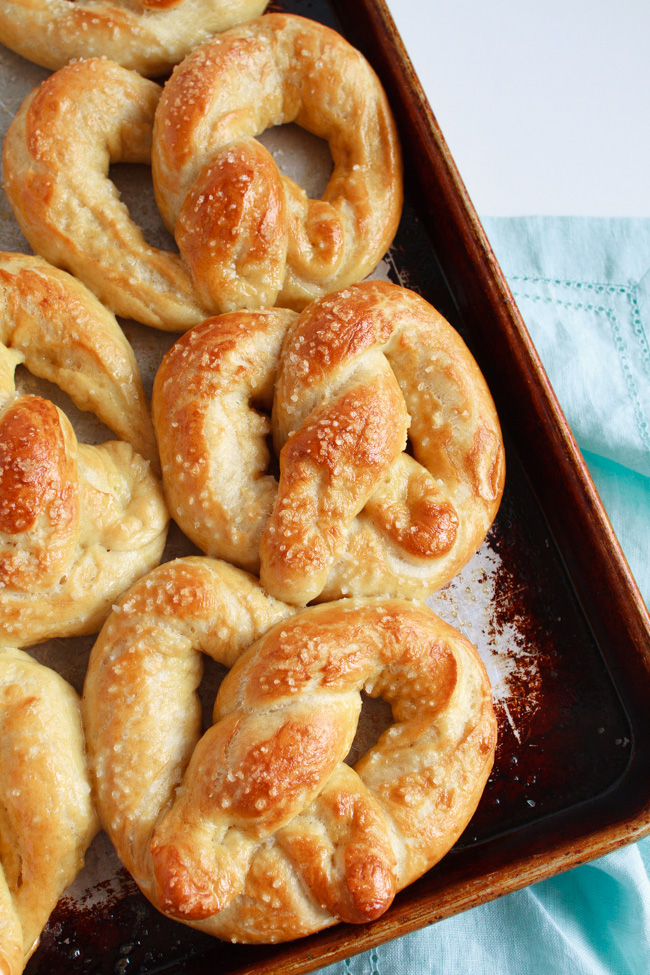 Now I want a pretzel!  Seriously, I couldn't talk these up more.  They are slightly chewy on the outside and completely soft and heavenly on the inside.  No need for going to the mall ever again.  Because let's face it…who goes to the mall anymore?  And when you do it's either for two things.  Soft pretzels or an Orange Julius.  Or for the Gap…but even then you can shop online!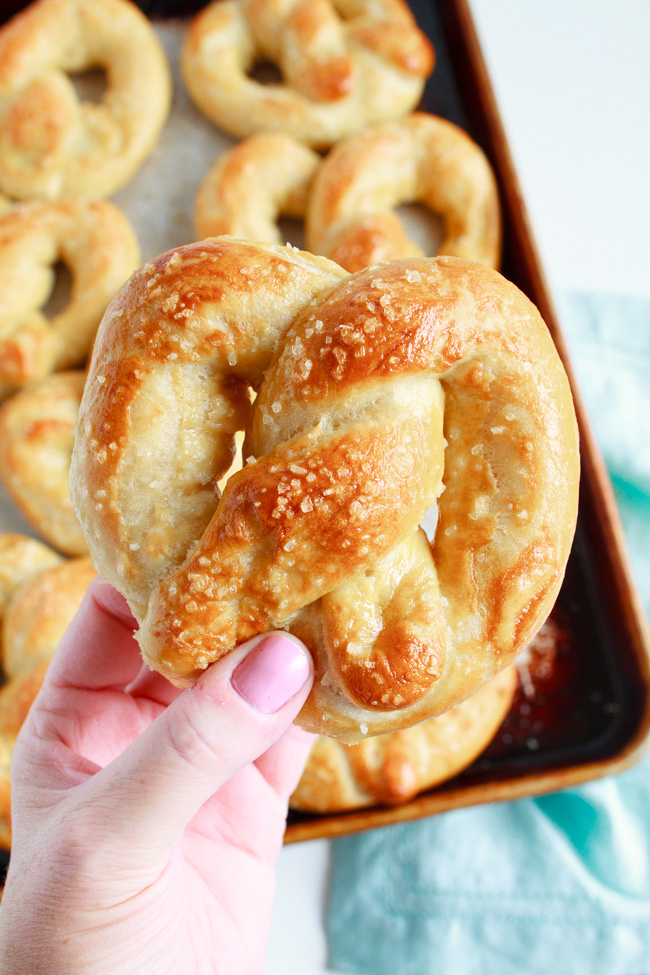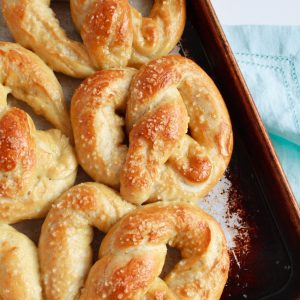 Soft and Chewy Salted Buttered Pretzels
Soft and Chewy Salted Buttered Pretzels are super easy to make and way better than anything you can find at the mall!
Print
Pin
Ingredients
1 1/2

Cups

Warm Water

2

TBSP

Brown Sugar

2

tsp

Quick Rising Yeast

4

TBSP

Canola Oil, Divided

2

tsp

Kosher Salt

4 1/2-5

Cups

All Purpose Flour

8

Cups

Water

1

TBSP

Baking Soda

1

Large

Egg

1

TBSP

Water

Coarse Kosher Salt

4

TBSP

Butter, Melted
Instructions
Proof the yeast in the bowl of a stand mixer by adding the yeast, 1 1/2 cups water and sugar together. Cover with a towel and let it stand for 5-10 minutes until bubbles form.

Add 3 TBSP of oil and salt. Using the dough hook, add in the flour a cup at a time on low speed until combined. Increase the speed to medium and knead the dough until the dough is smooth and pulls away from the sides of the bowl, about 4 minutes.

Remove the dough from the bowl and pour remaining 1 TBSP oil into the same bowl. Form the dough into a ball and place it back into the bowl. Turn to coat with oil. Cover with a towel or plastic wrap and place in a warm place for 1 hour or until double in size.

Preheat oven to 425 degrees. In a large pot bring the 8 cups of water.

Using a knife or pizza cutter, divide the dough into 8 equal pieces. Roll one piece into a large rope and *twist into a pretzel. Pinch the ends to the bottom of the pretzel. Repeat with remaining pieces. Add the baking soda to the boiling water and give it a little stir. Boil the pretzels, two at a time in the water solution for 45 seconds. Drain with a slotted spoon and place onto a parchment lined baking sheet.

Once all boiled, beat together egg and 1 TBSP water and brush over the tops. Generously sprinkle with salt. Bake for 16-20 minutes or until golden brown. Remove from oven and immediately brush with melted butter. Serve warm.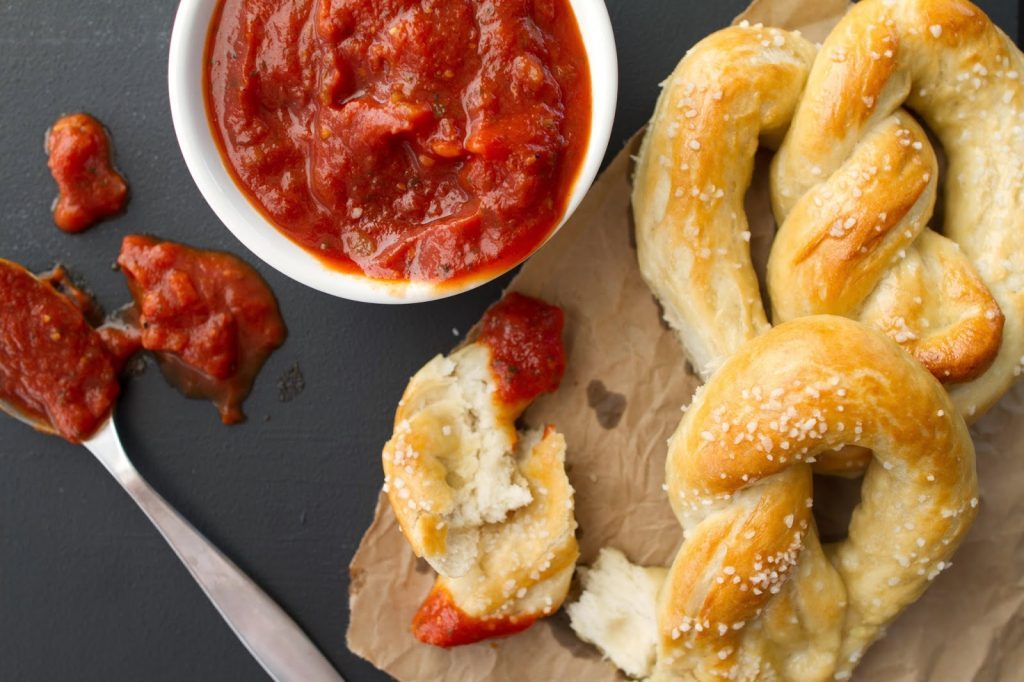 The ONLY way to make these better is to dip them in homemade pizza sauce.  Seriously.