…or Birthday Bread…or Sprinkle Bread…or just plain goodness!
So, I committed this month to share with you awesome bread recipes. Today is the last day and I have to tell you…I was going to just re-post another bread recipe that I had created in the past. I couldn't decide whether to use my Coconut Bread recipe or the Pumpkin Chocolate Bread with Streusel Topping. Both equally as delicious and perfect for this month. However, I wanted to create something new. Something that I hadn't seen before. And then the light bulb (picture me saying that like Gru from "Despicable Me"…or not and save your mind!).
I couldn't be happier with this how fantastic this recipe turned out! It tastes just like a sugar cookie, but without all the rolling out and using cookie cutters. I really look forward from hearing from you to see how you like it!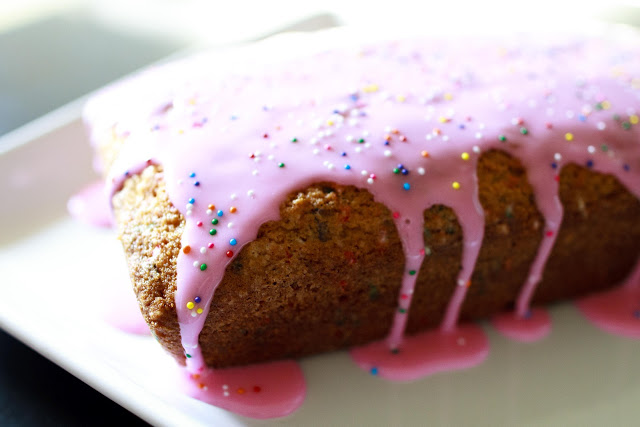 Sugar Cookie Bread
Printable Version


Makes 2 Loaves
Bread
1 cup (2 sticks) butter, melted
2 cups sugar
3 eggs
1 cup milk
2 tsp pure almond extract
1 tsp vanilla
2 3/4 cup flour
1/2 tsp salt
1 1/2 tsp baking powder
1/2 tsp baking soda
1/4 cup sprinkles (plus more for garnish)
Pink Sugar Glaze
1 1/2 cups powdered sugar
1/2 tsp vanilla
3 TBSP milk
Pink food coloring
Preheat oven to 350°. With cooking spray, spray two standard loaf pans and set aside.
In a stand mixer or large bowl, cream together melted butter and sugar. Add in eggs, almond extract, vanilla extract and beat until light yellow and smooth. Slowly mix in milk until well incorporated. In a medium bowl, whisk together flour, salt, baking powder and baking soda. Blend the flour mixture into the batter and mix until just incorporated. Fold in sprinkles. Do not over mix or else the color from the sprinkles will start to bleed.
Pour evenly between the two loaf pans (about 3 1/2 cups each) and bake for 50-60 minutes or until a toothpick inserted into the middle comes out clean. Let cool in the pan for 20 minutes and then invert to a wire wrack and cool completely.
To make the glaze, combine all ingredients in a medium bowl until smooth. You don't want it to bee too runny so use your best judgement. As for how much food coloring, also use you judgement and start off with a smidge and add to make the desired hue. Drizzle over each loaf and immediately sprinkle with sprinkles!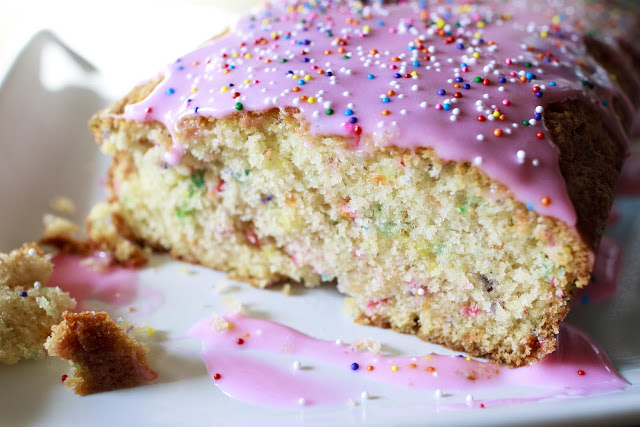 If you've just recently discovered my site, check out these "bread" recipes that I posted for this month.
Strawberry Lemon Bread
Zucchini and Blueberry Bread
Citrus Bread
Chocolate Zucchini Bread
I linked up to…Tatertots and Jello and RHW.