The weather around here has been wonderfully chilly, icy and even snowy! I absolutely love it! Maybe that's because I don't really have to drive around it, work outside and have a cozy home to live in. I am happy to report that I am finally posting (possibly) one of my favorite new recipes of all time. This recipe was a happy accident and has quickly become a family favorite. I found a mock recipe of the tortilla soup from Saltgrass (my favorite steak house). Well, because I had used most of my ingredients in my flop of a soup and only had 30 minutes to whip this up, I made my own little version of it with the ingredients that I had left over and what I found in my fridge.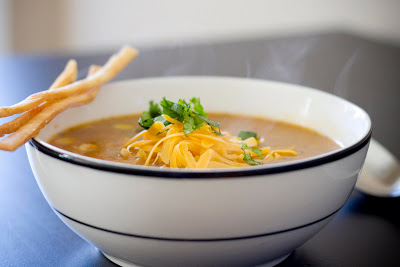 Tortilla Soup
1/2 cup (1 stick) of unsalted butter
1 large yellow onion
3 medium carrots
2 celery stalks
1/2 green bell pepper
1/2 bunch cilantro
2 tsp cracked black pepper
2 tsp ground cumin
2 tsp chili powder
1 tsp salt (plus more to taste)
2 large garlic cloves, minced
2 14.5 oz cans chicken stock
1 1/2 cans water (use the chicken stock cans to measure)
1 beef bullion cube (optional…it just makes it a bit richer in taste)
2 cups cooked chicken, shredded
2 cups frozen corn, thawed
1 14.5 oz diced tomatoes, drained
5 TBSP unsalted butter
1/2 cup all purpose flour
Cheese
Fried tortilla strips
Peel carrots and wash vegetables. Rough chop carrots, celery, bell pepper, onion and cilantro leaves and place in a food processor. Chop until really fine. *If you do not have a food processor, get your aggressions out and hand chop as fine as you can. Or you can use a cheese grater. Heat up 1/2 cup butter in a large pot over medium heat. Once butter is melted and in chopped veggies. Saute for about 4-5minutes, stirring occasionally, until tender. Add in garlic, pepper, cumin, chili powder and salt. Stir to combine. Pour chicken stock, water, and bullion cube. Bring to a boil. While soup is boiling prepare you roux (pronounced:roo) aka thickener. In a small pot heat 5 TBSP butter until melted. Add in flour all at once and whisk vigorously until combined. Cook for 1 minute. Pour into boiling soup mixture and whisk to combine. Add in chicken and turn down to medium heat. Cook for 15 minutes. In the food processor, chop diced tomatoes until about half in size. Add tomatoes and corn and simmer for 10 minutes. Serve with cheese and fried tortilla strips. I used flour, but corn would be fun. If you are a fan of sour cream, by all means, add a dollop! This recipe freezes really well.
*I usually just boil my chicken and get that started while I am preparing the veggies. Place chicken in a large pot and cover with water. Bring to a boil. Boil until white and no longer pink in the center about 2-4 minutes once it has come to a boil. Keep checking it because you don't want to over cook it and have it bee tough.
*For fried tortilla strips, place about 1 inch of oil into a pan. Heat over medium high heat. Cut either flour or corn tortillas in strips. Place a single layer in oil and cook about 45 second on each side. Drain on a paper towel and sprinkle with a little kosher salt.
We started a new tradition this year. A New Year's breakfast. I had made these little gems a few weeks earlier and the family scarfed them down! Ian said that they were almost good enough to replace our Christmas morning Pull Aparts…BLASPHEMY! So we just made it into another holiday breakfast.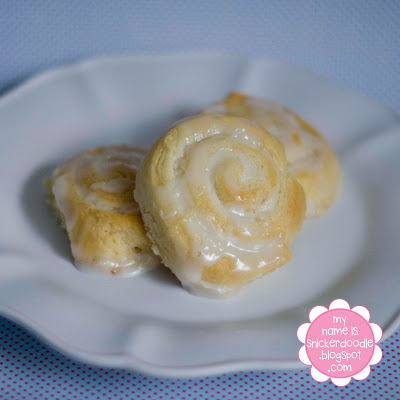 Almond Danish Bites
8 oz cream cheese, softened
1/2 tsp almond extract
1/2 tsp vanilla extract
1 cup powdered sugar
2 cans refridgerated crescent rolls
Glaze
3/4 cup powdered sugar
5 TBSP milk
1/2 tsp almond extract
Mix together cream cheese, extracts and powdered sugar. Open one can of rolls and roll out flat, pinching seams together. Spread half of cream cheese mixture over the dough. Roll up lengthwise. With a piece of string "slice" rolled dough into 16 equal pinewheels. Place onto an ungreased cookie sheet. Repeat with remaining dough. Chill in the fridge for 30 minutes. Bake at 350º for 15-18 minutes until light brown. While bites are baking, mix together glaze ingredients. Cool bites for 5 minutes and pour over glaze.
*I like to add a couple of spoonfuls of strawberry jam to the cream cheese mixture for added sweetness! If you do this you will not use all of the filling.
This recipe is linked up at – Weekend Re-Treat,