For those of you who follow Becky Higgins Blog, you already are aware of this delicious recipe! If you are not…enjoy it here. My wonderful friend, Jenn, called me up one day and said she had a free subscription to give to a friend of the Family Fun magazine. She has had one for years and loved it. Knowing me, she knew it was right up my ally. I got my first one two weeks ago and when I saw this recipe in there and knew I had to try it. Let's be honest here…soup is chick food, but I bet your whole family will love it. I served mine with homemade rolls!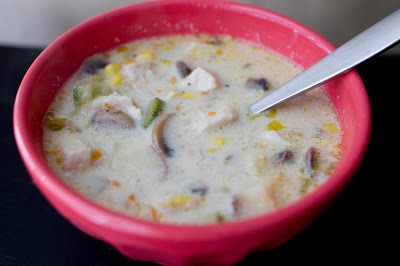 Creamy Chicken and Mushroom Soup
6 Tbsp. butter
1 medium onion, chopped
3 Tbsp. flour
2 tsp. salt
1 tsp. pepper
6 c. chicken broth
1 lb. mushrooms, sliced
3/4 c. sliced celery
3/4 c. chopped carrots
2 c. quartered baby red potatoes
1 c. chopped yellow squash
1 1/2 c. frozen corn kernels, thawed
2 tsp. thyme
2 c. light cream
3/4 c. grated Parmesan, plus more for garnish if desired
2 c. chopped cooked chicken
In a large post, melt the butter over medium heat. Add the onion and saute until tender, about 6 minutes. Stir in the four, salt, and pepper and mix until smooth. Gradually add the broth, then turn the heat up to medium-high and bring the soup to a boil. Add the mushrooms, celery, carrots, potatoes, squash, corn, and thyme. Reduce the heat and simmer the soup, covered, until the vegetables are tender, about 30 minutes.
Add the cream, Parmesan, and chicken. Heat the soup for an additional 10 minutes, but do not let it boil. To serve, ladle the soup into a bowl and sprinkle it with more Parmesan, if desired. Makes about 15 cups.
*** I used zucchini instead of squash because I wanted some more color in mine. I also just had a few baking potatoes on hand and chopped those into smaller cubes. My spice rack is pretty limited and I didn't have any thyme on hand. I am sure it would taste even better with it.
{I did have a twinkie filling on here, but I just made it and let's just say…I needed to remove the recipe!}