Easy Slow Cooker Chicken is a great way to start off meal prepping for you and your family.
Meal prep has been on my mind a lot lately.  Actually for an entire year!  I've
pinned
plenty of freezer meal recipes, canning recipes, how to do this and how to do that.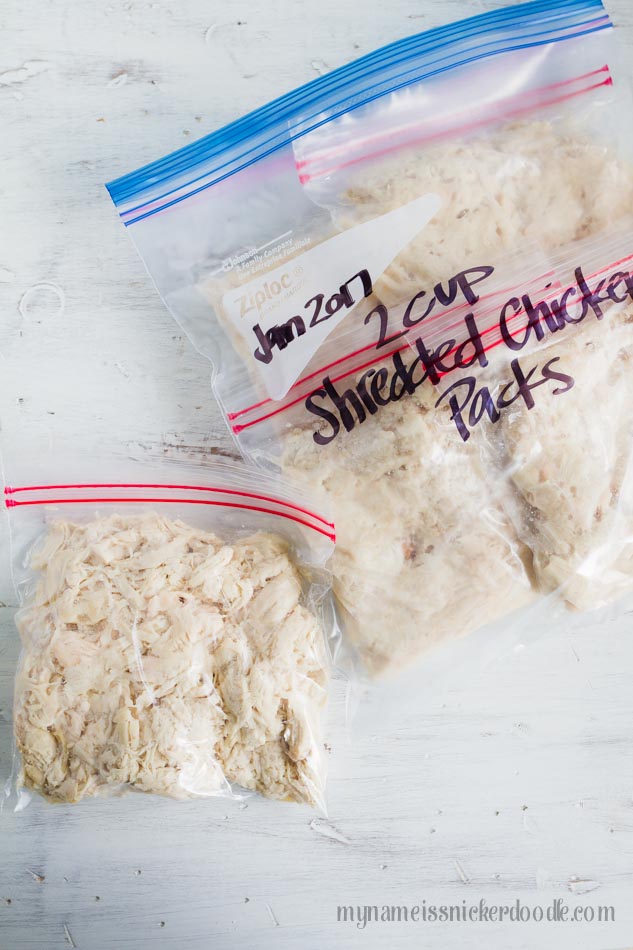 Guess what?  It made me feel VERY overwhelmed and I paralyzed when it came to pre-preparing meals for my family.  I didn't know where to start or even what direction I wanted to go in.  Instead of jumping into the deep end and give up, I decided to start small.
That is when I decided to start with cooking and freezing my chicken.  Sounds idiotic that I'm taking my frozen raw chicken, cooking it then freezing it again!  My site has plenty of recipes (scroll to the bottom to see) that call for precooked chicken and typically that's half of the cooking time for the entire recipe.
Can You Put Frozen Chicken In The Crock Pot?
I like to buy the bag of chicken tenderloins to do this with and this is why.  First, it cooks faster than the whole chicken breasts.  Second, I detest any form of chicken fat or "goo" that comes on most chicken breasts.  The tenderloins typically are "goo" free so it takes me less time to pick through them once they are cooked.  Then I can shred it with peace of mind!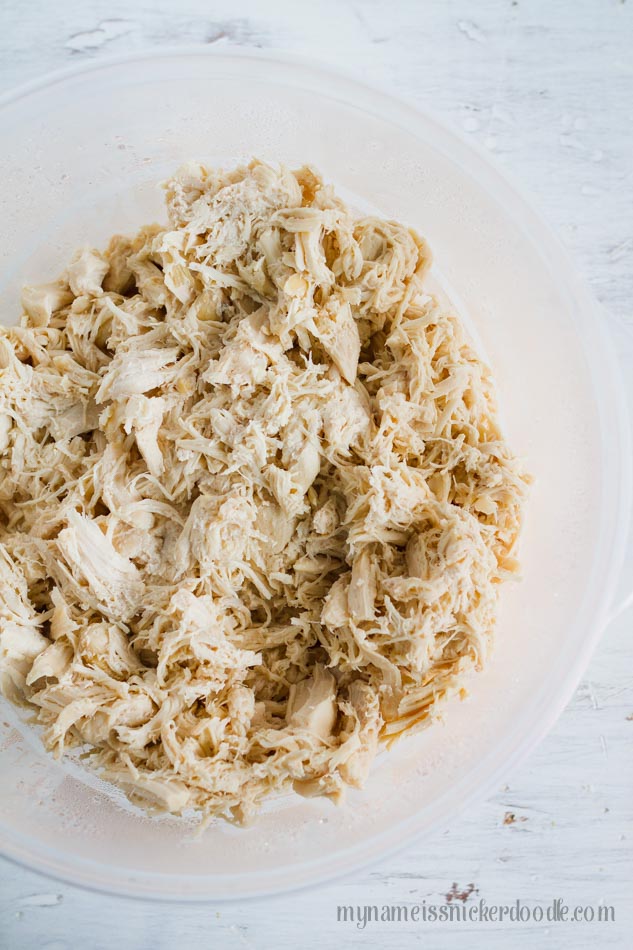 How To Shred Chicken
There are a few methods you can use when shredding chicken.  You can use two forks and simply pull the chicken apart.
Another method is placing your cooked chicken in a stand mixer, like a Kitchenaid, fixed with the paddle attachment and turn it on medium speed for 30 seconds.  This method allows you to shred it all at once.
How To Freeze Shredded Chicken
I then divide the cooked and shredded chicken into small bags, typically 2 cups worth, then stick those bags into a large freezer gallon bag.  Out of a large Costco bag of chicken tenderloins I typically will get 10 cups of shredded chicken.  That in turn makes for 5 recipes worth!  Sounds great to me!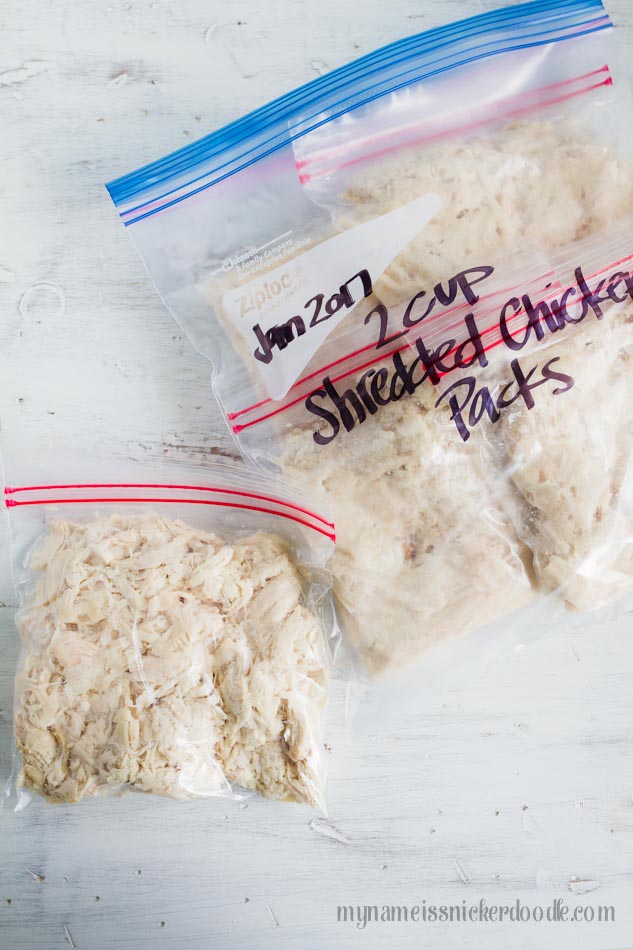 It will keep in the freezer for up to 6 months, but I use it up way before then.  When I need to use it I pull out one small bag the night before and set it in my fridge to thaw for the next day.  If you forget and need to use it the same day you pulled it out, just set the closed bag into a large bowl of cold water and it should thaw in about 2 hours.
Here is how to cook, shred and freeze it all!
How To Cook Frozen Chicken In A Slow Cooker
6 lbs of Frozen Chicken Tenderloins (boneless skinless)
Large Crock Pot
5 Sandwich Ziplock Baggies
1 Freezer Gallon Ziplock Bag
1 Permanent Marker
1.  Place your chicken into a large crock pot.
2.  Cover with a lid and cook on low for 6 hours or high for 4 hours.
3.  Shred chicken with two fork in the crock pot.  Do not drain off liquid.  This will help prevent the chicken from drying out while it cools.
4.  Let the chicken cool to room temperature.
5.  Measure about 2 cups of shredded chicken and place into each small baggie.
6.  Pour about 3 TBSP of liquid into each bag, press out as much of the air you can and seal.
7.  Gently press the chicken flat to fill the bag so it's not all in one mound.
8.  Lay each flat bag into the gallon bag and seal closed.
9.  With the marker, write the date you cooked it and how much each measured bag is.
10.  Place into the freezer and lay flat until frozen.
How To Thaw Cooked Chicken
1.  Set one bag out and place it in the fridge the night before.
2.  Once it has thawed, open the bag on one side and drain any excess liquid into the sink.
3.  Use in recipe.
Check out some of my favorite recipes where I use precooked chicken in!
Green Chili and Chicken Enchilada Cups
Chicken and Artichoke Pasta Salad
Chicken Broccoli Bake
Chicken Bacon Artichoke Pizza
Sonoma Chicken Salad
This is the Crock Pot I use and totally love it.  It's no fuss no muss with three settings!  I've had it for years with zero problems.
Hamilton Beach Stay or Go Slow Cooker 6 Quarts