Chocolate and peppermint go together like chocolate and peanut butter. Or chocolate and pretzels. Or chocolate and chocolate! This whole month I'm dedicated every FFF (Fabulous Food Friday) to chocolate and peppermint somethingerothers. Well, we all know that means desserts!
I hope you don't mind that the first one is another sandwich cookie. I mean…when you win $25,000 for a simple peanut butter and chocolate (see, there's that great combo again) sandwich cookie, you stick with what works!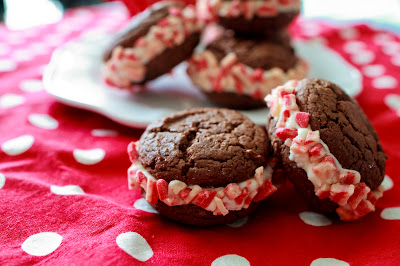 Chocolate Peppermint Sandwich Cookie
Makes 20 Sandwiches
Printable Version


Chocolate Cookie Recipe
White Chocolate Cream Cheese Frosting
1 cup Ande's Peppermint Crunch Baking Chips
Bake cookies according to recipe. Once they come out of the oven, immediately press them down lightly with a spatula. Cool completely.
Frost the bottom side of one cookie with about 2 tablespoons of frosting. Place another cookie, bottom sides together, on top and twist slightly to smooth frosting out to the edges. Roll edges in peppermint chips. Repeat with remaining cookies. Chill for 1 hour before serving for best results.